Realistically, the scouting report for Ohio State's opponent this week could probably be written in just a few sentences.
Tulane is probably going to be overmatched in Saturday's game at Ohio Stadium. The Green Wave are 1-2 this season, with their only win coming against Nicholls State (a Football Championship Subdivision team) and losses to Wake Forest and UAB. Ohio State's roster is far more talented than Tulane's, so if the Buckeyes don't win Saturday's game handily, that will likely result more from Ohio State not playing up to its ability than the Green Wave having any specific advantage.
A matchup like Saturday's would typically fit the blueprint for the Buckeyes to potentially have a letdown game, but it's hard to see Ohio State playing anything but motivated football in what will be Urban Meyer's first game back on the sidelines after his three-game suspension to start the year.
Given all of that, there isn't much reason to worry about the competition the Buckeyes will face when they host Tulane at Ohio Stadium at 3:30 p.m. Saturday. Nonetheless, Meyer and the rest of the Buckeyes' coaching staff will still do their due diligence in thoroughly scouting the Green Wave to determine which ways their opponent could put them to the test and which weaknesses Tulane has that they might be able to exploit.
What follows is our scouting report of the Green Wave's roster and what the Buckeyes should expect to see from each position this weekend.
Quarterback
1 Jonathan Banks – 6-2, 230, Senior
A second-year starting quarterback for the Green Wave, Banks has a physical skill set that makes him a dangerous playmaker from the position. The athletic, well-built signal-caller has the speed and ability to run through arm tackles to make plays as a runner from the position, while he also has a strong arm to take shots down the field.
That said, Banks hasn't been to turn those physical abilities into consistent production this season, completing only 48.1 percent of his passing attempts (37-of-77), though he has thrown for 651 yards and five touchdowns. He has a track record of being productive as a runner, gaining 592 yards and scoring seven touchdowns last season, but he's taken too many sacks this year, and has just 29 rushing yards on 33 attempts as a result.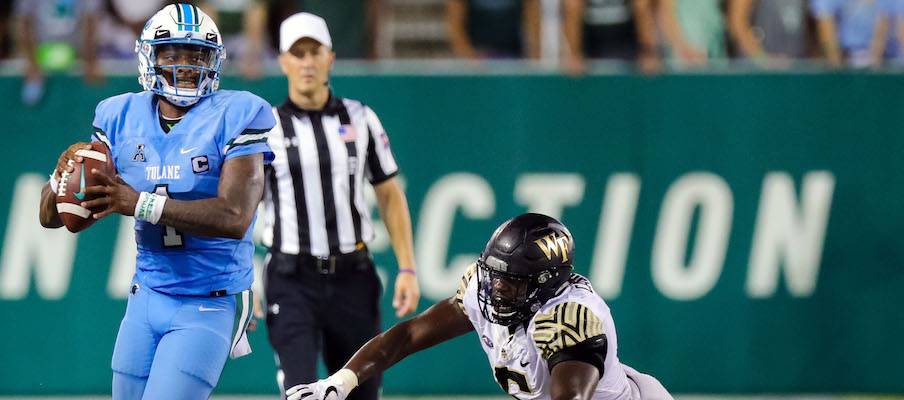 Running Back
10 Darius Bradwell – 6-1, 230, Junior
22 Stephon Huderson – 5-9, 190, Sophomore
6 Corey Dauphine – 6-0, 200, Redshirt Sophomore
Bradwell, who arrived at Tulane as a quarterback before converting to running back, is the Green Wave's consistent rusher out of the backfield. After running for 411 yards and four touchdowns on 66 carries in 2017, the big back has rushed for 207 yards and one score on 39 carries so far this season.
Huderson leap-frogged Bradwell on Tulane's depth chart this preseason and started the Green Wave's first two games at running back, but he hasn't done much with the ball in his hands yet this season, gaining only 56 yards on 23 carries.
The most dangerous runner out of the Green Wave's backfield, however, is Dauphine, a Texas Tech transfer who doubles a sprinter on the track team. On just 19 carries this season, Dauphine leads the Green Wave with 236 rushing yards and three touchdowns, showing his ability to turn his breakaway speed into big plays by running for 69-, 38- and 35-yard touchdowns on just six total carries against Nicholls State.
Wide Receivers
3 Darnell Mooney – 5-11, 175, Junior
5 Terren Encalade – 6-0, 190, Redshirt Senior
88 Jabril Clewis – 6-2, 210, Senior
The only two Tulane receivers to catch more than 16 passes last season, Mooney and Encalade are the only Green Wave players who have caught more than three passes so far this year. Encalade was previously Tulane's leading receiver in 2016 and 2017 and was again in the Green Wave's season opener, catching eight passes for 189 yards and two touchdowns, but since then, Mooney has emerged as the Green Wave's top target, topping 100 yards receiving in each of the last two games and scoring three touchdowns between them.
Encalade and Mooney appear to be the only wide receivers the Buckeyes need to worry about in the passing game. Clewis is a second-year starter who adds some size to the group, but the San Diego State transfer has caught just two passes for 38 yards this season after catching only 16 passes for 174 yards in 2017.
Tight Ends
89 Kendall Ardoin – 6-5, 245, Redshirt Senior or 84 Charles Jones II – 6-4, 255, Redshirt Senior
Despite being Tulane's starting tight end for each of its three games this season, Ardoin has yet to catch a pass for the Green Wave this year. He only caught five passes for 63 yards in 2017. The Green Wave run a spread offense and don't throw the ball to the tight ends often, but Aucoin is a big tight end who moves well for his size that offers solid blocking ability in the run game.
Jones, who led Tulane tight ends with 13 receptions for 84 yards and two touchdowns last season, caught one pass for three yards against Nicholls State but has missed the Green Wave's other two games while battling an ankle injury.
Offensive Line
57 Noah Fisher – 6-5, 325, Redshirt Senior
52 Dominique Briggs – 6-3, 295, Senior
64 Corey Dublin – 6-4, 300, Sophomore
72 John Leglue – 6-7, 310, Redshirt Senior
53 Keyshawn McLeod – 6-4, 305, Redshirt Junior
The Green Wave have an experienced offensive line, as Fisher, Briggs, Dublin and Leglue all have at least one full season of starting experience under their belts, but they've struggled so far this season, allowing 12 sacks, tied for the third-most in the entire Football Bowl Subdivision.
The size and veteran presence of this group should make it one of Tulane's strengths, but they'll need to play much better to hold up against Ohio State's talent-loaded defensive line.
Defensive Ends
34 Patrick Johnson – 6-3, 255, Sophomore
55 Cameron Sample – 6-3, 280, Sophomore
In Tulane's hybrid defensive scheme, there are two distinct defensive end positions; Johnson plays the "Joker" position, in which he sometimes lines up as a linebacker, while Sample plays as both a traditional defensive end and 5-technique end.
Both defensive ends are true sophomores, but each started at least one game in 2017. Neither player has recorded a sack this season, and they don't typically put a ton of pressure on opposing quarterbacks, but Johnson leads the Green Wave with a team-high 2.5 tackles for loss this year.
Defensive Tackles
48 De'Andre Williams – 6-3, 290, Redshirt Sophomore
77 Jeffery Johnson – 6-2, 320, Freshman or 90 Robert Kennedy – 6-1, 275, Redshirt Senior
Williams started Tulane's first two games at the defensive tackle position – which doubles as a defensive end in the Green Wave's hybrid front – before starting at nose tackle against UAB last Saturday, when Johnson was nursing a hamstring injury. Williams leads all Green Wave defensive linemen with 12 total tackles this season.
Kennedy, who came off the bench in Tulane's first two games before getting his first start of the year this past weekend, has also been an active player in the rotation, recording 10 total tackles with 1.5 tackles for loss.
If he is healthy for Saturday's game, though, the difference-maker of the group is Johnson, a massive nose tackle with good athleticism for his size. A true freshman who was also recruited by several of the nation's top programs – including Alabama, Ole Miss and Florida State – Johnson shows the ability to occupy multiple blockers inside but also use his quickness and strength to get off blocks and make plays around the line of scrimmage.
Linebackers
40 Zachery Harris – 6-0, 220, Redshirt Senior
35 Lawrence Graham – 5-10, 230, Junior or 28 Marvin Moody – 6-2, 225, Sophomore
One of Tulane's most experienced players, with 18 starts already under his belt before this season, Harris is a key leader for the Green Wave's defense, and leads the team with 25 total tackles this season, including two tackles for loss.
Graham has started two of the Green Wave's first three games, while Moody has started one, but both see regular playing time. Graham has recorded 24 total tackles with 1.5 tackles for loss and an interception this season, while Moody has recorded 18 tackles with 1.5 tackles for loss.
Cornerbacks
1 Donnie Lewis Jr. – 6-0, 195, Redshirt Senior
26 Thakarius Keyes – 6-1, 195, Junior or 9 Jaylon Monroe – 5-9, 175, Sophomore
A fourth-year starter for Tulane at cornerback, Lewis Jr. has been one of the most productive playmaking defensive backs in the entire nation so far this season, recording two interceptions and five additional pass breakups in the Green Wave's first three games, making him just one of nine players in the FBS who has recorded seven or more passes defensed this year. Lewis has also recorded 13 total tackles on the season.
Monroe started Tulane's season opener at cornerback, while Keyes has started the last two games. Keyes has been the more productive player, recording one interception, three pass breakups and 11 solo tackles. Both see regular playing time and both have had their struggles in coverage this year, though, which could prompt Ohio State to throw the ball away from Lewis and pick on the Green Wave's less experienced cornerbacks instead.
Safeties
16 P.J. Hall – 5-11, 190, Junior
2 Roderic Teamer Jr. – 6-0, 205, Senior
25 Will Harper – 6-0, 195, Junior
Like TCU, Ohio State's previous opponent, Tulane primarily uses a 4-2-5 defense that keeps three safeties on the field. Hall and Teamer play the traditional safety roles, while Harper plays a hybrid safety/linebacker role at nickelback. Hall leads all Green Wave defenders with 16 solo tackles this season, and all Tulane defensive backs with 19 total tackles.
The Green Wave have strong depth at safety, too, with a pair of experienced backups in senior Taris Shenall – who started three games in each of the 2015, 2016 and 2017 seasons – and sophomore Chase Kuerschen, who started eight games in 2017 as a true freshman. No singular player at the position, though, stands out as being a game-changer for Tulane's defense.
Overall Outlook
With an athletic quarterback with a big arm in Banks, a running back with legitimate track speed in Dauphine and a talented pairing of receivers in Mooney and Encalade, Tulane has several threats to make big plays on offense, which gives the Green Wave an opportunity to put up some points against an Ohio State defense that has struggled with giving up big plays.
Overall, though, Ohio State's roster is far more talented than Tulane's, and much like their first two games against Oregon State and Rutgers, the Buckeyes should be able to roll to a big win at Ohio Stadium on Saturday.
Realistically, there aren't many players in the Green Wave's lineup who would even see the field regularly for Ohio State, let alone start. The Green Wave offensive line needs to block better, and Banks needs to do a better job getting rid of the football, to hold up against Ohio State's defensive front, while the defense – which ranks 110th in the FBS with 465.3 yards allowed per game – appears likely to be overmatched by Dwayne Haskins and the Ohio State offense.
Ohio State opened as a 34-point favorite for Saturday's game, and that's arguably a conservative spread. The Green Wave will need to play at their absolute best to have a chance to keep Saturday's game competitive into the second half, and unless Ohio State plays poorly, that still might not be enough.