If you ask Ohio State's players or coaches, they'll typically tell you that it doesn't matter who they are playing: They prepare for every opponent the same way.
They needed to have that mentality for their first two games against Oregon State and Rutgers, two teams they were expected to beat handily, which they ultimately did.
In the days leading up to Saturday's game against TCU, however, even Ohio State acting head coach Ryan Day acknowledged that the Buckeyes have been looking forward to this game for quite some time – and they know their opponent has been, too.
"This is the game that's been circled on their and our calendar for a long time, so we know that there will be something going into the game that we haven't seen, and the ability to adjust is going to be important," Day said during Ohio State's coaches' radio show on Thursday.
Through its first two games of the season, Ohio State – ranked No. 4 in both major polls – has looked like one of the best teams in college football, scoring 129 points and gaining 1,300 total yards on offense, while bouncing back from season-opening defensive struggles to allow just three points and 134 yards against Rutgers.
Saturday's game, though, is expected to present a significantly tougher challenge, as the Horned Frogs – ranked No. 15 in the AP Top 25 – have also won each of their first two games this season, and tout both an explosive offense and a strong defense.
It will also be Ohio State's first game away from home this season, as the two teams meet at AT&T Stadium in Arlington, Texas, which is just a short drive away from TCU's campus in Fort Worth, Texas, even though it is technically a neutral site.
That said, Saturday's game will also be an opportunity to play under a bright national spotlight – in a primetime kickoff on ABC's Saturday Night Football – so while Ohio State expects to be in for a real test for the first time this year, the Buckeyes are looking forward to the opportunity to earn their first statement win of the season.
"Definitely a little more energy, little more juice getting ready for this game, because it's a big-time game," said Ohio State quarterback Dwayne Haskins. "It's our first really key game of the season."
"This is the game that's been circled on their and our calendar for a long time."– Ohio State acting head coach Ryan Day
Buckeye Breakdown
For as much hype as surrounded Haskins and the Ohio State offense entering this season, they've only exceeded that hype in their first two games of the year. The Buckeyes rank second in the Football Bowl Subdivision in both points and yards per game, and Haskins' first two starts as Ohio State's quarterback have been spectacular, as he's completed 79.2 percent of his passing attempts for 546 yards and nine touchdowns with only one interception.
Ohio State's running game has also been strong – even though Haskins hasn't run the ball much himself – as the Buckeyes, led by Mike Weber and J.K. Dobbins, have averaged 6.45 yards per rushing attempt behind an offensive line that has gotten the season off to an excellent start, also allowing just two sacks so far.
Playing with tempo and showing the ability to beat opponents by both air and ground, Ohio State's offense has been firing on all cylinders so far this season, and it's looking like the Haskins-led attack will be difficult for anyone to stop. The Buckeyes know they can't get complacent with their early success, though, because the competition is going to get tougher – particularly this week, as TCU's defense has allowed its first two opponents to gain just 213.5 yards per game and score 9.5 points per game.
"When the games get tighter, every play matters even more," Day said Monday. "The mistakes are still there. They are still there, and we have to correct them, and that's the sign of a mature group is you can win a big game, kind of like we have last two games, but then come to work and be critical of yourself and take the coaching so that we make the corrections to keep building."
How will Haskins and Ohio State's offensive line hold up against a defensive front that's capable of bringing more pressure into the backfield? If Haskins and Ohio State's offense face early adversity in a game, will they be able to bounce back and make the plays needed with the game on the line to lead the Buckeyes to victory? Those are questions that remain unanswered through two games, but which they could potentially be forced to answer on Saturday.
Perhaps the biggest question surrounding Ohio State's offense entering Saturday's game, though, is what Tate Martell's role will be in the Buckeyes' offense – if any at all.
As well as Haskins has performed so far this season, the Buckeyes might be best suited by keeping him on the field at all times in competitive games. But Martell offers a different skill set that presents a different challenge to a defense, which could prompt the Buckeyes to find a way to get him involved, especially after his performance against Rutgers, in which he completed all 10 passes he attempted for 121 yards and a touchdown, while also running for 95 yards and a touchdown.
Day remained vague this week, though, when asked what Martell's role might be in a game that remains close for four quarters.
"Like we said before, we plan to play Tate," Day said. "How much kind of depends on the game moving forward."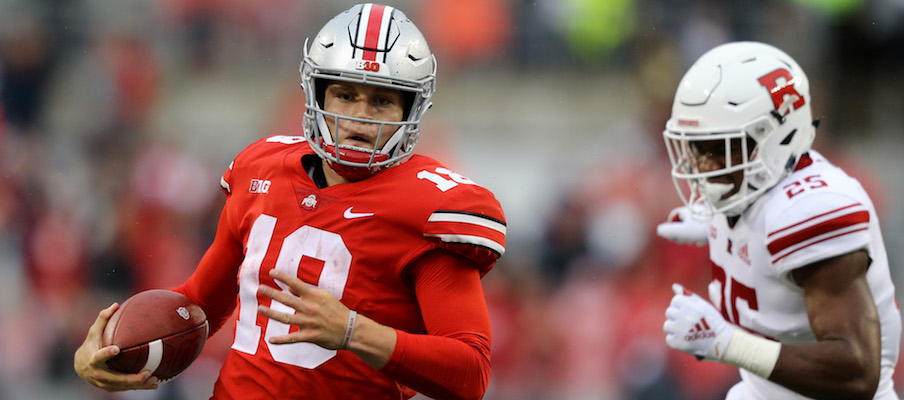 Defensively, the Buckeyes' star this season – as expected, like Haskins – has been defensive end Nick Bosa, who has already recorded nine total tackles with five tackles for loss and three sacks this year, plus two fumble recoveries and a touchdown, despite playing only about a half in each of Ohio State's first two games.
Beyond Bosa, the Buckeyes' entire defensive line is off to an excellent start, with Pro Football Focus grading the unit as a whole – also led by sophomore defensive end Chase Young and redshirt junior defensive tackles Dre'Mont Jones and Robert Landers, among others – as the "best defensive line in college football."
As for Ohio State's defense as a whole, though, questions remain about how good the Buckeyes are, and whether their improvement from the season opener – when they allowed 31 points and 392 yards, including seven plays of 20-plus yards, to Oregon State – to last week was actually an indicator of improvement, or simply a result of Rutgers' offense being bad.
That should be put to the test this weekend, as TCU's offense certainly appears to be better than Rutgers', but the Buckeyes believe they are moving in the right direction if they continue to improve.
"What we talked about as a defense is everybody doing their job, because if one person doesn't do their job, then of courses it exposes a defense," said Ohio State linebacker Baron Browning. "So just everybody doing their job, and everybody finishing, running to the ball even if you think somebody else is going to make the tackle."
There's always room for improvement, and even with their dominant 46- and 49-point wins to start the season, Ohio State seems to recognize that – or is at least saying all the right things – heading into its third game of the year.
From the outside looking in, however, there's little reason to be anything but impressed with what the Buckeyes have done, and TCU coach Gary Patterson is among those who have taken notice.
"They're in midseason form," Patterson said of Ohio State this week, according to USA TODAY's Kevin Allen.
Saturday's game will be the final game of Urban Meyer's three-game suspension, so the Buckeyes will be without their head coach in Texas, and that could potentially have a bigger impact than it did in the first two games – not only because the competition is tougher, and they're more likely to end up in a close game, but also because they'll be playing away from home.
Meyer has been able to prepare for the team for action during the week of practices in Columbus, though, so the Buckeyes are confident that their coaches and their culture will have them ready to compete for another win on Saturday.
As Bosa acknowledged during his interview with the media on Wednesday, however, it probably won't be easy for Meyer – who isn't making the trip to Dallas – to have to watch the game from home.
"For him, I'm sure he'll be pulling his hair out all night," Bosa said. "Because I can't even imagine him missing this one. But for us, we're preparing the same way. We've had a great week so far."
TCU Breakdown
2018 Statistical Comparison
 
OFFENSE
64.5
2nd
POINTS FOR
48.5
14th
300.0
12th
RUSHING OFFENSE
237.0
36th
350.0
16th
PASSING OFFENSE
209.0
81st
650.0
2nd
TOTAL OFFENSE
446.0
52nd
.724
1st
3rd DOWNS
.435
50th
.917
46th
RED ZONE
1.00
1st
DEFENSE
17.0
39th
POINTS ALLOWED
9.5
13th
132.5
55th
RUSH DEFENSE
107.5
34th
130.5
12th
PASS DEFENSE
106.0
8th
91.7
13th
PASS EFFICIENCY DEFENSE
70.4
4th
263.0
17th
TOTAL DEFENSE
213.5
6th
.323
45th
3rd DOWNS
.226
9th
1.00
90th
RED ZONE
0.00
1st
SPECIAL TEAMS
8.3
61st
PUNT RETURN
25.0
11th
22.7
47th
KICKOFF RETURN
32.7
11th
48.0
1st
NET PUNTING
32.3
112th
MISCELLANEOUS
+1.0
30th
TURNOVER MARGIN
+1.0
30th
8.5
103rd
PENALTIES
4.5
19th
7
EDGE
12
Like Ohio State, TCU was expected to beat each of its first two opponents handily, and it did – winning 55-7 in its season opener against Southern, then overcoming a slow start to win 42-12 against SMU.
That makes it fair to question how good the Horned Frogs – who are ranked 14th in scoring offense (48.5 points per game), tied for 13th in scoring defense (9.5 points allowed per game) and sixth in total defense (213.5 yards per game) – actually are compared to how they stack up statistically.
But watching their film – and hearing what the Buckeyes had to say about them after watching their film – backs up the fact that TCU should be the toughest opponent, by a significant degree, that Ohio State has faced this season.
Offensively, TCU is also led by a first-year starting quarterback in Shawn Robinson, whose ability to make explosive plays with his feet – he has already run for 112 yards and three touchdowns this season on just 10 carries – in addition to a strong arm, poses a dual threat that Ohio State's defense will have to be prepared for.
"He's as good as any running back," Ohio State defensive coordinator Greg Schiano said of Robinson's ability to run the ball. "He is strong, he's big, he's close to 230 pounds at quarterback. And he's got such a strong arm that if anybody on the back end gets a little bit lazy, doesn't keep getting depth, he has an arm that he can throw it on the run 50-60 yards with a flick of the wrist. And that's how big plays occur. So we really have to be disciplined in every way."
Also like Ohio State, TCU has a quality one-two punch at running back in Darius Anderson and Sewo Onilula, who have each averaged more than six yards per carry so far this season. They also have multiple big-play threats in their receiving corps, including Jalen Reagor and KaVontae Turpin.
Turpin, in particular, is a player who has captured attention – including from Ohio State's defenders – after scoring on a 78-yard punt return touchdown and a 42-yard receiving touchdown against SMU last week.
"He's really elusive, probably one of the most elusive players that I've seen on film," Ohio State cornerback Jeffrey Okudah said of Turpin.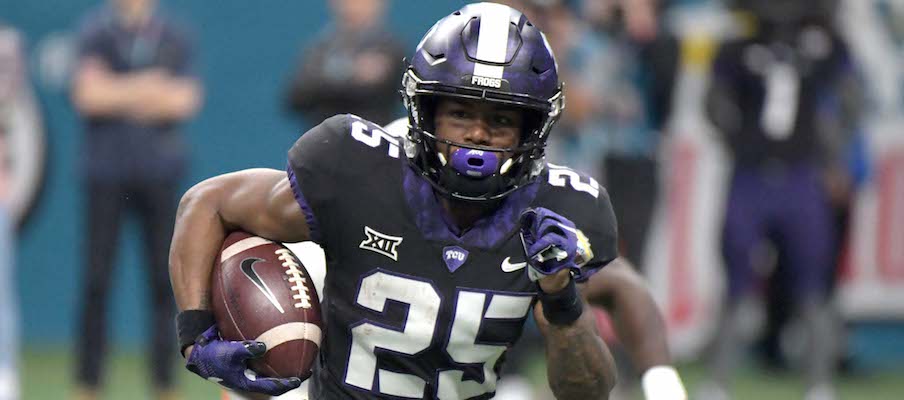 TCU's biggest question mark is its offensive line – a potential recipe for disaster against Ohio State's defensive line – which lost four starters from last year and has three brand new starters this year. But Schiano said on multiple occasions this week that he is highly impressed with what he's seen from the Horned Frogs up front so far this season, and expects them to present a real challenge to the Buckeyes' defense.
"I think it's a really good offensive line," Schiano said Thursday. "They're very physical, they're athletic, they're big … by far, the biggest test we've had. And I said it earlier in the week, they remind me of a really good Big Ten offensive line.
On the other side of the ball, the Horned Frogs' 4-2-5 defense is known for presenting some unusual looks that can confuse opposing offenses, and Day expects Patterson and the Horned Frogs' defensive coaching staff – all of whom are in at least their fifth season at TCU – to have even more tricks up their sleeves for Saturday's game.
"They've played this defense for a long time," Day said. "Coach Patterson's been in the system for a very long time. And they do a great job of adjusting. So we got to do as good a job, if not better, at adjusting as the game goes on."
What the Horned Frogs were able to do defensively against Southern and SMU might not be a good indicator of what they'll be able to do against the high-powered Ohio State offense, but they were the best defense in the Big 12 last year, too – holding opponents to just 19 points per game then – and they have a solid group of veterans anchoring their defense on both the front and back ends, including defensive ends Ben Banogu and Ty Summers, cornerback Jeff Gladney and safeties Ridwan Issahaku and Niko Small.
"A veteran group who's played in big games before," Day said. "Their scheme is obviously excellent. Coach Patterson puts them in great position to be successful. And they don't hurt themselves. So everything we get we're going to have to earn."
Altogether, the Buckeyes have made it clear that they respect the challenges TCU can present on both sides of the ball, and even though the Big Ten is considered to be one of college football's strongest conferences this year, Bosa believes TCU will be one of the toughest opponents Ohio State faces all season.
"I think they're probably one of the three best teams, two best teams we'll play all year, just from film," Bosa said. "We know that they're going to take their best shot at us. So we got to be ready."
How It Plays Out
Unlike the last two weeks, there's a very real possibility that Ohio State could lose on Saturday. TCU's offense has the weapons to exploit Ohio State's defense for big plays like Oregon State did, and the Horned Frogs' defense is strong enough to put the skids on the Buckeyes' offense despite its steamrolling success thus far.
Ohio State vs. TCU History

| Date | Location | Result |
| --- | --- | --- |
| Sept. 29, 1973 | Columbus, Ohio | Ohio State 37, TCU 3 |
| Sept. 27, 1969 | Columbus, Ohio | Ohio State 62, TCU 0 |
| Sept. 24, 1966 | Columbus, Ohio | Ohio State 14, TCU 7 |
| Sept. 30, 1961 | Columbus, Ohio | Ohio State 7, TCU 7 |
| Sept. 28, 1957 | Columbus, Ohio | TCU 18, Ohio State 14 |
| Sept. 25, 1937 | Columbus, Ohio | Ohio State 14, TCU 0 |
Unless both of those things happen, however, Ohio State's chances of winning Saturday's game look promising. The Buckeyes' offensive attack has the tools to put up big points against anybody, and their defense – especially the defensive line – has what it takes to keep the Horned Frogs offense out of rhythm if they can continue getting into the backfield and maintain the discipline to avoid allowing big plays.
Ohio State has been a double-digit favorite to win Saturday's game all week – as of Thursday night, the Buckeyes were a 12.5-point favorite, according to Vegas Insider – which speaks to how good the Buckeyes have looked early, and their perceived talent advantage over the Horned Frogs, considering that they're the team that has to get on a team and fly to Saturday's game.
While that's enough to be a home-field advantage for TCU this weekend, though, and the Buckeyes are approaching it like it's a regular road game, they aren't worried about being at a disadvantage – in part because they know they'll still have plenty of Ohio State fan support in the stands in Arlington.
"Any time we go on a plane and go somewhere, it's kind of an away game," Bosa said. "But Ohio State just so travels so well, and we have fans everywhere. "I've been to so many games, even when (his older brother) Joey was here, that they just fill a stadium that are so far away from here, and I'm sure they'll do the same there."
Saturday's game should certainly be a closer game than the first two games – for both teams – and it shouldn't come as a big surprise for either team to come out victorious in the end. But while it would come as a surprise if TCU simply ran away with a victory, it might not come as a surprise if the Buckeyes ultimately win by a significant – if not quite dominant – margin, and their offensive firepower makes covering the spread a very real possibility.
---
ELEVEN WARRIORS STAFF PREDICTION: Ohio State 41, TCU 21
––
Ryan Day photo: Rick Osentoski – USA TODAY Sports
Gary Patterson photo: Erich Schlegel – USA TODAY Sports