Tracking how much true freshmen play throughout college football is going to be more interesting this upcoming season than it has ever been before.
That's because of the rule change passed Wednesday by the NCAA, which will now allow football players to participate in up to four games in a season and still take a redshirt, as opposed to the previous rules under which playing in even one game would count as a season of competition.
Since his arrival at Ohio State in 2012, Urban Meyer has often said that he is not inclined to redshirt players. Though the numbers haven't always backed those contentions up, they did last year, when the Buckeyes only redshirted six of their 20 true freshmen.
With the new redshirt rule in place, however, there's reason for Meyer – and every coach in college football for that matter – to rethink the way they make redshirting decisions.
Now, coaches could potentially play freshmen in as many as four games before even making a decision on whether they should be redshirted, allowing teams to make fluid redshirting decisions as seasons unfold. Even players who coaches expect to redshirt all along are likely to see snaps in a few blowout games, as even a few snaps under their belt could be better than none as those players enter their redshirt freshman seasons.
On the other end of the equation, though, there could also be freshmen who end up seeing playing time in less games than they would have under the previous rules. Because while there will surely still be freshmen who earn regular playing time and play all year long as a result, coaches could become more inclined to limit freshmen with smaller roles to only four games in order to preserve their eligibility.
Some things won't change. Meyer and his coaching staff are still going to expect players to earn their way onto the field, and there's still only going to be a limited number of reps to go around, even in blowout games. So while the new rules gives coaches flexibility to play all of their players in as many as four games, it's still likely that some freshmen will see less depending on their performance in practice and the depth/rotation at their respective positions.
At the same time, there will be freshmen who end up earning significant roles on offense, defense and especially on special teams, and those players still won't redshirt, as they'll be called upon to play in well over four games. And while the Buckeyes could choose to hold some of their freshmen out early in the season if they believe they can make an impact later in the season, with the possibility that they could see meaningful playing time and still have four remaining seasons of eligibility, there will also be players who prove to be too talented to redshirt at all.
Ultimately, though, it seems likely that the majority of Ohio State's 25-man freshman class – and potentially even a few non-freshmen, too – will end up both playing and redshirting this season, as the Buckeyes will take advantage of the opportunity to get their feet wet without burning any of their eligibility.
We now take a look at who Ohio State's most likely and less likely candidates are to redshirt this season, and evaluate how the Buckeyes might handle each of their playing time in light of the new rule.
Likely Redshirts
Matthew Baldwin, QB
Baldwin stands to be Ohio State's biggest beneficiary of the redshirt rule change, and the same will likely to be true for freshman Buckeye quarterbacks in upcoming seasons. Every Ohio State quarterback to arrive in Columbus since Meyer became coach has redshirted their true freshman seasons, and that isn't expected to change with Baldwin. What will change, though, is that the Buckeyes are likely to give him some opportunities to play at the end of lopsided games – now that they can do so without compromising his eligibility – in order to get him some live game action, which is as crucial for a quarterback as it is at any other position.
Baldwin is coming off of January knee surgery, and the Buckeyes won't play him unnecessarily until he is completely healthy, which could make it more likely for Baldwin to see playing time near the end of the season. That could also be a good insurance plan for Ohio State, though, as the Buckeyes only have two other scholarship quarterbacks – Dwayne Haskins and Tate Martell – which means they could need Baldwin to play later in the season if injuries occur, yet could still redshirt him even if they need to call upon him in an emergency situation.
Kamryn Babb, WR
Chris Olave, WR
L'Christian "Blue" Smith, WR
Had the new redshirt rules been in place last year, Jaylen Harris would have received a redshirt after last season, as he ended up playing in only three games due to the veteran talent at wide receiver in front of him. Considering that all six of the wide receivers who played regularly for the Buckeyes last season are back on the roster this season, there isn't likely to be any more playing time for the incoming crop of wideouts. That makes it very likely that Babb, Olave and Smith will all redshirt as true freshmen, but the Buckeyes should still take advantage of the new rule to get each of them on the field for a little bit of playing time.
Matthew Jones, C
Max Wray, OT
Even though Jones and Wray both arrived in January as early enrollees, neither player appears likely to the Buckeyes' two-deep as true freshmen, making it likely that both offensive linemen will redshirt. Given that Ohio State typically only plays its first- and second-team offensive lines even in blowout games, it's uncertain whether Jones and Wray will even see the field at all this season, but the new rules could potentially entice offensive line coach Greg Studrawa to play a little deeper into his depth chart in a couple lopsided games.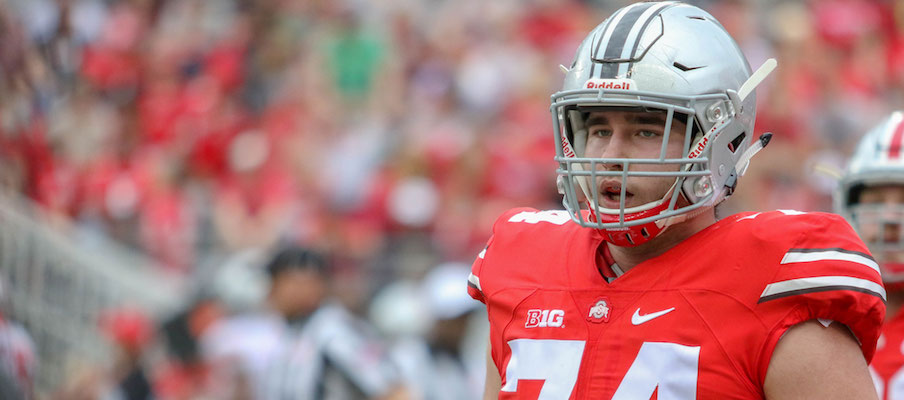 Alex Williams, DE
Javontae Jean-Baptiste, DE/LB
While the Buckeyes are thin on veteran defensive end depth, Williams and Jean-Baptiste are both likely candidates to redshirt unless there are multiple injuries on the depth chart in front of them. Although defensive line coach Larry Johnson should find ways to get them on the field in a few games, as he likes to maintain a deep rotation at the defensive end position, both players are likely at least a year away from making significant impacts, so the Buckeyes will likely limit their game action to preserve their eligibility.
Cameron Brown, CB/WR
Although he could eventually end up on the offensive side of the ball for the Buckeyes, Brown is expected to begin his career as a cornerback due to Ohio State's depth at wide receiver. Even so, Brown is likely a candidate to redshirt unless he earns a significant role on special teams or injuries strike at cornerback. By playing Brown in just a few games this year, the Buckeyes could get him a little experience but also preserve his eligibility as they figure out which position he can ultimately make the biggest impact at.
Marcus Hooker, S
Malik Hooker began his All-American career at Ohio State with a redshirt year, and it seems probable that his younger brother Marcus will do the same. While the Buckeyes have an open starting spot at safety, Marcus Hooker was the lowest-ranked recruit in Ohio State's 2018 class, and could need some time to develop – like Malik did – before playing a big role at the collegiate level. Either way, though, Marcus should have the benefit that Malik did not of seeing at least some playing time as a true freshman – even if only a few snaps –since he can now do so without burning his redshirt.
Still Unlikely To Redshirt
Jeremy Ruckert, TE
A skilled and athletically gifted receiving threat, Ruckert is expected to have an immediate role as a pass-catching tight end in Ohio State's offense this season. Even though Luke Farrell is in line to be the Buckeyes' starting tight end, Ruckert might be too talented to keep off the field as a freshman, and he'll likely see playing time in far more games than four.
Tommy Togiai, DT
Togiai had the best spring among all early enrollees, becoming the first member of the class of 2018 to have his black stripe removed, so it would be a surprise if he doesn't see significant playing time this season. Even though the Buckeyes are loaded with depth at defensive tackle, Togiai appears to be well on his way to earning a spot in the rotation and playing more than four games as a freshman.
Josh Proctor, S
As aforementioned, the Buckeyes are entering the preseason with a wide open competition at safety, giving Proctor – the No. 71 overall recruit in the class of 2018, per 247Sports' composite rankings – a legitimate chance to challenge for a starting spot as a true freshman. Even if he doesn't, there's still a good chance that Proctor will earn a spot on the two-deep and playing time on special teams as a true freshman, so he's among the least likely true freshmen to redshirt this year.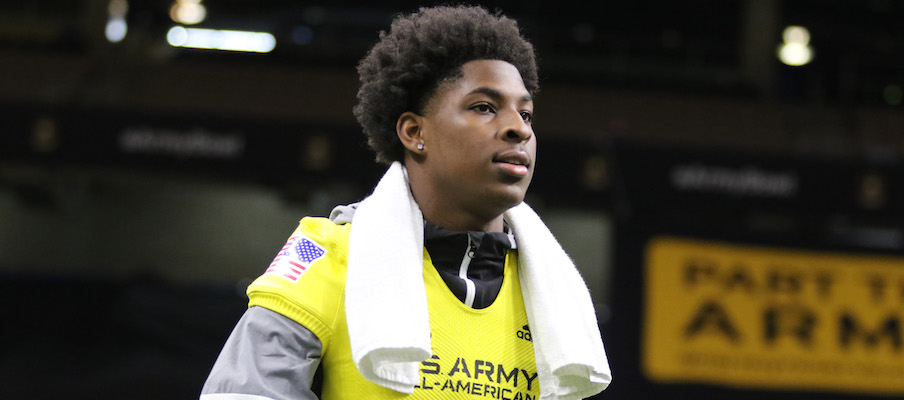 Master Teague III, RB
While the Buckeyes have an elite one-two punch at running back in J.K. Dobbins and Mike Weber, they don't have any veteran depth at the position behind them, meaning the Buckeyes will likely need at least one of their true freshman running backs to play somewhat regularly, especially in games that become one-sided. The top candidate among them to play that role is Teague, who also among the early enrollee standouts this spring and should also be a prime candidate to earn a role this year on special teams.
Teradja Mitchell, LB
Dallas Gant, LB
Tyreke Johnson, CB
There will probably be a few true freshmen who don't redshirt this season solely because they establish themselves as core players on special teams. Mitchell, Gant and Johnson, who all project well to playing on the kickoff coverage unit, are the top candidates to do that.
Johnson is a five-star recruit who might be too talented to redshirt, and he has a leg up to earn playing time after enrolling early and participating in spring practices. Gant was also an early enrollee and also impressed his coaches this spring, enough so that both Meyer and defensive coordinator Greg Schiano expressed confidence that Gant would see playing time this year. Mitchell, meanwhile, is the top-ranked linebacker in the Buckeyes' 2018 recruiting class and a frontrunner to be among the team's stars in the third phase of the game this year.
Tyreke Smith, DE
Given that the Buckeyes only have four veteran defensive ends in Nick Bosa, Chase Young, Jonathon Cooper and Jashon Cornell, and that they do typically rotate at least four players at the position, it's likely they will call upon at least one of their incoming freshman defensive ends to play in more than four games. Smith, as the top-ranked prospect among them and the No. 34 overall recruit in the 2018 class, stands out as the most likely candidate to make a significant immediate impact at the position.
More Likely To Redshirt Now
Nicholas Petit-Frere, OT
Conventional wisdom would suggest that Petit-Frere, the No. 7-ranked recruit in the entire class of 2018, is another player who falls into the "too talented to redshirt" category. He's Ohio State's likely left tackle of the future, and the Buckeyes will likely want to get him at least some playing time this season.
With that being said, the Buckeyes have enough offensive line depth that Petit-Frere could face an uphill battle to making the team's two-deep as a summer enrollee. The new rules could make Ohio State more inclined to stick with returning players on the depth chart, play Petit-Frere in only a few games and preserve four seasons of eligibility should he be inclined to use it all.
Taron Vincent, DT
Like Petit-Frere, Vincent is a five-star recruit who could be deemed too talented to redshirt. He has the potential to make an immediate impact on Ohio State's interior defensive line, and it shouldn't come as any surprise if he ends up earning a significant role in the rotation as a true freshman. The Buckeyes' depth at defensive tackle makes that no guarantee, however, which leaves the possibility of a redshirt on the table.
One option for the Buckeyes could be to play Vincent early in the season, see how he performs and decide from there whether to continue playing him throughout the season, burning the possibility of a redshirt. Depending on how quickly he comes along this summer, another option could be to hold him out of action until later in the season, potentially allowing him down the stretch of the year and still have four remaining seasons of eligibility.
Jaelen Gill, RB/H-Back
Brian Snead, RB
While the Buckeyes will likely need at least one of their freshman running backs to play this season, they might not need two – or at least not two to both play more than four games. Gill and Snead should both see playing time as true freshmen, but with so much returning talent on Ohio State's roster at running back and wide receiver – Gill, who could be the tougher choice to redshirt, could end up playing either at tailback or H-back – it could make sense for Ohio State to give them each touches in a few games but otherwise preserve their eligibility for the future.
Tyler Friday, DE
As aforementioned, the Buckeyes will likely need at least one of their freshman defensive ends to play somewhat regularly this season. Whether they need two could determine whether Friday ends up redshirting this year. While Friday is a top-100 recruit with enough talent to contribute in at least a rotational capacity this season, he'll have a much better chance of earning significant playing time in future seasons, so it could make sense for the Buckeyes to preserve his eligibility, as well, as long as they stay healthy on the defensive line.
K'Vaughan Pope, LB
Pope is another player who has the talent to contribute immediately but could fall on the redshirting side of the numbers game. Like fellow linebackers Mitchell and Gant, Pope's best shot to contribute immediately will be on special teams, and if he can earn a significant role there, he could play all year. If not, though, a redshirt season with a few appearances over the course of the year seems likely.
Sevyn Banks, CB
Banks is another candidate to earn playing time after a solid spring as an early enrollee, but the Buckeyes might not feel as inclined to play him as a true freshman as they likely will with fellow cornerback Johnson. He should at least see playing time in a few games over the course of the year with the new rule, but the Buckeyes have enough talent in front of him at cornerback and candidates to play on special teams that there might not be enough available playing time to warrant burning Banks' redshirt this year.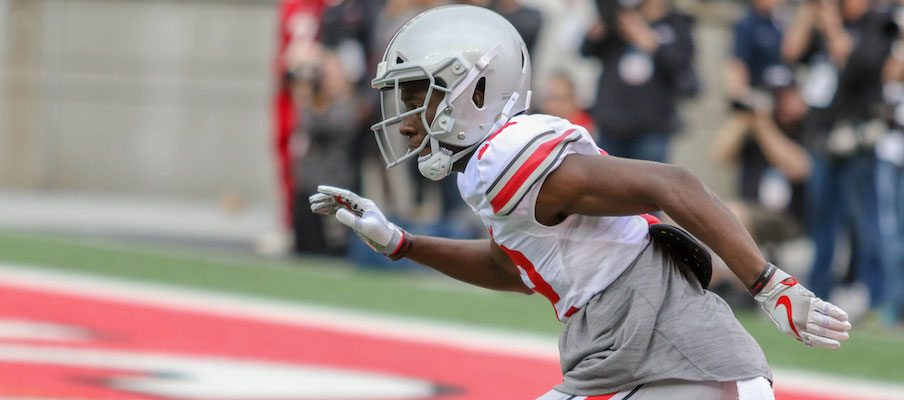 Brendon White, S
If you've been paying attention, you'll have noticed that we've already covered each of Ohio State's 25 true freshmen and their likelihood of redshirting this season. One other possible impact of the new redshirt rule, though, is that the Buckeyes could also redshirt a few other young players who haven't taken redshirts yet in their Ohio State careers, but could still be hard-pressed to see regular playing time this year.
The most likely candidate to fit that criteria is sophomore safety Brendon White, who almost certainly would have redshirted had the new rule been in place last year, considering that he only played in five games and only sparingly. After bouncing back and forth between playing safety and wide receiver last season, White appears to still have a long way in his development. Unless he emerges as a surprise winner in the safety competition this summer, it could make sense for the Buckeyes to limit his playing time once again and redshirt him as he continues to develop, giving him three more remaining years of eligibility after this season.
Jaylen Harris, WR
Haskell Garrett, DT
Should the Buckeyes go the route of redshirting any non-freshmen for reasons other than injury this year, the only players other than White who would appear to be potential candidates would be Harris and Garrett, who also likely would have redshirted had the new rule been in place last year (Garrett played in eight games last season, but never earned regular playing time in the rotation).
Harris has the potential to be a difference-maker at wide receiver this year, while Garrett is a definite candidate to earn a significant role in the defensive tackle rotation, but because the Buckeyes remain deep at both positions, it's possible they could spend most of their seasons on the bench once again. And if the Buckeyes become hard-pressed to find a way to get either player on the field regularly, a redshirt could be a logical option to extend their opportunity to play bigger roles in the future.