It used to be universally known that one of the things every college football team needed to be successful was a veteran quarterback under center. 
Those days are long gone. 
We have seen a plethora of first-year starting quarterbacks step into the spotlight recently and have immediate success, leading their respective teams to national title games. It happened right before our very eyes in 2014, when the duo of J.T. Barrett and Cardale Jones stepped in for Braxton Miller and led Ohio State to the first championship of the College Football Playoff era. 
For the first time since that title run four years ago, Ohio State will trot out a first-year starting quarterback in Dwayne Haskins, with a little help from Tate Martell. Could Haskins be the next quarterback to lead his team to a title game in his first year as a starter? Only time will tell, but he has recent history on his side. 
Let's take a look back at some of the first-year starters in recent history (outside of Barrett and Jones) to reach the national title game, and how they got there. 
Jake Fromm, Georgia, 2017
Fromm stepped in for an injured Jacob Eason early in the season, immediately took hold of the job and never let go. He threw for 2,615 yards and 24 touchdowns to just seven interceptions, losing just once before ultimately losing the title to Alabama in overtime.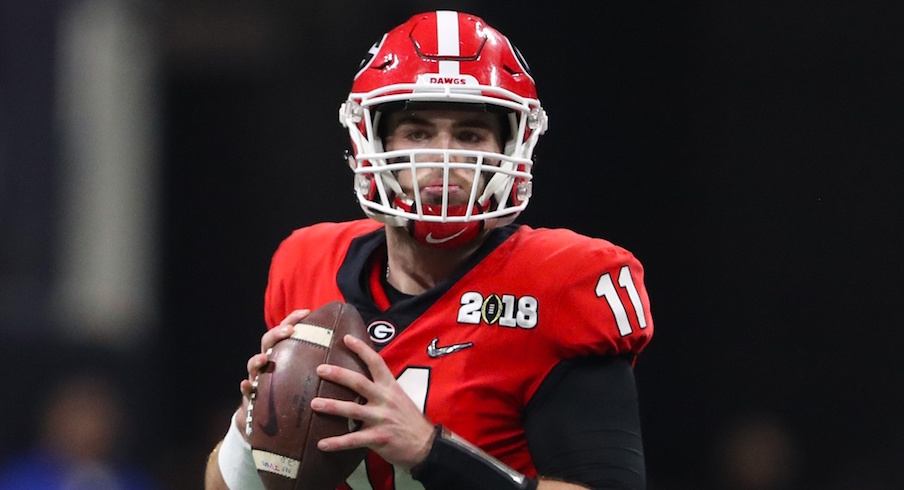 Fromm had the benefit of handing off to two stud running backs in Sony Michel and Nick Chubb. Haskins has that same luxury in 2018, with J.K. Dobbins and Mike Weber both returning with 1,000-yard seasons under their belt. Being able to lean on veteran running backs and utilizing play-action could benefit Haskins the same way it did Fromm in winning an SEC title and coming up just short in the title game. 
Jalen Hurts, Alabama, 2016
A true freshman, Hurts stepped on campus and ran through the SEC. He won his first 14 games as a starter, getting Alabama to the CFP title game against Clemson, a rematch against Deshaun Watson, who eventually got his Tigers past the Tide for a championship ring. 
However, Hurts played an integral role in Alabama reaching the final game, throwing for 2,780 yards and 23 touchdowns to nine interceptions. Hurts, a dynamic runner in his own right, also had the help of a pair of running backs. Damien Harris and Bo Scarborough provided a mix of speed and power, taking the pressure off of Hurts to win games with his arm. 
Jacob Coker, Alabama, 2015
Coker is one of the more unknown quarterbacks in recent memory to win a title, but the man has a ring. 
He started just one season as a member of the Crimson Tide after the departure of Blake Sims and threw for 3,110 yards and 21 touchdowns to eight interceptions. Easily the least flashy of anyone on this list, Coker was the ultimate game-manager, as Alabama's offense was predicated on the success of running back and Heisman winner Derrick Henry, who rushed for 2,219 yards and 28 scores that season. 
Since we won't go into too much depth on the run Barrett and Jones had in 2014, we seem to be sensing a trend. Great running back play seems to help when breaking in a new quarterback. Ohio State had that in 2014 with a guy by the name of Ezekiel Elliott. However, in some cases, a fresh signal-caller can take the world by storm and be the focal point of the offense en route to a national title game. 
Jameis Winston, Florida State, 2013
Winston exploded onto the scene in the final season of the BCS era and led the Seminoles to an undefeated record in the ACC, on their way to a national title win over Auburn in Pasadena. 
Winston not only took home a title that season, he was also named the Heisman winner in his first year as a starter, becoming the second freshman to win the award. With a gunslinger mentality, Winston threw for 4,057 yards and 40 touchdowns to 10 interceptions in his first year as a starter. The last time an Ohio State quarterback threw 10 interceptions or more in a season? J.T. Barrett in 2014.
---
We could go on and on with this list if we wanted to. A.J. McCarron fit the mold of Coker as the ultimate game-manager and play-action passer extraordinaire. Cam Newton was a once-in-a-generation talent, who ran and passed his way to a Heisman and national title in 2010. 
So how can Dwayne Haskins become the next first-year starter on this list? It's simple, really. He has the perfect blend of talent from all of these quarterbacks. 
Haskins has the running back help that every young quarterback needs to be successful. Play-action passing off of a solid rush attack is every quarterback's best friend, especially an inexperienced one. The passing lanes get wider, and reads become easier.
The Potomac, Md. quarterback also has the gunslinger mentality that Winston had, although he compares more favorably to the likes of Deshaun Watson, who appeared in a pair of national title games as a sophomore and junior. 
The one thing that all of these players above have in common is that none of them were expected to have the seasons they had, when they had them. All were highly recruited players, but not all of them were expected to explode onto the scene when they did. When the pressure is off, young players tend to perform better because they can let everything loose.
That mindset should be the one Haskins has, because he doesn't have Joe Burrow looking over his shoulder anymore. Tate Martell will play, but in this writer's opinion, won't compete for full-time reps this season in part because he is not yet fully developed as a passer. 
I am not here to predict Ohio State will appear in the national title game. I am only here to tell you that Haskins has all the ingredients to be the next on this list. Whether he and his teammates can get the job done is a story for another day.