Urban Meyer's ability to attract and develop top talent at Ohio State is unrivaled by Buckeye head coaches of the past. 
Since his arrival in 2012, Ohio State has churned out well over 40 NFL draft picks including a dozen alone in the 2016 NFL Draft. 
Drawing on all those talented players – whether only coached by Meyer, or both recruited and coached by him – I attempted to assemble a starting defensive lineup working under the assumption I had one college game to win and could only pick from guys to have suited up for Ohio State from 2012 to present. 
This unit comes on the heels of last week's effort to pin down the All-Urban offensive starting unit. 
As for the defense, let's get to it: 
DEFENSIVE TACKLES

This one came down to four guys for two spots and though it worked out, I also wasn't worried about making a distinction between a true nose guard and a tackle. 
My final four consisted of Michael Bennett, Johnathan Hankins, Adolphus Washington and Dre'Mont Jones. 
Plugging the middle, I had to go with Hankins on the strength of a 2012 season in which he earned second-team All-American honors and a first-team All-Big Ten nod. The dude was an absolute freak capable of not only tying up multiple blockers but ably stopping the run and even bull-rushing the passer. His talents earned him a second round selection in the 2013 NFL Draft courtesy of the New York Giants. 
At defensive tackle, in a decision I'm guessing many of you will argue against, I went with Jones over Bennett. 
I love Bennett for what he gave to Ohio State especially down the stretch in 2014 (4.0 TFL and 2 FF against Wisconsin ring a bell?) but I feel like Dre'Mont just needs a full 2018 season to prove he belongs on this team. If you disagree, blame @jones, he pushed me over the top on this pick.
DEFENSIVE ENDS

Another position of gluttony, names like Sam Hubbard, John Simon and Noah Spence didn't make my final three vying for two defensive end spots. 
Instead, Joey Bosa, Nick Bosa and Tyquan Lewis were the last three standing.
Obviously Joey is the easy anchor pick after a 2014 season featuring 13.5 sacks and 21.5 TFL to go along with two Big Ten Defensive Player of the Year awards and two All-American selections. 
That left Lewis and the younger Bosa for the other spot and similar to my pick of Jones over Bennett at defensive tackle, I'm taking the younger – and currently less-proven – player over the veteran. 
Lewis was a somewhat unheralded stud for the Buckeyes tallying 15.0 sacks over the last two seasons along with being a two-time first-team All-B1G performer and the 2016 conference Defensive Lineman of the Year but obviously most of us feel like Nick Bosa is going to blow up this year and therefore justify his starting nod opposite his brother on the All-Urban defense. 
LINEBACKERS

Selecting a trio of linebackers was easier than I thought. Joshua Perry and Jerome Baker were in the discussion but ultimately it wasn't hard for me to land on the following three guys to lead this defense. 
Ryan Shazier wasn't recruited by Urban but you'll remember that's not the sole criteria here so he's a no-brainer to man an outside linebacker slot. 
Shazier was a straight up tackling machine leading the team in stops in both 2012 and 2013. His 143 tackles in Urban's second season served as the most in a single-season by a Buckeye since a dude named Spielman racked up 156 in 1987. 
His 22.5 TFL that same season still stand as the third-most by a Buckeye in a single-season. 
On the other side, Darron Lee gets my vote on the strength of a 2014 season in which he totaled 16.5 TFL (7.5 sacks) while flashing not only supreme playmaking ability but also a talent for blanketing backs, slot guys and tight ends in coverage. The New York Jets certainly recognized his talent making him the 20th overall pick in the 2016 NFL Draft. 
Finally, in the middle I'm going with Raekwon McMillan. Kwon posted over 100 tackles in back-to-back seasons, served as a team captain and earned first-team All-B1G and second-team All-American honors in 2016.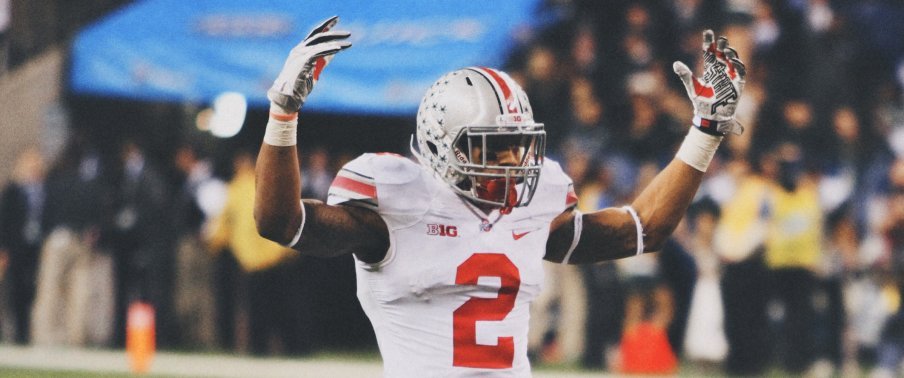 CORNERBACKS

I mean, c'mon. The stable of elite corners to pass through Columbus on Urban's watch is getting out of hound (hat tip to you long-time 11W-ers). 
With two spots to fill, my final five included the obvious Eli Apple, Gareon Conley, Marshon Lattimore, Bradley Roby and Denzel Ward. 
ALL FIVE of these dudes were first round NFL picks so spare me the outrage in the comments if I didn't pick your two guys. 
The number one corner on my squad is Lattimore. The 11th pick in the 2017 Draft, Lattimore racked up four picks and nine pass breakups for the 2016 Buckeyes as most quarterbacks chose to avoid him entirely. 
Opposite Lattimore, I landed on Roby, by a nose, over Ward. 
The 31st pick of the 2014 Draft, Roby totaled three interceptions and 13 pass breakups for the 2013 Buckeyes while also ranking third on the team in tackles with 69. I love Roby's physicality and willingness to offer run support (Ward had 37 stops, two interceptions and 15 pass breakups for OSU in 2017.) 
If you're curious, after Lattimore, Roby and Ward, I had Conley in the four-hole and Apple rounding out the top five but can you really go wrong with any two players from that crop? 
SAFETIES

While choosing two corners was damn near impossible, selecting my starting safeties was as easy as Jenna Jameson. 
ALL-URBAN DEFENSE


| POS | PLAYER |
| --- | --- |
| DE | JOEY BOSA |
| DT | DRE'MONT JONES |
| NG | JOHNATHAN HANKINS |
| DE | NICK BOSA |
| LB | RYAN SHAZIER |
| LB | RAEKWON MCMILLAN |
| LB | DARRON LEE |
| CB | MARSHON LATTIMORE |
| S | MALIK HOOKER |
| S | VONN BELL |
| CB | BRADLEY ROBY |
Vonn Bell, a second round pick in the 2016 Draft, holds down one spot after a Buckeye career in which he consistently came up big in big games and left Columbus as one of the surest tacklers in school history. 
In 2014, Bell posted 92 stops (along with six INT and six PBU), good for the most by a Buckeye safety since Mike Doss went for 107 in 2002. 
Alongside Bell, Malik Hooker is the other obvious choice after he went for 74 tackles and a ridiculous seven picks (three returned for touchdowns) for the Buckeyes in 2016 on the way to first-team All-American and Thorpe Award finalist accolades. Hooker's range in coverage was otherworldly and teamed with the tenacity of Bell, this safety combo is elite. 
Again, if you're curious, while they weren't realistically in the starter conversation, I had C.J. Barnett, Christian Bryant, Tyvis Powell and Damon Webb rounding out the top six.