"We don't have backups, just more starters."
We had that shirt printed shortly after Cardale Jones led the Buckeyes to three-straight postseason wins and a national title in place of the injured J.T. Barrett, who led Ohio State to 11-1 season and 8-0 Big Ten record as a redshirt freshman in place of the injured Braxton Miller.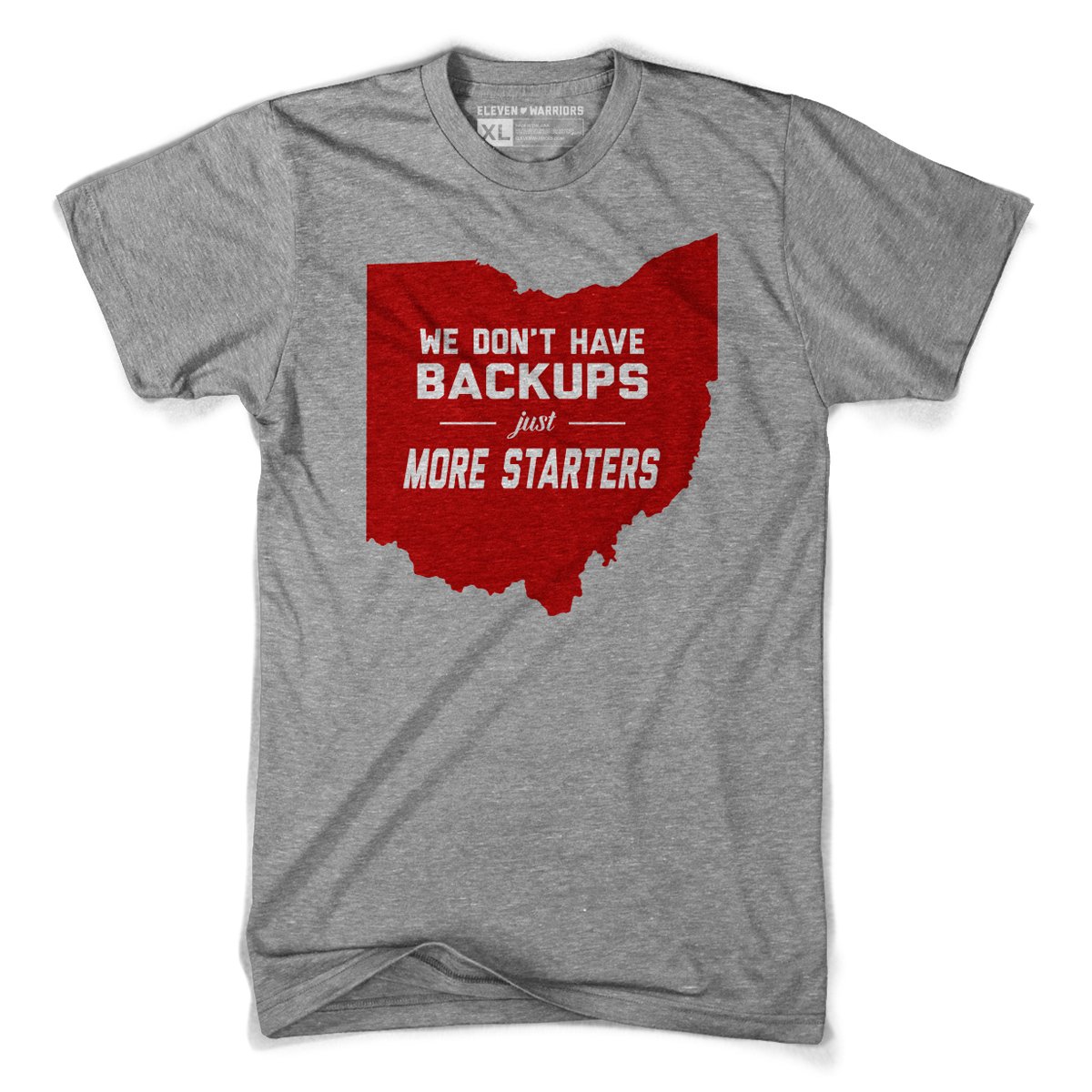 It was true then, and it seems to get more true every year.
With every loaded recruiting class Urban Meyer and his staff brings in, Ohio State's stockpile of talent grows larger, filling more and more with players eager to contribute, and more than capable of producing when their number is called.
Last season was perhaps the deepest team the Buckeyes ever had. Ohio State famously had at least four – and likely more – defensive ends who could start virtually anywhere in the country. They also had three or four cornerbacks ready to play meaningful minutes with the first team and six receivers with the talent to start.
The Buckeyes also had players ready to fill in seamlessly when a starter went down. J.K. Dobbins wasn't supposed to be a starter, but Mike Weber began the season hampered by an injury and Dobbins took advantage of his chance, breaking Maurice Clarett's debut rushing record as well as his freshman season rushing record.
When Chris Worley went down with an ankle sprain, Ohio State called on Tuf Borland to fill in, and Borland promptly led the team with 12 tackles and saw meaningful action in every remaining game. Branden Bowen broke his leg against Maryland, Demetrius Knox was the next man up and didn't miss a beat. Then, there's of course Dwayne Haskins, who engineered a comeback win over Michigan in relief of the injured J.T. Barrett.
The Buckeyes are talented top to bottom. There are players on the roster who won't see a meaningful snap this season, but could start for another Big Ten team immediately. That, more than even that star power at the top of the depth chart, is what makes Ohio State elite compared to other programs.
There are a lot of programs with talent at the top, but the Buckeyes have depth throughout. And with the potential for a 15-game season, that's absolutely vital in order to keep your team fresh and healthy throughout the season.
Last season, Ohio State was able to rotate its defensive ends, allowing them to remain fresh by game's end and dominate tired offensive lines. The Buckeyes were also able to rotate carries between Dobbins and Weber, rotate three corners and had six receivers ready to start. And that doesn't even count the second-team players ready to go the second there's an injury to someone in front of them.
And the team just keeps getting deeper. This season, Ohio State will once again rotate defensive ends, cornerbacks, running backs and receivers, but the Buckeyes will also have enough talent to rotate their defensive tackles, their linebackers, institute special packages for Tate Martell at quarterback, and have even talked about rotating offensive linemen due to the talent they have at the position.
Some teams struggled to find 22 high-caliber players, but this season Ohio State could realistically have 35-40 players ready, and planning to play meaningful snaps in the fall, even despite losing seven starters to the NFL Draft and more to graduation.
Ohio State's talent at the top has always made it a great team, but it's that depth and talent throughout the entire roster that makes it truly elite. And with the way the team's recruited the past few years, it's only going to get deeper.