The Ohio State football program excels at both recruiting the most talented athletes in the country and developing NFL-ready prospects. Some of the top selections in this weekend's draft, however, started as under-appreciated recruits. There is clearly some correlation between high school talent and NFL readiness, but the road to the first round does not always begin with a five-star ranking. In fact, none of Ohio State's seven draft picks entered the program as blue chip players.
Denzel Ward 
Denzel Ward was the fourth overall pick and first defensive player selected in the 2018 NFL Draft. After just three years with Mickey Marotti, Kerry Coombs and Greg Schiano, Ward is at the most elite level of football. 
As a recruit in 2015, Ward was the 270th-ranked player in his class and the 26th most sought after cornerback. Eleven of Ward's fellow Ohio State signees earned higher rankings, including fellow cornerback Eric Glover-Williams. 
Ward dramatically exceeded expectations. From the outside looking in, he was supposed to be the kind of player with potential to develop as an upperclassman. Instead, he emerged as the most sought after defensive talent in the nation in the first year of his NFL eligibility. 
Billy Price
On Thursday, Billy Price was the 21st overall pick in the draft. As a recruit, Price was the 15th-highest rated member of Ohio State's 2013 class. Originally listed as a defensive tackle, the in-state prospect was rated 211th in the nation. Few recruiting analysts foresaw Price's path to the first round.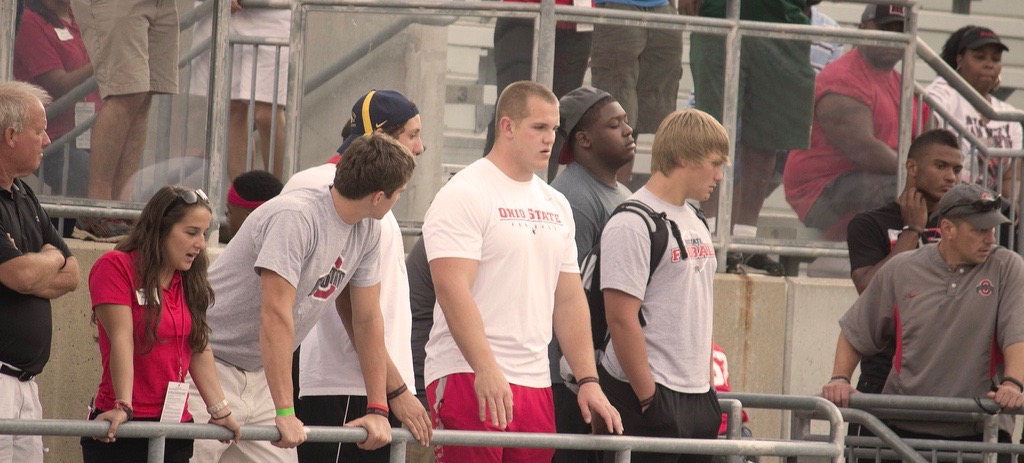 Tyquan Lewis
A second round pick in 2018, Tyquan Lewis was the fourth lowest-ranked member of Ohio State's 2013 recruiting class. (Darron Lee, Chris Worley and Tracy Sprinkle, all of whom had successful careers, were ranked lower.) The lowest-ranked recruit and first-drafted of Ohio State's three defensive ends, the former 293rd-ranked recruit surprised everyone but himself on his way to the NFL. 
Jerome Baker
The hype was real with Jerome Baker. The third-rounder was an Army All-American and the 61st-ranked overall prospect in the 2015 class. Only Justin Hilliard, who has been plagued by injuries, was ranked above Baker in Ohio State's class. While some expected to Baker to be a first rounder after his breakout sophomore campaign, he garnered respect before, during, and after his Buckeye career. 
Sam Hubbard
The story of Sam Hubbard's transition from lacrosse commit and high school safety to star defensive end is well known. Hubbard's ranking as a recruit –192nd in the nation – reflected that he was a freakish athlete but a largely unknown quantity as a football player. Hubbard's status as a third-round pick confirms Urban Meyer wisdom in betting on the combination of Hubbard's athleticism and Larry Johnson's defensive line coaching. 
Jalyn Holmes
Jalyn Holmes was one of the most heralded defensive end recruits in the nation in 2014. Ranked 73rd overall prior to college, Holmes justified his ranking as the 102nd pick in the 2018 draft, which included players from multiple years. While all of Larry Johnson's defensive ends were drafted well this weekend, a testament to the power of development, it is worth noting that the group was drafted in inverse order to their ranks a recruits. 
Jamarco Jones
Jamarco Jones was drafted in the fifth round on Saturday despite many predictions he would be selected earlier. The 59th overall prospect and fourth-ranked offensive tackle in the nation in 2014, Jones met expectations as a two-year starter and two-time all-conference honoree. On Saturday, he confirmed his status as a NFL-caliber talent. 
Damon Webb
As a recruit, Damon Webb's was a borderline five-star prospect. He was the 36th-ranked high schooler in the country in 2014. As the second-highest rated player in Ohio State's class, Webb was ranked ahead of future NFL Defensive Rookie of the Year Marshon Lattimore. Webb was an impact player at Ohio State, and Lattimore tweeted that he was disrespected when he went undrafted last night. Webb could have gone as early as the third round, and he will have chance to prove himself with the Tennessee Titans. His draft day woes, however, demonstrate the often tenuous link between college recruiting and NFL desirability.