Ohio State superfan Buck-I-Guy caused a stir Wednesday when he attended the Earle Bruce memorial service in full regalia. Wildly, it wouldn't even be the most tactless thing he did that day.
Buck-I-Guy later attended family visiting hours at Schoedinger Funeral and Cremation Service in Worthington (sans uniform) and signed a Bruce family memorial photo meant for former players and coaches.
From O-Zone reporter Tony Gerdeman:
Speechless right now. pic.twitter.com/3u5Ttf9b1d

— Tony Gerdeman (@TonyGerdeman) April 25, 2018
The best case scenario is Buck-I-Guy missed the sign. The worst case scenario is an ostensibly grown man has leaned so far into his self-aggrandizing schtick he has deluded himself into thinking he's Buckeye royalty.
It's not hard to imagine how former players felt. According to WTVN reporter Matt McCoy, who eulogized Bruce yesterday, Bruce's pupils rectified the error:
A follow up on the Buck-I-Guy, signing the Earle picture mess... It clearly angered former players...to the point that someone used black marker to scribble out his signature and creatively turned it into a drawing of a buckeye.

— Matt McCoy (@MattMcCoyZone) April 26, 2018
An Eleven Warriors tipster provided a glimpse at the final product: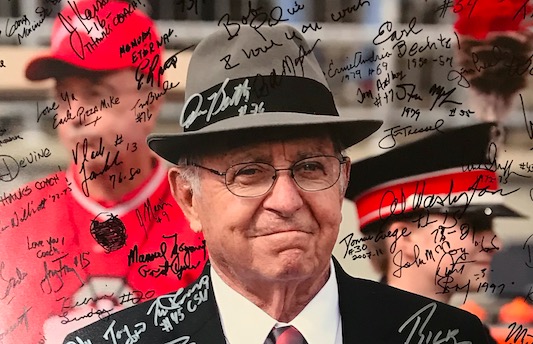 A petition to ban Buck-I-Guy from university property is now circulating. As of this writing, it has 200 signatures.
---
UPDATE (April 27, 10:35 a.m.): Buck-I-Guy took to Facebook and issued an apology:
John Chubb (Buck-I-Guy) issues an apology for his conduct at Earle Bruce's memorial service earlier this week.https://t.co/e80u2WeNlX pic.twitter.com/z3KSvoStsg

— Eleven Warriors (@11W) April 27, 2018
Follow Eleven  WarriorsFacebook, Twitter, Instagram and YouTube