The show must go on.
Despite the threat of inclement weather that led many college football teams in the region to either cancel or move up their spring games, Ohio State announced Friday morning that it will still play its spring game on Saturday, albeit at a new kickoff time of 11:45 a.m., two hours earlier than originally scheduled.

SPRING GAME
11:45 A.M. – SATURDAY, APRIL 14
OHIO STADIUM
COLUMBUS, OHIO
---
BTN
BTN2GO
While the elements could still have an impact on Saturday's game, as the forecast calls for a likelihood of rain all day, Ohio State fans will have their long-awaited opportunity to see Dwayne Haskins, Joe Burrow and Tate Martell compete for the starting quarterback job inside Ohio Stadium.
Those three quarterbacks, though, will be far from the only Buckeyes looking to finish their springs with a big performance in the Shoe that shows – or at least suggests – that they belong in the lineup when the real games begin this fall.
Saturday's spring game won't count toward the record for the Buckeyes' 2018 season, but it will be a significant opportunity for Ohio State coaches and fans alike to see how the 2018 Buckeyes perform in a game setting for the first time this year.
Starting Job On The Line

While it isn't likely that Urban Meyer will name a starting quarterback after Saturday's spring game, nor will the spring game be a be-all, end-all for who wins the quarterback job, it will be an important piece of the evaluation process as the Buckeyes work toward a decision on which signal-caller should lead their offense this year.
Given that the Buckeyes will have already practiced 14 times this spring before they take the field on Saturday, Ohio State's coaches should already have a good idea of what their quarterbacks are capable of and what they still need to work on going into the summer. The spring game, to some extent, is a glorified practice, so how the quarterbacks perform on Saturday won't suddenly supercede what they have already done in the rest of their spring practices.
That said, Ohio State's coaches will certainly want to see that their quarterbacks can translate what they've done well in practice to playing in front of a crowd in a game-like environment inside Ohio Stadium. And given that Meyer said earlier this week that there remains little to no separation between Haskins, Burrow and Martell, a strong spring game showing could potentially be enough to propel one quarterback ahead of the others – at least until fall camp begins.
Rosters for Saturday's spring game have not yet been announced, but it's presumable that Burrow and Haskins – as the two most experienced quarterbacks on the roster – will each start for one team, while Martell could see snaps for both teams (like Haskins did last year as a redshirt freshman) in an effort to give each quarterback a relatively equal share of reps. Walk-on quarterback Kory Curtis could get an opportunity to play as well, but early enrollee quarterback Matthew Baldwin will not play as he recovers from knee surgery.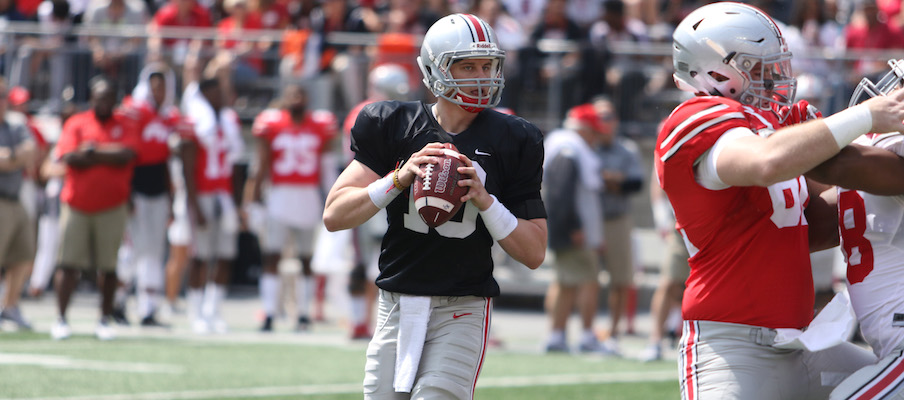 Not Just The Quarterbacks

It goes without saying that the quarterback competition will draw most of the attention in Saturday's spring game. But there are plenty of other players competing for starting spots and/or playing time, too, that also bear watching.
Asked Wednesday to name a position group to watch other than the quarterbacks in Saturday's game, Meyer singled out the field safety position, where Isaiah Pryor, Jahsen Wint and Brendon White are all still competing for the starting spot alongside Jordan Fuller.
The center position will certainly be another one to watch in Saturday's game. While Brady Taylor, who Meyer says has "had a very good spring," is the leader in the clubhouse to replace Billy Price, he could still need a strong spring game showing to solidify the starting job. Josh Myers and Matthew Burrell are among the other players who should get snaps at center on Saturday as they look to keep themselves in the race for the starting job.
Meyer also named tight end as a position to watch, adding that Luke Farrell has emerged as the top tight end on the depth chart for now but that his standing atop the depth chart has not been finalized. That could make a strong spring game showing crucial for Rashod Berry and Jake Hausmann if they want to see significant playing time this fall, especially with highly touted recruit Jeremy Ruckert coming to Columbus this summer.
There might not be any unit with a more wide open competition for playing time this spring than linebacker, so that will be a position to watch as well. The starters between the two teams will likely consist of Justin Hilliard and Baron Browning at middle linebacker, Keandre Jones and Pete Werner at weakside linebacker and Malik Harrison and Dallas Gant at strongside linebacker in some combination. With Tuf Borland sidelined by a Achilles injury, all three linebacker spots are open for competition, giving all of those linebackers a lot to play for on Saturday.
Beyond the positions where there are clear battles for starting spots, there are plenty of other players who will be looking to prove they are worthy of more playing time in 2018. Will there be room in the rotations at their respective positions for players like Shaun Wade and Marcus Williamson at cornerback, Antonio Williams at running back, Tommy Togiai at defensive tackle and Demario McCall, C.J. Saunders and Jaylen Harris at wide receiver? That much remains to be determined, but performing well in the spring game could certainly help their respective causes.
It's been well-documented that a big performance in the spring game is not always a sign of future success. Nick Conner, Torrance Gibson and Erick Smith are among the recent examples of spring game standouts who never played at the same level in the fall; Conner's career was ruined by injuries, Gibson left Ohio State before ever playing a regular-season snap and Smith had an underwhelming career due in part to both injuries and off-field mishaps.
Nonetheless, it's still an opportunity for players to demonstrate their improvement from the previous season and finish the spring with some positive momentum, and the Buckeyes have no shortage of unproven but talented players who could do that on Saturday.
The Weather Effect

While the threat of thunderstorms dissipated enough for Ohio State to play its spring game on Saturday, it's still likely to look a little different than the typical spring game.
Forecasted rain could make for a less than ideal setting for players who are trying to demonstrate their skills, especially for the quarterbacks, as the elements will likely make passing the ball a challenge.
At the same time, though, it could be a valuable opportunity for Ohio State's coaches to value how their players handle tough weather conditions, something they will certainly need to be ready to do this fall. That's perhaps especially true for the quarterbacks, considering what happened last year in a torrential downpour against Illinois, when Haskins – after replacing J.T. Barrett in a lopsided game – lost a fumble that was returned for a touchdown, prompting Meyer to put Barrett back in the game.
Even if the weather forecast was perfect for Saturday, it's likely that some of Ohio State's established veteran players – such as Fuller, defensive linemen Nick Bosa and Dre'Mont Jones, wide receivers Parris Campbell and Terry McLaurin and left tackle Isaiah Prince – wouldn't have played much if at all anyways, as the Buckeyes have been protecting them this spring. Running backs coach Tony Alford already suggested Monday that J.K. Dobbins and Mike Weber would only play in a limited capacity. Should weather conditions be poor, however, it's even more likely that those players will be held out or play very sparingly, as the Buckeyes will not want to unnecessarily risk injury to players who are already proven starters.
Fan Information

If you're planning to attend Saturday's game, the gates to Ohio Stadium will open at 10 a.m., while parking lots will open at 6 a.m. Tickets are no longer being sold for Saturday's game, however, as approximately 79,000 tickets were distributed while about 18,000 seats will be unavailable due to Ohio Stadium construction.
If you're planning to watch from home, the game will still be broadcast live on BTN. And as always, Eleven Warriors will have full coverage from Ohio Stadium before, during and after Saturday's game. I will be providing live updates throughout the game on Twitter, as will James Grega, Andrew Lind and Eleven Warriors' official Twitter account.