For the better part of the last two seasons, Ohio State has prided itself on having a deep wide receiver rotation that kept its pass-catchers fresh throughout the course of the game. 
In 2018, that receiver group is still one of the deepest units not just on Ohio State's roster, but in the Big Ten. The Buckeyes return their top six receivers in terms of yardage from last season, making the competition in Zach Smith's room as stiff as ever. 
One player who earned surprising reps as the Buckeyes' seventh rotation man last season was walk-on C.J. Saunders. The Dublin, Ohio native caught 17 passes for 221 yards and a touchdown for Ohio State in 2017, catching at least one pass in eight of 14 games last season. In extended time with the backups in a 54-21 win over UNLV, Saunders recorded a career-high six catches for 102 yards and his lone touchdown of the season. 
With receiver production not quite to the standard Urban Meyer expects in recent years, Meyer was asked after Saunders' performance against the Rebels if he had earned more reps with his play. 
"His body, wish we could do something to get him a little stronger and more strength, because he's a really good player, just not very big," Meyer said of Saunders after the UNLV win. "Coach Mick is working hard at that."
Just a few months later, Saunders has put on nearly 10 pounds, and is working to earn more time in the wide receiver rotation. He said Thursday that he is grateful for the strength staff at Ohio State putting him in a position to earn more playing time. 
"I am super thankful for the weight staff and the work they invested in me. They saw what they thought I could be, and I obviously thought so. I needed to get stronger, I needed to put some weight on," Saunders said. "They worked hard with the nutrition staff and put a real plan together so I could get to an upper 180 (weight) instead of just being in the high 170s. That is a big difference. I think it was a great offseason."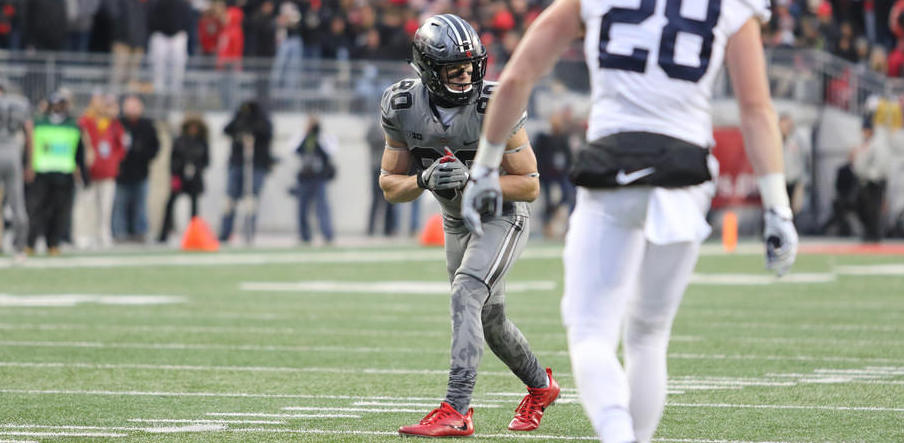 It was clear that it wasn't Saunders' ability to catch the football that kept him off the field last season, but rather his ability to block consistently in the run game. Much of his meaningful time on the field came in obvious passing situations on third down, rather than scenarios in which Ohio State could or would run the ball. 
Smith said Thursday that Saunders has committed to getting bigger and has, but still has even more room to grow and get stronger before the opener against Oregon State rolls around. 
"He is a little bigger, but it is more about functional strength than football strength," Smith said. "It's not an easy process for an undersized guy to gain weight. He has done a good job. He has gained eight pounds and will try to gain another eight to 10 before the season."
With K.J. Hill sidelined for spring practice with an injury, Saunders will likely get more reps in the slot and at H-back than he has in the past. He said that even though the likes of Hill and Parris Campbell are in front of him on the depth chart, he is embracing the depth and talent that his unit has to offer. 
"We're loaded. I am super excited," he said. "We will figure (the rotation) out through spring ball, just see what packages you can play in, what stuff Parris is good at, what stuff K.J. can do and we can all complement each other."
When asked about what his individual goals for the season are, Saunders kept his answer in perspective, and said he is looking forward to contributing in whatever way is asked of him.
"Just make all the plays that I am given and help out however I can. I didn't really set any touchdown goals or anything like that," Saunders said. "Just do what I can to help the team on offense, special teams, whatever. That is my goal."
However, if Saunders can add more weight, get stronger and impress during spring and fall camp, Smith said the junior wide receiver could make a push to earn more time in 2018. 
"You're going to play the best 11," Smith said. "If he is one of the best 11, he is going to be on the field."