Nick Bosa, Dre'Mont Jones, Parris Campbell and Terry McLaurin are among the players who have been limited in practices for Ohio State this spring.
All of them are healthy enough to participate more fully in practice, but the Buckeyes want to make sure they stay that way.
In the interest of avoiding injuries that could keep players out of action when the real games begin this fall, Ohio State has been protecting several of its most established veteran players this spring, keeping them out of certain drills and situations in practice that present greater injury risks.
During his most recent press conference on Monday, Ohio State coach Urban Meyer specifically named Campbell and McLaurin – both fifth-year senior wide receivers, and the Buckeyes' only two returning captains from last season – as players who the Buckeyes are "protecting" this spring. He also said the Buckeyes are being cautious with Bosa and Jones – the stars of their defensive line – who were seen doing individual drills while other defensive linemen were doing team drills when Ohio State last opened a portion of practice to the media.
Left tackle Isaiah Prince, entering his third year as a starter on the Buckeyes' offensive line, has also been held out of some drills for precautionary reasons. And junior safety Jordan Fuller, who was seen wearing an orange practice jersey (signifying non-contact) during the aforementioned portion of practice open to the media, is another player who Meyer said the Buckeyes "have to keep him healthy."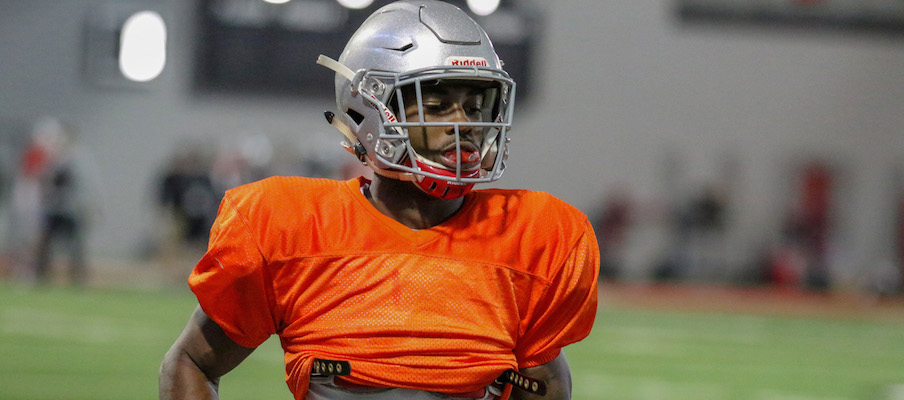 All of those players can afford to sit out some portions of practice because they are established starters with at least one full season of starting or playing in heavy rotation under their belts. At this juncture, it makes sense to prioritize their health over repping them as much as possible in practice. Additionally, taking those players off the field in certain situations has opened the door for younger players at their positions – who need the springtime reps more than the established veterans do – to see more action in practice.
Fifth-year senior right guard Demetrius Knox, who has been a full participant in spring practice with only a half-season of starting experience under his belt, says those extra repetitions have been beneficial not only for him but for younger players on the offensive line, where Michael Jordan and Branden Bowen have both been out due to injuries in addition to Prince being limited.
"It's really good for the younger guys, because they get the opportunity to get more reps," Knox said. "It helps it a lot, because everybody gets a chance."
That said, the decision to keep some of their top players off the field – along with several players who actually are injured, including Jordan, Bowen, wide receiver K.J. Hill, linebackers Tuf Borland and Dante Booker and cornerback Jeffrey Okudah – hasn't been ideal for the Buckeyes in some practice situations.
For example, the absence of some of the Buckeyes' top wide receivers from the lineup has made it more difficult for the Buckeyes' quarterbacks to flourish, as the three competitors for the starting quarterback job have spent much of their time throwing to receivers who are just trying to prove they belong on the field rather than receivers with years of significant playing experience under their belts.
"I'm not making an excuse for the quarterbacks, but I'm protecting some of the older receivers," Meyer said. "And it looks like, it's awful when you start pulling those guys out. So that's an alarm for down the road, we got to get much better."
So far this spring, Ohio State's defense has been "way ahead of the offense," according to Meyer, and one reason why has been because of the absences of Hill, Jordan and Bowen and the limited participation of players like McLaurin and Campbell.
Meyer believes that any setbacks the Buckeyes have had on either side of the ball because of veteran players being on the sidelines, however, is a small price to pay compared to the potential cost of losing them – like they already have this spring with Borland, who is expected to be out until at least September with an Achilles injury – to significant injuries that could affect their availability this fall.
"It's a little bit of herky-jerky out there, (but if) the answer is go play those guys and put them in harm's way too much, we're not going to do that," Meyer said. "We just have to fight through it."