Ohio State's recruiting class of 2017 was ranked as the No. 2 recruiting class in all of college football and at the time, was the highest-rated recruiting class in Ohio State history.
Now entering their second season as Buckeyes, the members of that recruiting class should have the opportunity to show they were so highly rated.
Meeting with the media after Ohio State's first spring practice of 2018, Ohio State coach Urban Meyer said he believes many of his second-year players are capable of breaking out and making an impact for the Buckeyes this season.
"They're A-1-A people," Meyer said. "They're performing very well in all the areas of our program. So that's usually an indication that something good's coming."
Ohio State's 2017 recruiting class was already noteworthy last year for how many of its members saw at least some playing time, as only six of Ohio State's 21 scholarship players in the class redshirted. Most of the 15 who did play, though, only saw occasional playing time on offense or defense, with some seeing more significant action on special teams.
Now that all of those players (with the exception of Trevon Grimes, who transferred to Florida) have a year under their belts, that could change in a big way, as many of them are competing for significant roles this spring.
"They're performing very well in all the areas of our program. So that's usually an indication that something good's coming."– Urban Meyer on Ohio State's class of second-year players
The star of the 2017 recruiting class in its true freshman season, of course, was J.K. Dobbins, who started every game for the Buckeyes at running back last season and broke Maurice Clarett's school freshman rushing record in the process. Although he hasn't been guaranteed to keep the starting job for 2018, as Meyer expects Mike Weber to compete to try to seize that starting job back, there's no question that Dobbins will continue to play a key role for the Ohio State offense this year, as he has already made his case for being among the best running backs in college football.
Another 2017 recruit who played a key role for the Buckeyes in his first season at Ohio State was Kendall Sheffield, who was the Buckeyes' third cornerback last season but rotated into the lineup regularly, and could be the Buckeyes' No. 1 cornerback in 2018. Unlike the rest of Ohio State's 2017 recruits, Sheffield is actually in his fourth year of collegiate football – he spent one season at Alabama and one season at Blinn College before becoming a Buckeye – and could leave for the NFL after 2018, but he should be one of the recruiting class' top players once again this fall.
Dobbins and Sheffield were the only first-year Buckeyes who saw consistent playing time on either offense or defense for Ohio State in 2017. There are several other 2017 recruits, though, who appear to be on the precipice of earning that kind of playing time in 2018.
Three of the most obvious candidates to potentially be breakout stars in their second seasons as Buckeyes are defensive end Chase Young, linebacker Baron Browning and cornerback Jeffrey Okudah, their three most highly rated signees in the 2017 class. Young is competing with Jonathon Cooper this spring for a starting defensive end spot – though he should see substantial playing time in the rotation either way – while Browning appears likely to challenge Keandre Jones for the starting weakside linebacker spot. Okudah likely would be challenging Sheffield and Damon Arnette for a starting cornerback spot this spring if not for a recent shoulder surgery that will keep him out of action until fall camp.
One of the Buckeyes' most impactful second-year players in 2018, however, could end up being one of the 2017 class' least highly touted recruits. Thayer Munford, a late addition to the 2017 class, was expected to be a long-term project when he arrived at Ohio State last summer, yet has already made enough of an impression on Ohio State's coaching staff that he is already penciled in as the Buckeyes' starting right tackle for 2018.
Meyer said Tuesday that Munford had an "excellent offseason" of workouts with director of football sports performance Mickey Marotti, setting him up to fill the open starting spot at right tackle as Isaiah Prince moves across the line to left tackle.
"We had our champions dinner yesterday," Meyer said Tuesday, "and Coach Mick, he gave a lot of awards to Thayer Munford. Which is a great story. Very talented guy."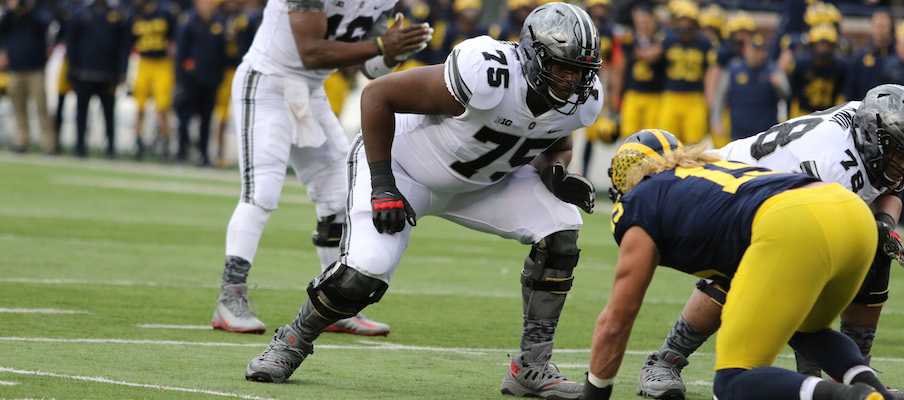 Another second-year Buckeye who appears to be well-positioned to earn a starting spot is Isaiah Pryor, who lined up as a first-team safety alongside Jordan Fuller during Tuesday's opening practice of the spring. Pryor still has to prove he is ready to be a starter, though, as Meyer said Tuesday that position, where the Buckeyes are replacing departed safety Damon Webb, is a position of concern.
It's possible that a second-year player could end up taking over the most prominent position on the team, as Tate Martell starts the spring as one of three quarterbacks competing to replace J.T. Barrett as the Buckeyes' starting signal-caller. Third-year quarterback Dwayne Haskins and fourth-year quarterback Joe Burrow appear to be starting spring ahead of Martell in the pecking order, but Meyer said Tuesday that Martell – who redshirted last year – has "earned the right to compete as well" for the job.
Second-Year Scholarship Players


| Position | Name |
| --- | --- |
| QB | TATE MARTELL |
| RB | J.K. DOBBINS |
| WR | ELLIJAH GARDINER |
| WR | JAYLEN HARRIS |
| OT | THAYER MUNFORD |
| OG | WYATT DAVIS |
| OC | JOSH MYERS |
| DE | CHASE YOUNG |
| DT | JERRON CAGE |
| DT | HASKELL GARRETT |
| LB | BARON BROWNING |
| LB | PETE WERNER |
| CB | JEFFREY OKUDAH |
| CB | KENDALL SHEFFIELD (JUCO TRANSFER) |
| CB | SHAUN WADE |
| CB | MARCUS WILLIAMSON |
| S | ISAIAH PRYOR |
| S | AMIR RIEP |
| S | BRENDON WHITE |
| K | BLAKE HAUBEIL |
Ohio State's competition for the starting center job – which Meyer said he is actually more stressed about than the quarterback competition – also includes a redshirt freshman candidate in Josh Myers, who took second-team reps at center in Tuesday's opening practice. While fifth-year senior Brady Taylor begins spring as the first-team center, Ohio State hasn't committed to him taking over the starting job, leaving the door open for Myers to potentially seize it away.
Other second-year Buckeyes who appear to be well-positioned to compete for spots on Ohio State's two-deep depth chart and earn at least some playing time include defensive tackle Haskell Garrett, strongside linebacker Pete Werner, cornerbacks Shaun Wade and Marcus Williamson and safety Brendon White – all of whom took reps with the second-team defense on Tuesday, along with Young and Browning.
Blake Haubeil, who finished his first season as a Buckeye strong after drawing criticism from Meyer for his kickoffs in the first half of the season, should continue in his role Ohio State's kickoff specialist this year. Amir Riep isn't a top candidate to see considerable playing time in Ohio State's secondary in 2018, having just made the move from cornerback to safety, but he is likely to remain a regular on special teams after starting on the Buckeyes' kickoff coverage unit in every game as a true freshman.
Jaylen Harris was impressive during the media observation period of Tuesday's opening practice, and appears to have real potential to make a difference for the Buckeyes at wide receiver, but he might not have a clear path to regular playing time in 2018 with all of Ohio State's top six receivers from last season back on the roster this year. Likewise, five-star recruit Wyatt Davis has the talent to push for playing time at guard, but could be stuck behind veterans Michael Jordan, Demetrius Knox, Branden Bowen and Malcolm Pridgeon on the depth chart.
The second-year Buckeyes who could face the longest odds to see regular playing time this year are defensive tackle Jerron Cage and wide receiver Ellijah Gardiner, both of whom redshirted last season and are buried on the depth chart at their respective positions, which are two of the deepest position groups on the team.
Ohio State had several second-year players who made significant impacts on the field in 2017, led by Jordan, Fuller and defensive end Nick Bosa but also including middle linebacker Tuf Borland and wide receivers Austin Mack and Binjimen Victor, among others.
The prime example of how a strong class of second-year players can elevate a program, though, came in 2014, when a multitude of players from the 2013 recruiting class – including Barrett at quarterback, Ezekiel Elliott at running back, Jalin Marshall at wide receiver, Billy Price at left guard, Joey Bosa at defensive end, Darron Lee at strongside linebacker, Eli Apple at cornerback and Vonn Bell at safety – played key roles in leading Ohio State to a national championship.
If Ohio State's 2017 recruiting class can come anywhere close to replicating that in 2018 – and it certainly has the talent to – the Buckeyes could move into position to contend for a national title once again.