The Ohio State football team held its first practice of 2018 on Tuesday morning, when this year's edition of the Buckeyes took to the indoor field inside the Woody Hayes Athletic Center for their first of 15 spring practices.
Ohio State opened its doors to the media for the first hour of the opening practice, allowing us here at Eleven Warriors to get our first glimpse of what the Buckeyes could look like this season.
The question everyone wants to know the answer to, of course, is who Ohio State's starting quarterback will be in 2018. Tuesday's practice, though, didn't provide much clarity on that question.
Dwayne Haskins, Joe Burrow and Tate Martell all took a relatively equal amount of snaps, with Haskins and Burrow appearing to get most of the first-team work, but all had their fair share of misfires, as none of them stood out. That's to be expected for the first practice of the year, as the defense typically has an advantage over the offense in early practices, but it's clear that all three have plenty of work to do to establish timing with Ohio State's wide receivers this spring. 
Early enrollee quarterback Matthew Baldwin, who is recovering from a knee injury, did not throw at all in Tuesday's practice.
It's advised not to read too much into anything from the first hour of the first practice of the spring, as it's a prime time for coaches to experiment with lineups and rotations that they might not actually use in the fall, and of course, there's a long way until the actual games begin. There were some noteworthy sights at Tuesday's practice, though, that could be a sign of things to come.
Prince On The Blind Side
Outside of the quarterback competition, perhaps the second-biggest question entering this spring was what the Buckeyes would decide to do at the left tackle position. The most popular prediction, though, was that Isaiah Prince would move over from right tackle to left side – and it appears as though that could be the case.
Prince repped at left tackle during Tuesday's practice, with Thayer Munford taking his place at the first-team right tackle. It's worth noting, though, that two other potential candidates to make the move to left tackle – Branden Bowen and Michael Jordan – were not taking practice reps on Tuesday. (Update: Urban Meyer said later Tuesday morning that Prince is in line to start at left tackle and Munford is penciled in as the starting right tackle.)
With Jordan and Bowen out, Malcolm Pridgeon lined up as the first-team left guard while Demetrius Knox was the first-team right guard. Brady Taylor lined up with the starters at center.
Redshirt freshman Josh Myers lined up as the second-team center, while fellow redshirt freshman Wyatt Davis lined up as the second-team right guard. Joshua Alabi took second-team reps at left tackle with Matthew Burrell at left guard and Kevin Woidke at right tackle.
Who Will Start On Defense?
An early drill in practice featured the first-, second- and third-team defenses all running around on the field together, giving us a potential glimpse into who the starters could be for the Buckeyes on that side of the ball this season.
The first-team defense consisted of Nick Bosa and Jonathon Cooper at defensive end; Dre'Mont Jones and Robert Landers at defensive tackle; Keandre Jones, Tuf Borland and Malik Harrison at linebacker; Kendall Sheffield and Damon Arnette at cornerback; and Jordan Fuller and Isaiah Pryor at safety. 
The second-team defensive ends were Chase Young and Jashon Cornell, as Cornell appears set to move outside from defensive tackle to defensive end, where Bosa, Young and Cooper are the only returning scholarship players. Haskell Garrett and Davon Hamilton lined up as the second-team defensive tackles. Baron Browning, Justin Hilliard and Pete Werner lined up as the second-team linebackers. Jahsen Wint and Brendon White got the second-team reps at safety, while Marcus Williamson and Shaun Wade took the second-team reps at cornerback. (Jeffrey Okudah, who is currently recovering from shoulder surgery, did not practice on Tuesday morning.)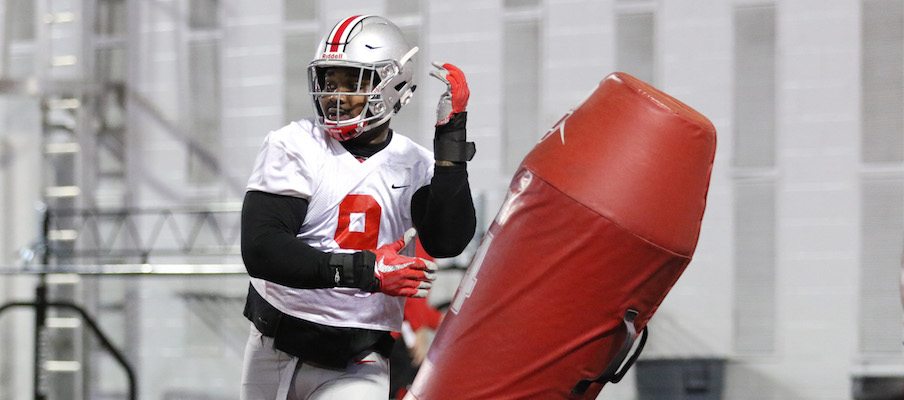 A Punt Returner Competition?
During the punt team portion of practice that opened Tuesday's session, Ohio State deployed Demario McCall (who appears to have made the move from running back to wide receiver), Johnnie Dixon and C.J. Saunders as its three returners fielding punts, with McCall appearing to be the first man through the order.
That said, Ohio State's punt returner from last year – K.J. Hill – was in a sling and not practicing on Tuesday. So it's likely that Hill will be back at the forefront of the punt returner competition once he gets healthy. (Update: Meyer said later Tuesday morning that he expects McCall to be both the Buckeyes' kickoff and punt returner this year.)
Famous Visitors
Former Ohio State defensive end Tyquan Lewis and linebacker Chris Worley, fresh off their trips to the 2018 NFL Scouting Combine, were among the former Buckeyes back at the Woody Hayes Athletic Center for Tuesday's practice. Lewis said Tuesday that he was feeling better after battling the flu last week, and even helped out defensive line coach Larry Johnson and new graduate assistant Kenny Anunike with conducting some defensive line drills.
Santonio Holmes, perhaps best known for his game-winning catch for the Pittsburgh Steelers in Super Bowl XLIII, was also among the former Buckeyes in attendance.
Huntington, West Virginia offensive tackle recruit Doug Nester, Ohio State's first commitment for the class of 2019, was also on hand to watch the Buckeyes practice Tuesday.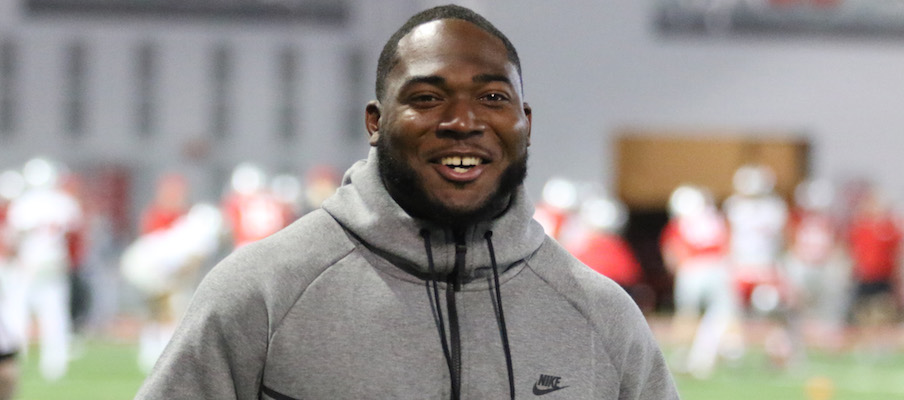 New Mottos
Are You A 5?
What's Your W/L?
Strain To Finish
Urban Meyer's Ohio State has certainly been known for having oft-repeated mottos, especially this time of year, and at Tuesday's practice, the above numbered list – displayed prominently on the center graphic board above the indoor field – gave a glimpse into some of the phrases that the players are likely to hear from their coaches frequently this year.
No. 3, in particular, appeared to be the theme of Tuesday morning's practice, as "Strain!" was repeatedly called out over the speakers as the Buckeyes went through their first hour of drills.
More To Come
Stay tuned with Eleven Warriors for further coverage from Ohio State's first spring practice.