Denzel Ward is looking to prove he should be Ohio State's next first-round cornerback.
J.T. Barrett might just be looking to prove that he should be drafted at all.
Either way, Ward and Barrett will be among 11 former Ohio State players looking to put their best attributes forward at this week's NFL Scouting Combine in Indianapolis, where over the next six days, more than 300 prospects for the 2018 NFL draft will complete measurements, medical testing, interviews and finally, on-field workouts.
While the NFL Combine is often mocked for being an "Underwear Olympics," as the week will not include playing any actual football, the reality is that it is an important part of the draft process, as it allows NFL scouts to compare prospects against one another in a standard setting while getting more complete assessments of their athleticism, size, personality and health.
Every one of Ohio State's 11 participants, all of whom have a real shot at being drafted and some of whom could be early-round picks, will have something to prove.
The Prospects
The star of Ohio State's draft class is Ward, who will be looking just how highly he should be selected when he works out during the final day of the combine on Monday. A shutdown cover corner in his final season with the Buckeyes, Ward has the potential to run one of the fastest times among all participants in the 40-yard dash, the combine's premier event. Ward will also be looking to post a top number in the vertical jump, having set up a pledge drive that enables donors to pledge an amount of money for each inch he leaps, with all proceeds going to the Paul G. Ward Scholarship Fund, which will help support college-bound students in Bedford, Ohio, where his late father was a teacher.
Ohio State's next-most likely first-round pick is Billy Price, who is widely considered to be the top center in the 2018 draft class. His time to shine could come on Thursday, when he and his fellow offensive lineman will participate in attempting to bench press 225 pounds as many times as they can. That said, Price also has the athleticism to stand out in on-field testing and the intelligence and personality to stand out in the interview process.
Another potential first-round pick who should impress with both his intelligence and his athleticism is Sam Hubbard, who will be one of three defensive ends from Ohio State participating in the combine, along with Jalyn Holmes and Tyquan Lewis, who are projected to be middle-round draft selections but could also bolster their draft stocks by demonstrating impressive athleticism when the defensive linemen work out on Sunday.
Lewis and Holmes both had impressive showings at the Senior Bowl in January, and offer size that enables them to play both outside and inside in various situations, which should appeal to NFL teams – especially if they can put up good numbers in their pre-draft workouts. Holmes will also be looking to raise money through a pledge drive for charity – in his case, Option2, a nonprofit that helps student-athletes prepare for life after sports – with pledges donating money for every repetition he completes in the bench press.
The Buckeye who should "light up the combine," as NFL Media's Mike Mayock put it on a teleconference earlier this week, is linebacker Jerome Baker, who has some areas in which he needs to improve his play on the field but has shown himself to be an elite athlete. An underwhelming final season at Ohio State threw a wet blanket on the hype that Baker was receiving from draft analysts going into last fall, but if Baker can run as fast and jump as high as he should be capable of, that hype train could easily accelerate to full speed once again.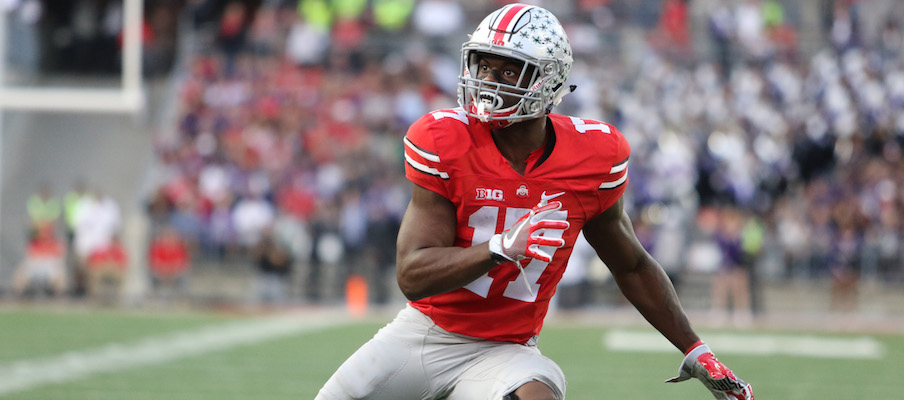 Left tackle Jamarco Jones isn't projected to be a combine stud, yet for that reason, a strong showing in Indianapolis could be as crucial to his draft stock as any participating Buckeye. While Jones played like a first-round pick for Ohio State last season, he isn't viewed as having the elite physical attributes that typically accompany a first-round offensive tackle. If he can post better numbers at the combine than expected, however, he'll have a shot to be a top-32 selection.
Linebacker Chris Worley and safety Damon Webb, who will be looking to build off strong showings at the East-West Shrine Game, are also among the Buckeyes who will have a chance to show they deserve more credit as draft prospects if they can impress among their peers in combine drills. Tight end Marcus Baugh can improve his chances of being drafted if he can put up good numbers in the measurable drills, but scouts will also want to closely evaluate his pass-catching and route-running after a relatively quiet career at Ohio State in receiving production.
No portion of any Buckeye's time at the combine, however, will be more heavily scrutinized than Barrett's throwing session on Saturday. While tosses to unfamiliar receivers against air isn't the best way to evaluate a quarterback's passing ability, the reality is that Barrett enters the combine facing major questions about whether he has the downfield throwing ability to be an NFL quarterback, and the combine will be an opportunity for Barrett to either quell those doubts or validate those concerns while throwing alongside other quarterbacks who might be regarded as more talented passers.
Barrett should shine in the interview process, and he certainly could improve his draft stock if he can post good measurables in athletic testing, but ultimately, how well he throws the ball will determine whether his combine is a success or a failure.
The Process
The first group of combine participants consisting of offensive linemen – which means Jones and Price – as well as running backs and specialists began arriving in Indianapolis on Tuesday, where they went through orientation, underwent initial medical testing and began interviewing with NFL teams.
That group is set to go through measurements, a full medical exam and more interviews on Wednesday, then undergo psychological testing, meet with the media and participate in the bench press on Thursday. Then, on Friday, that group will become the first group of players to complete their on-field workouts, which consists of six measurable tests – the 40-yard dash, vertical jump, broad jump, 20-yard shuttle, 3-cone drill and 60-yard shuttle (for select position groups) – as well as drills that are specific to each position.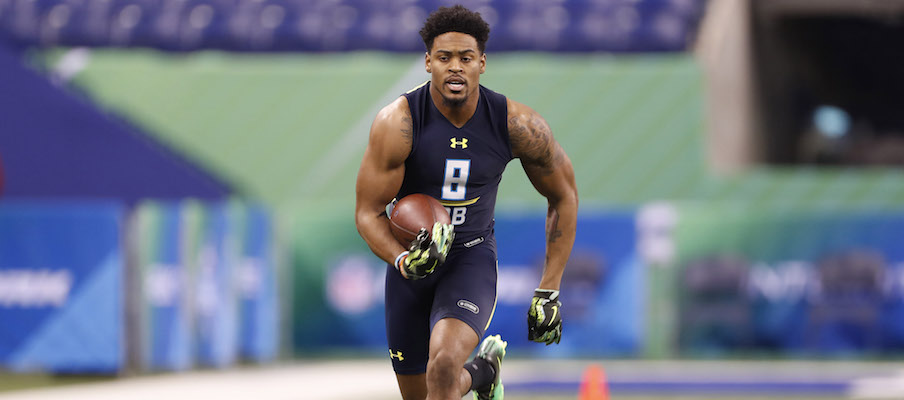 The second group of players, consisting of quarterbacks (Barrett), wide receivers and tight ends (Baugh), will arrive in Indianapolis on Wednesday and complete their on-field workouts on Saturday. Defensive linemen (Holmes, Hubbard and Lewis) and linebackers (Baker and Worley) will arrive Thursday and work out on Sunday. Defensive backs (Ward and Webb) will be the final group to complete the combine process, arriving on Friday and working out on Monday.
A roundup, in table form, of what each Buckeye is scheduled to participate in and when:
Ohio State's NFL Combine Participants

| Players | Position Group(s) | Weigh-Ins | Bench Press/Media | On-Field Workouts |
| --- | --- | --- | --- | --- |
| JAMARCO JONES, BILLY PRICE | OFFENSIVE LINE | WEDNESDAY | THURSDAY | FRIDAY |
| J.T BARRETT, MARCUS BAUGH | QUARTERBACKS, TIGHT ENDS | THURSDAY | FRIDAY | SATURDAY |
| JALYN HOLMES, SAM HUBBARD, TYQUAN LEWIS, JEROME BAKER, CHRIS WORLEY | DEFENSIVE LINE, LINEBACKERS | FRIDAY | SATURDAY | SUNDAY |
| DENZEL WARD, DAMON WEBB | DEFENSIVE BACKS | SATURDAY | SUNDAY | MONDAY |
How to Follow Along
Eleven Warriors will be on site in Indianapolis beginning Thursday, and you'll be to see feature stories on Ohio State's draft prospects, video from interview sessions, recaps of each day's workouts and more right here on this website. I'll also be providing live updates on Twitter on each of the 11 Buckeyes as they go through the combine process.
If you want to watch the combine workouts yourself, NFL Network will be televising the on-field workouts on Friday, Saturday, Sunday and Monday, beginning at 9 a.m. each day. Workouts will also be streamed live on NFL.com.