ST. PETERSBURG, Fla. – While Damon Webb continued to show his ability to make plays on the ball during Wednesday's East-West Shrine Game practice, one of his biggest plays of the day came at the expense of one of his former Ohio State teammates.
During a red zone passing drill late in Wednesday's practice at Shorecrest Preparatory School, Pittsburgh cornerback Avonte Maddox tipped a pass thrown by Ohio State quarterback J.T. Barrett and Webb took advantage, intercepting the ball off the deflection, as can be seen in the video below.
That play continued a trend that Webb put on display during his senior season at Ohio State – in which he recorded a team-high five interceptions – and has kept going in St. Petersburg this week: the former Buckeye has a knack for making plays on the ball, and at least one NFL scout took notice.
Overheard from a scout standing next to me after that Damon Webb interception: He makes a lot of plays.

— Dan Hope (@Dan_Hope) January 17, 2018
Another scout told RealGM's Jeff Risdon that he thought Webb was among the players who "won" practice on Wednesday.
On the other end of the equation, the interception – Barrett's second thrown during the team drill portion of practice in two days – obviously wasn't a highlight from the quarterback's perspective. Overall, though, Barrett – who has been widely regarded as the top-performing quarterback at the Shrine Game this week – does believe he has made improvements as the week has progressed.
"I think it's gone well," Barrett said of his first three days of Shrine Game practice. "Just progressively getting better, trying to improve each and every day. I think that's what you try to do at these times. Try to keep on getting better, work at your craft and I think that's what everybody, not just myself, is focusing on."
One of Barrett's highlights in Wednesday's practice came in a one-on-one passing drill, when he connected with Northern Iowa wide receiver Daurice Fountain on a well-placed fade to the left rear corner of the end zone, prompting the two players to meet for a chest-bumping celebration after the play.
After Wednesday's practice, Barrett spent time speaking with NFL scouts from the Los Angeles Chargers and New York Giants, as well as with a scout from the Canadian Football League's Edmonton Eskimos. Barrett also took the time to meet with and sign autographs for a few fans, including Dean Powell, an Ohio State fan from Safety Harbor, Fla., who drove to St. Petersburg on Wednesday – armed with a sign showing his support for Barrett – to have a chance to see the former Buckeyes quarterback up close.
Dean Powell, an Ohio State fan who grew up in Columbus but now lives in Safety Harbor, Florida, made the trip to St. Petersburg today to watch J.T. Barrett practice for the Shrine Game. pic.twitter.com/BEvNtuY1nm

— Dan Hope (@Dan_Hope) January 17, 2018
Like Barrett, Ohio State linebacker Chris Worley drew interest from scouts from numerous NFL teams after practice, spending time speaking with representatives from the Giants and Los Angeles Rams, among others. Also like Barrett, Worley also took time to meet some Ohio State fans on his way out of practice, stopping to take a photo with one young Buckeye fan before boarding the bus back to the team hotel.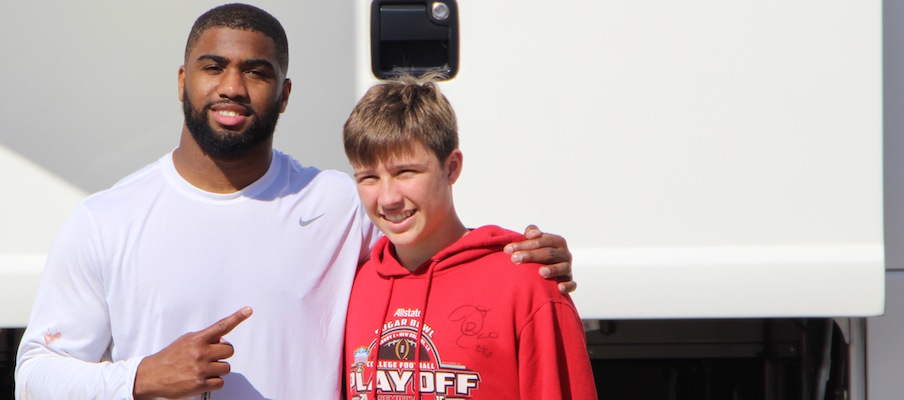 Worley, who has generated as much buzz as just about any player for the way he has performed this week in St. Petersburg, continued to impress with his physicality in team drills and in pass-rushing drills on Wednesday, with one of his highlights coming in the one-on-one matchup below with South Florida running back D'Ernest Johnson.
Barrett, Webb, Worley and the rest of the East team will practice one more time at Shorecrest Preparatory School on Thursday morning before holding a walk-through on Friday and then finishing the week with Saturday's game, which is scheduled for 3 p.m. at Tropicana Field and will be televised on NFL Network.