Could J.T. Barrett be a legitimate contender for the 2017 Heisman Trophy?
"No way!" probably would have been your answer after Ohio State's loss to Oklahoma on Sept. 9. Barrett performed so poorly in that game, completing just 10 of his first 21 passes for 84 yards, that some Ohio State fans called for the Buckeyes to make a quarterback change.
Since then, however, Barrett has been one of the best quarterbacks in college football, not only entrenching his standing as Ohio State's starting signal-caller but also making him a serious candidate for a trip to New York.
Through the first seven games of Ohio State's season, Barrett has thrown 21 touchdown passes – tied with West Virginia's Will Grier for the most among Football Bowl Subdivision quarterbacks – and only one interception. Having also rushed for five touchdowns on the ground, Barrett's 26 total touchdowns are tied with Louisville's Lamar Jackson – the reigning Heisman Trophy winner – for the most among all FBS players.
Barrett ranks fourth among all FBS quarterbacks, behind only Oklahoma's Baker Mayfield, UCF's McKenzie Milton and Oklahoma State's Mason Rudolph, with a passer rating of 173.8. Barrett ranks 13th nationally in total offense (313.9 yards per game), 16th nationally in yards per passing attempt (8.9) and tied for 15th nationally in completion percentage (66.7).
With Barrett leading the way, Ohio State has surged to second in the FBS in total offense (577.3 yards per game) and third in the FBS in scoring offense (47.3 points per game). The Buckeyes have had at least 580 yards of offense in each of their last five games – Ohio State had never previously even had 500 or more yards in five straight games – and have tied a school record by scoring more than 50 points in four straight games.
Add all of those numbers to the fact that Barrett is the starting quarterback for a College Football Playoff contender – a team that has won each of its last five games by at least 31 points – and his résumé is one that appears to very much belong in the Heisman conversation.
Barrett currently has the fourth-best odds to win this year's Heisman, at 9/1, according to Bovada.
Whether Barrett actually makes a serious run at the trophy, however, could be determined by his performance in the Buckeyes' next game.
As excellent as Barrett has been in Ohio State's six wins, none of those wins have come against a ranked opponent. In the eyes of many, Barrett was supposed to play well in all of those games, which means his one bad game against Oklahoma still casts a dark cloud over his entire season.
Barrett has a chance to make that cloud go away when the Buckeyes play their next game, following their bye week, against Penn State on Oct. 28. If Barrett can continue to pass with efficiency, score touchdowns, avoid turnovers and lead Ohio State to win over the Nittany Lions two Saturdays from now, Barrett will move into position as one of this year's Heisman favorites.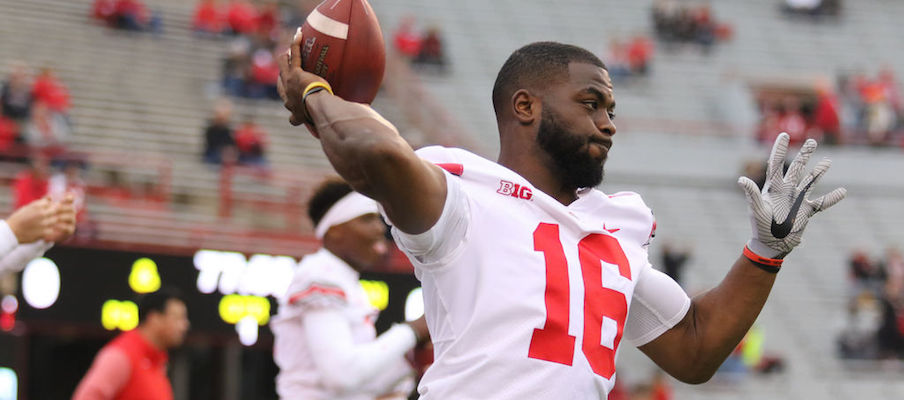 Being the star player of a championship-contending team goes a long way toward winning a Heisman, and Ohio State will become the favorite to win the Big Ten and earn a berth in the College Football Playoff if it beats Penn State, which is ranked No. 2 in the AP Top 25 entering its game against Michigan this weekend.
Yet while Ohio State's highly anticipated showdown with Penn State could be the national spotlight Barrett needs to propel himself into the forefront of the Heisman race, it also could be the day that knocks him out of the race altogether. Should Barrett play poorly and the Buckeyes lose to Penn State, calls for Dwayne Haskins to start at quarterback will begin again and Barrett's Heisman hopes, as well as Ohio State's championship hopes, will be over.
There's a middle ground that could leave Barrett on the back end of the Heisman conversation – that being an excellent individual performance in a team loss, or a just-good-enough performance in a team win – but the difference between a demonstrably good or a demonstrably bad performance against Penn State could truly make or break his Heisman campaign.
Barrett won't be the only player looking for a Heisman moment in that game; Penn State running back Saquon Barkley is arguably the current favorite to win the award, leading the FBS with 217 all-purpose yards per game through six games this season.
Barkley is currently one of two odds-on favorites to win the award along with Stanford's Bryce Love, who leads the nation with 198.1 rushing yards per game. Bovada gives both Barkley and Love 7/5 odds to be this year's Heisman winner.
That said, winning a head-to-head matchup with Barkley could give Barrett a case to move ahead of him in the Heisman standings or at least close the gap. Love's Heisman candidacy could be hurt by his team, which currently has a 5-2 record, not being a playoff contender.
Barrett has lost a head-to-head matchup to Mayfield, who also currently has better odds (11/2) than Barrett to win the award, but Mayfield – with the arguable exception of Rudolph – appears to be the only quarterback with a stronger case for Heisman candidacy than Barrett right now.
While Jackson is the reigning Heisman winner and the current FBS leader in total offense (430.3 yards per game), his team's three losses this season might already be enough to keep him from repeating.
All of that puts Barrett on the short list to receive an invitation to New York and within striking distance of making a run at the award – but only if he performs well against Penn State.