Ohio State quarterback J.T. Barrett said Monday was a day he will never forget.
That had nothing to do with anything that happened on the football field.
Barrett was one of six Ohio State football players who visited the James Cancer Hospital on Monday, taking time away from the football field, the classroom and all of their other responsibilities in an effort to spread joy to patients battling serious illnesses.
Alongside freshman wide receiver Jaylen Harris and freshman cornerback Jeffrey Okudah, Barrett visited the rooms of seven patients on Monday afternoon, spending time with each of them to learn more about them, hear their stories and answer their questions about Ohio State football.
Senior defensive tackle Tracy Sprinkle, sophomore defensive end Nick Bosa and redshirt freshman linebacker Tuf Borland also made the trip to visit patients at The James on Monday.
While the Buckeyes brought smiles to the faces of each patient they visited, they left feeling inspired themselves by the people they met.
One particularly poignant moment for Barrett came when the Buckeyes visited James Williams, who revealed to the players that he has been battling multiple myeloma – cancer of the bone marrow – for 14 years, despite being told he had only 36 months to live when he was diagnosed. Williams then proceeded to give an inspirational speech to the players about the value of having faith and "the pleasure of being alive," a message that was clearly not lost on Barrett.
"That's one of those things that, it's bigger than football," Barrett said after visiting Williams. "As a person, you try to get something from everybody you come across, and he gave something that's going to probably stick with me forever, as far as just being a better person. So he did a lot more for me than I did for him, that's for sure."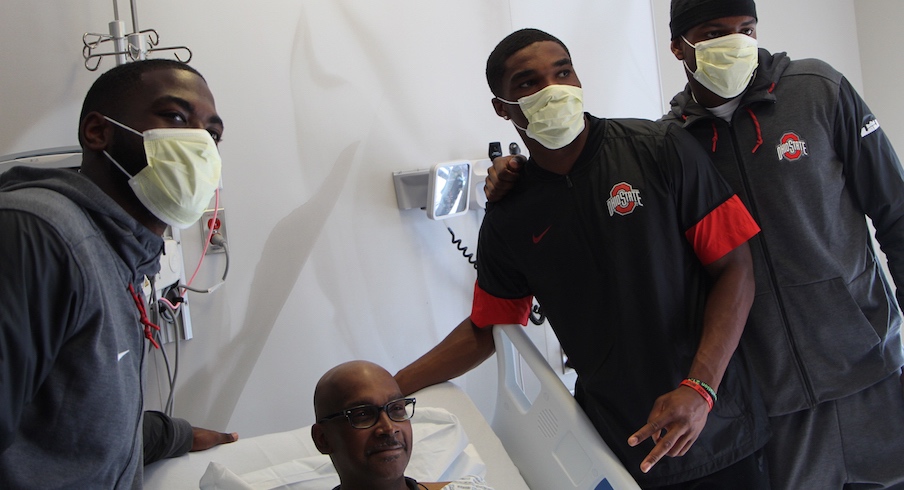 The patients visited by Barrett, Harris and Okudah on Monday also included Chris Bradley, the chief meteorologist at Columbus' WBNS-10TV, who is currently recovering from a stem-cell transplant and battling acute myeloid leukemia. Bradley told the Buckeyes that he hopes to be able to return home by the end of the week.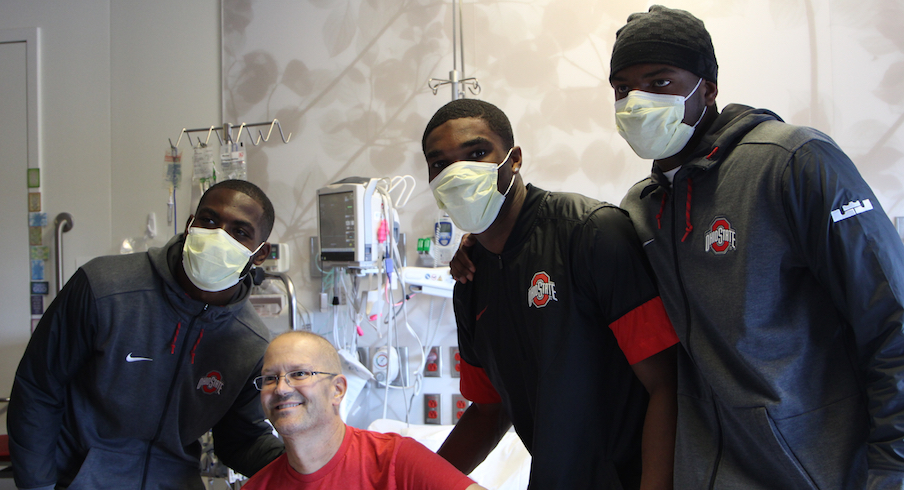 While all six Buckeyes who made Monday's trip to The James felt privileged by the opportunity to spend time with patients, the trip was particularly meaningful for Okudah and Harris, who have both lost close family members to cancer.
Harris, whose grandfather died in 2013 and grandmother died in 2015 after each battled pancreatic cancer, said he was chosen by Ohio State director of player development Ryan Stamper to be a part of Monday's trip because of how he has personally been affected by the disease.
"It means the world to me," Harris said of Monday's trip. "Coming back and just to be around patients with cancer is a blessing."
Okudah, whose mother died in January after a lengthy battle with lymphoma, said he thought his mother would be proud of him on Monday.
"She'd be very proud," Okudah said. "That's why, when I got the opportunity by Coach Stamp to come up here, I jumped on it right away."
Ohio State's football team has faced adversity on the field this season, losing its second game of the year to Oklahoma, and is preparing for what is expected to be one of its toughest tests of the year in its next game against Penn State on Oct. 28. Monday, however, served as a reminder that the battles the Buckeyes face on the football field pale in comparison to the battles many face in their everyday lives.
"We get pretty blocked out from the outside world when we're during the season because we're so focused on what we have to do, it just takes most of our time, so just to see the bigger picture for a couple hours, it opens your mind a little bit," Bosa said. "There's a lot of bigger things than football, and just the fact that we can use football to make a difference in people's lives is pretty cool."