Like offense? You'll like what you see in the box score against Nebraska.
The Buckeyes' again racked up big yards and lots of touchdowns. The Buckeyes' scored over 50 points and tallied 633 yards of offense again, solidifying the Buckeyes' status as the No. 3 scoring offense and No. 2 total offense.
Two themes emerged for the offense from Saturday's big win over the Huskers. First, J.T. Barrett is having an incredible swan song for his Ohio State career. Two, the Buckeyes are winning third down as well as any offense in the country.
We'll focus on these superlatives as we go inside the box score and talk about perspective of J.D. Spielman's big night agianst Ohio State's defense at the end of the feature.
J.T. Barrett is Rolling into the Bye Week
Here's a hot #take. I've always been on Team Barrett, both before the 2015 season and after some frustrating losses like those to Clemson and Oklahoma. 
I've had to swallow bile from seeing fans, even high-positioned ones like Robert Smith, call for him to be replaced as if Dwayne Haskins would somehow magically fix Ohio State's pass-protection issues and get his receivers open down the field or convince them to stop dropping passes. If my #take is hot, it means I think your anti-Barrett #takes are bad, actually.
Thus, I celebrate him removing Art Schlichter from the top of our record books and it makes me happy to see that Barrett is having the kind of season that puts him at or near the top nationally in several passing statistics past the middle point of the season.
Here is where J.T. Barrett ranks relative to some of the country's best quarterbacks in various passing statistics.
Comparing J.T. Barrett with the Country's Best Quarterbacks

| Metric | Barrett's Stats | Barrett's Rank | Notes |
| --- | --- | --- | --- |
| Yards/Game | 262.6 | 29 | No. 1: Mason Rudolph [Oklahoma State] (394.7) |
| Attempts | 29.6 | 48 | No. 1: Tyler Rogers [New Mexico State] (48.7) |
| Rating | 173.6 | 4 | No. 1: Baker Mayfield [Oklahoma] (207.33) |
| Interceptions | 1 | t5 | No. 1: five-way tie with zero. Best: Ryan Finley [NC State] (11 TDs) |
| Touchdowns | 21 | t1 | Will Grier [WVU] also has 21 passing TDs |
| TD-INT Ratio | 21-1 | 1 | Barrett has best TD-INT ratio of any QB with at least 15 passing TDs |
| Yards/Attempt | 8.9 | t15 | No. 1: Baker Mayfield (12.0) |
| Yards | 1838 | 14 | No. 1: Tyler Rogers (2495) |
| Completion % | 66.7 | t15 | No. 1: Baker Mayfield (72.7) |
| Completions | 138 | 23 | No. 1: Luke Falk [Washington State] (216) |
| Total Offense/Game | 313.9 | 13 | No. 1: Lamar Jackson [Louisville] (430.3) |
Barrett is well-positioned in these metrics. He is fourth in QB rating. He's tied for first in touchdowns with Will Grier and has the best TD-INT ratio of any quarterback in the country with at least 15 touchdown passes. For perspective, Will Grier's 21 touchdown passes comes with five interceptions and Ryan Finley's country-best TD-INT ratio comes with just 11 touchdowns.
Barrett is also comfortably behind several quarterbacks in completions, attempts, and yards per game, but those quarterbacks ahead of him don't have the kind of ground game that Ohio State has. Consider that Ohio State has the No. 17 rushing offense in the country. Others like New Mexico State, Oklahoma, Oklahoma State, Washington State, and WVU have the country's No. 116, No. 35, No. 32, No. 130, and No. 50 rushing offense. Those offenses privilege throwing the ball more than Ohio State and still Barrett compares well.
In other words, J.T. Barrett, at this clip, should get a plane ticket to New York for December. We can qualify that by saying Ohio State's schedule has been underwhelming since the Oklahoma loss and big games against Penn State, Michigan State, and Michigan are still on the schedule. However, the stats look great all the same.
Ohio State is Killing it on Third Down
Third-down efficiency may have been Ohio State's best metric for the game against Nebraska. The Buckeyes converted their first eight third down opportunities and finished 10/13 on the game. 
There are several reasons for this success rate. While Ohio State did convert a few third-and-longs, the Buckeyes averaged 7.9 yards per play through three quarters (after which, J.T. Barrett's night was done). All told, Ohio State's average distance to go on third down was 3.8 yards. Contrast that with Nebraska's average of 7.8 yards to-go on third down.
Saturday night is part of a larger pattern. The Buckeyes are among the nation's best on third down. Its 49.44% conversion rate on third down is seventh best in the country. Further, each game to this point has mostly fit that pattern. Only the UNLV win stands out for its low conversion rate on third down and the Nebraska game suggests an overall positive trend on third down for the Buckeyes through conference play.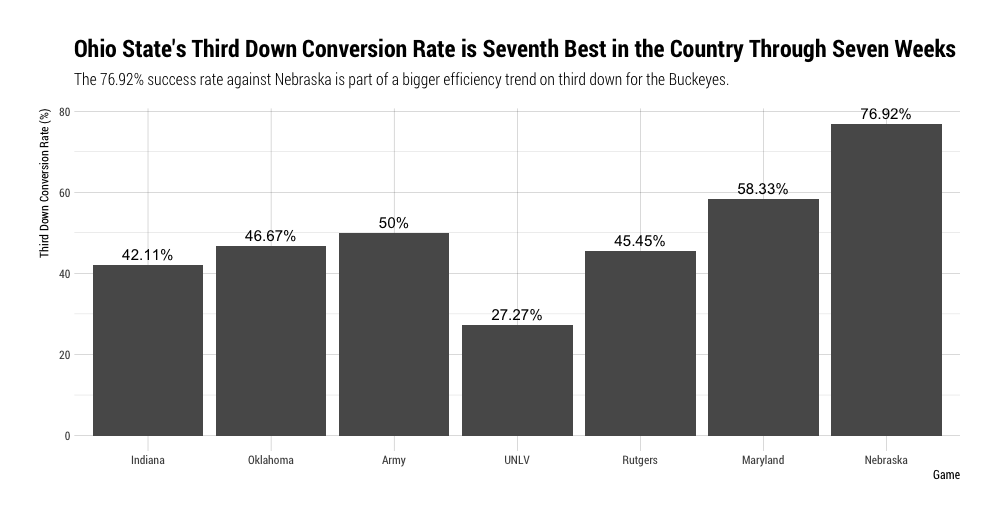 Ohio State will have two weeks to build on this positive trend in anticipation of Penn State, which has the country's No. 41 third-down defense.
J.D. Spielman's Big Night in Perspective
That the offense carried the way for the Buckeyes in lieu of the defense is about the only complaint the Ohio State could fan plausibly muster about Saturday night. Ohio State' offense boat-raced the Huskers, which makes for great television and highlights to enjoy later. However, the game did offer a few sore spots if you're concerned about just how good this defense is and firmly believe that "defense wins championships."
We're certainly talking about J.D. Spielman's record night when we're talking about misgivings for the defense. Spielman's 11 catches and 200 yards rank among the most ever by a wide receiver or back against an Ohio State defense. Regrettably, Ohio State does not keep game-high opponent receiving records for individual players (only teams), so consider this list "select" or "tentative."
Select Receiving Games by Individual Players Against Ohio State

| Season | Team | Player | Performance |
| --- | --- | --- | --- |
| 2017 | Nebraska | J.D. Spielman | 11 receptions, 200 yards, 1 TD |
| 2014 | Cincinnati | Chris Moore | 3 receptions, 221 yards, 3 TDs |
| 2013 | Clemson | Sammy Watkins | 16 receptions, 227 yards, 2 TDs |
| 2013 | Michigan | Jeremy Gallon | 9 receptions, 175 yards, 1 TD |
| 1985 | Purdue | Rodney Carter | 15 receptions, 190 yards, 1 TD |
| 1981 | Purdue | Steve Bryant | 10 receptions, 195 yards, 2 TDs |
There is the obvious qualifier that most of Spielman's damage came after it was clear Ohio State's offense was going to spend the entire game bleaching the "Blackshirts."
J.D. Spielman's Night Against Ohio State, by Quarter

| Quarter | Performance | End of Quarter Score |
| --- | --- | --- |
| 1st | 2 receptions, 21 yards | Ohio State - 14; Nebraska - 0  |
| 2nd | 2 receptions, 45 yards | Ohio State - 35; Nebraska - 0  |
| 3rd | 1 reception, 77 yards | Ohio State - 49; Nebraska - 14  |
| 4th | 5 receptions, 57 yards | Ohio State - 56; Nebraska - 14  |
The quarter breakdown for Spielman's night lends credence to a counterpoint that Ohio State's passing defense might still be fine; it's just that the Silver Bullets got disinterested in playing too hard after Ohio State went up 42-0.
Nevertheless, it's disconcerting to see a player appear in Ohio State's record books for doing damage to Ohio State's defense, especially when that player is a Spielman.