For the second week in a row, the Ohio State pass offense accounted for more than 300 yards, but this time it looked a little different. 
A week after moving the ball against Army's defense with a number of run-pass options and throws outside the hash marks, the Buckeyes countered by attacking the middle of the field against UNLV in a 54-21 victory. 
Senior quarterback J.T. Barrett completed 12 of 17 passes for 209 yards and five touchdowns against the Rebels, two of which came on throws over the middle to K.J. Hill and Johnnie Dixon. While there was still a long touchdown pass off an RPO read to Parris Campbell, the Buckeyes threw in behind the bubble screens on multiple throws, countering what the Rebels assumedly prepared for after watching film. 
"A lot of those were still bubbles, the middle, if you can see that, that's actually concept where the bubble screen, and then you can see number two coming in," Urban Meyer said after the game. "So, if (they) start jumping the bubble we have complements out there."
Ohio State threw for 474 yards and seven touchdown passes against UNLV, both school records. Dwayne Haskins chipped in 228 yards, two scores and an interception while Joe Burrow finished with four completions for 37 yards. The Buckeyes likely would have had two more touchdown passes had it not been for fumbles by Campbell and Rashod Berry at or near the south goal line, both of which were recovered by UNLV. 
Barrett said the performance by the Ohio State passing game, albeit against a subpar UNLV defense, is important for building confidence and continuity offensively.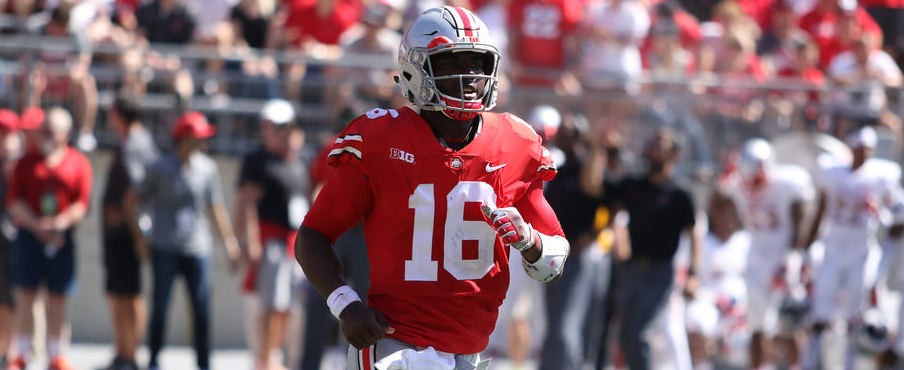 "It is always good to come out here and execute and do what you do," Barrett said. "I think it was good for the young guys to get some work as well. Everybody is just excited for one another and that's a good thing for getting guys to jell together in the receiver room. 
"Also too, the tight ends are getting some love. Everybody is feeding off of each other's energy and emotion."
Before the season began, the talk around the program was that Barrett and the Ohio State quarterbacks needed to give their receivers more chances to make plays. Until the win over UNLV, that didn't appear to have happened. 
However, Barrett was able to squeeze throws into tight windows on multiple occasions against the Rebel secondary. Campbell, who recorded three catches for 105 yards, said after the win he can see Barrett's confidence in himself and in the receivers building more after each solid performance. 
"J.T. is on another level in confidence with us right now," Campbell said. "He tells us (that) every day. I think with what we have right now, if we keep pushing and making strides we can be one of the best."
As the saying goes, 'To be the best, you have to beat the best,' and Ohio State has yet to win a game against an opponent ranked in the top-25 this season. In addition, Barrett has not thrown for 200 yards or better against a ranked opponent since throwing for 290 and four scores against Nebraska at home last season on Oct. 29.
Fans and media have been quick to point to that, and it hasn't been lost on Meyer either, although the Ohio State head coach acknowledged the improvement in the aerial attack. 
"Let's go do it against a team that's equally matched," Meyer said. "And that's my challenge every day for myself, for our coaches, more importantly. And obviously our players.
"I like what we're starting to do, and I think Kevin and Ryan are doing things that complement the things we're doing well. I take a lot of positives out of it as you get ready for conference play."