Ohio State sprinted out to a 37-0 lead behind five first half touchdown tosses from J.T. Barrett and never looked back in a 54-21 throttling of a built-for-noon-starts UNLV squad in another unseasonably toasty afternoon in Ohio Stadium. 
By the time the horn sounded, Ohio State's passing attack set school records for yards (474) and number of guys with a touchdown catch (7). 
The blowout improved the Buckeyes to 3-1 on the season and allowed Urban Meyer to empty his bench as a host of young players, including backup quarterback Dwayne Haskins, saw extensive action with varying degrees of effectiveness. 
Next Saturday night the Buckeyes will take their show on the road at Rutgers but before we pivot to all things Scarlet Knights, here are Five Things from yesterday's rout of the Rebels. 
---
BOSA LEADS DOMINANT D-LINE

Ohio State's defense held UNLV to 114 yards in the opening half and Nick Bosa was front and center posting a career-high 3.0 TFL with a sack. 
Beyond a dominant pass rush, Bosa also had a hand in a turnover as he tipped an Armani Rogers pass, deflecting it to teammate Damon Arnette who picked it off and raced 35 yards to the UNLV 7 yard line. Four plays later, Barrett dropped a dime to Terry McLaurin in the left corner of the endzone for a 30-0 lead. 
Bosa's teammates across the front enjoyed great success highlighted by a safety from Dre'Mont Jones who lived in the Rebel backfield along with Tyquan Lewis who posted a hurry and half a sack before joining the rest of the rushmen on the sidelines as Greg Schiano emptied the bench. 
With the defensive line setting the tone, the Silver Bullets tallied 8.0 TFL and 3.0 sacks in the first half 13.0/4.0 for the game as Rogers managed only 88 yards passing with a pair of interceptions. 
SWEET SIXTEEN

Facing a poor defense and enduring constant criticism from the Dwayne Haskins fan club, Barrett did just about all he could against the Rebels completing 12 of 17 throws for 209 and five touchdowns – to five different receivers – before coming out late in the second quarter. 
Barrett only had one shot on a route over 25 yards and promptly threw it over K.J. Hill's head as he ran a corner toward the right sideline. 

As usual, Barrett was solid on the shorter stuff. A few highlights for me included a 9-yard seed through a pretty tight window to Terry McLaurin on a slant followed by another solid slant to Parris Campbell for 16 yards before Campbell coughed it up just short of the goal line on Ohio State's third offensive possession. 
Two possessions later he showed excellent touch finding McLaurin in the back left of the end zone on 4th down giving OSU that 30-0 lead. 
Again, he was facing a bad defense and didn't have much of a chance to silence any critics with a deep ball but Barrett engineered five touchdowns on six possessions and completed 71% of this passes which included at least one intentional throwaway. 
MY COMPLAINTS TO THE SHEFF

Like most, I thought there was a decent shot of Kendall Sheffield emerging as Ohio State's second-best corner behind Denzel Ward and ahead of Damon Arnette. 
Instead, Sheffield has struggled against a range of talent and today might've been his least impressive showing yet. 
Against an anemic passing attack, Sheffield surrendered three receptions for 46 yards and committed a hold and two pass interference penalties. 
The PI calls were both fairly soft flags but made easier due to Sheffield seemingly never having an idea where the ball was as he jockeyed with the receiver. 
I'm pulling for Sheffield because this team needs three capable corners but it looks like it could be an uphill climb to get him to serviceable status. 
Thankfully, Ward is largely living up to the hype (including a TFL and 2 PBU today) and Arnette has been significantly better than I expected. 
ZONE SIX TOUCHDOWNS

The much-maligned Zach Smith and his receiving corps aren't always easy to root for thanks to Smith's exploits on social media and the group's overall lack of growth over the last few years. 
To its credit, the unit is making the most of competing against inferior opponents highlighted by the results seen from the top six in the rotation during a decisive first half. 
With the line providing protection and Barrett looking solid on the shorter stuff, Smith's top six receivers combined to tally 12 receptions for 214 yards and five touchdowns in the game's first 30 minutes as Ohio State built a 37-0 lead before J.T. took a seat. 
Parris Campbell led the way with 105 yards on three grabs as he got loose for another snatch and dash for 69 yards and a score. He now has 322 receiving yards through four games on 17.9 per catch.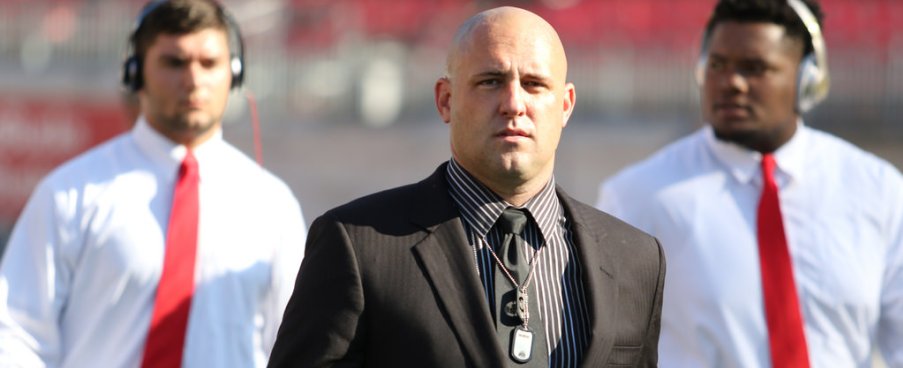 K.J. Hill posted another three receptions for 53 yards and a score capping the 37-point blitz via an 11-yard grab of the noted teardrop from Barrett for six. Hill is now tied for the team lead with 18 receptions and second in yards (177) as his yards per catch still lags at 9.8. 
McLaurin (3/22), Johnnie Dixon (1/16), Austin Mack (1/15) and Ben Victor (1/3) also posted touchdown grabs in the first half putting the game out of reach. 
Again, still a long way to go before we can say this is a legit receiving corps outside of Campbell and maybe Hill but we gotta take the small wins where we can and five touchdown receptions over Ohio State's first six possessions is a definite win.  
As for the guys fighting to make Zone Six a seven or eight man rotation, hats off the C.J. Saunders who posted a team high six grabs on six targets for 102 yards including a 28-yard touchdown. 
THE MAIN DWAYNE

The Dwayne Haskins truthers were treated to their first extended look at the stud backup quarterback and after a hot start, he gave some glimpses into why he's the backup amidst other glimpses confirming why he's the future. 
A drop from Mack kept Haskins from going 3-for-3 on his opening possession but he looked sturdy as he found McLaurin for nine yards before unleashing a perfect 28-yard strike to Saunders to make it 44-7 good guys. 
Haskins started the third quarter and went 2-for-3 on the opening drive (A. Williams drop) before taking a sack to force a punt. Following a UNLV touchdown, Haskins went back out and opened a drive with two straight completions on the run but later threw too hot and too high for Williams in the flat before a 3rd-and-10 throw that was again way too high to be handled leading to a 30-yard field goal pushing the OSU lead to 47-14.
Haskins found tight end Rashod Berry for a 38-yard touchdown on the ensuing possession making it 54-14 but he gave it right back as he stared down tight end Luke Farrell in the flat before throwing a pick six to Javin White cutting the lead to 54-21. 
Overall, Haskins flashed the arm talent all fans would love to have in a quarterback but also had some troubles with overthrows and general inexperience which is to be expected as part of a 15 of 23 passing day with a pair scores against the one interception. 
Bottom line, probably everyone who thinks Barrett should start still feels that way and everyone who thinks Haskins should start probably felt today reaffirmed that notion.