Ohio State's 2017 season officially got underway Thursday morning.
The Buckeyes hit the outdoor practice fields at the Woody Hayes Athletic Center around 6:30 a.m. for their very first practice in preparation for the upcoming campaign. It's Year 6 in the Urban Meyer era, and Ohio State is hoping to finish this season better than it did the last.
After a 31–0 blowout loss to Clemson in last year's Fiesta Bowl — an experience Meyer described this week as "awful" — changes were made in Columbus. Ed Warinner and Tim Beck both moved on from the offensive coaching staff; Kevin Wilson and Ryan Day were hired. Additionally, Luke Fickell accepted the head coaching job at Cincinnati and Meyer hired longtime friend Billy Davis as Ohio State's linebackers coach.
It was all done as a part of Meyer's plan to get the Buckeyes back on top of the college football world.
The sixth fall camp under Urban Meyer is officially underway in preparation for Ohio State's season-opener on Thursday, Aug. 31 in Bloomington against Indiana. Here is a primer to get you ready for Camp Meyer 2017.
Offensive Changes
As mentioned above, Wilson and Day were hired in an attempt to help restore a once-high powered Ohio State offense. The Buckeyes lacked consistency over the last two years so the hope is these bright minds can help fix what was broken.
Wilson, the former Indiana head coach, is widely regarded as an offensive mastermind. His offenses with the Hoosiers were near the top of the Big Ten annually and he set all kinds of records during his stint as Oklahoma offensive coordinator before that.
On the other hand, Day has an NFL pedigree and worked with another offensive guru, Chip Kelly. He's tasked with "fixing" J.T. Barrett and getting Barrett back to his 2014 form when he was a top-five finisher in the Heisman Trophy voting.
We won't see much in terms of formations, tempo, etc. until the actual games begin. But it will be nice to hear what, exactly, is different from the Ohio State offensive players and coaches.
Barrett Leads the Charge
Speaking of Barrett, he's back for his 11th fifth year at Ohio State and, barring any significant injury, he'll be the Buckeyes' quarterback. After an inconsistent campaign in 2016 due to a number of different issues — not all of which were directly tied to the quarterback — Barrett will look to regain his top form.
He's going to need it, too, if Ohio State is going to get where it wants to get come season's end. There aren't too many teams in college football who boast the experience Barrett does. He is 26–4 as a starting quarterback in his college career and by the end of this season he'll likely own every Ohio State record there is to own.
Backup Quarterback Race
The most popular player is always the backup quarterback and Ohio State won't be any different should Barrett struggle at any point this season. The Buckeyes have a two-man race heading into fall camp for that coveted No. 2 spot and it's certainly going to be something to watch.
Redshirt sophomore Joe Burrow and redshirt freshman Dwayne Haskins are essentially neck-and-neck heading into training camp. Burrow was the No. 2 option during spring ball but the winner of this battle will be about who has the better training camp performance.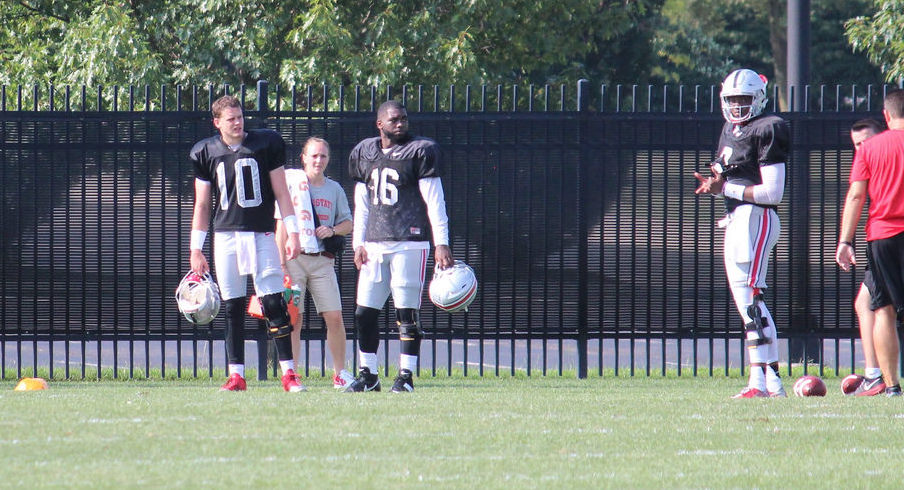 Position Battles 
While the backup quarterback race is certainly interesting, there are a number of other positional battles set to open for starting spots.
On offense, it's essentially a free-for-all at wide receiver as a number of different players are vying for snaps. Ohio State lost both Noah Brown and Curtis Samuel from last year's team so there are plenty of opportunities for new guys to step up. Additionally, Meyer mentioned right guard as a wide open position along with tight end — the latter of which was relatively surprising. Marcus Baugh missed all of spring due to offseason surgery but is expected to be ready to go for camp.
On defense, cornerback and safety are the two spots we're looking at. Ohio State is pretty set on the defensive line and at linebacker, but the corner spot opposite Denzel Ward and the safety spot opposite Damon Webb are going to be quite interesting to watch during camp. 
Young Secondary
Speaking of the safety and corner spots, the secondary is really the only question mark on Ohio State's defense. But with the way the Buckeyes are churning out first-round talent in the back end it certainly begs the question of whether or not it should even be a concern.
Ward will start at one corner while Damon Arnette, Kendall Sheffield and a plethora of young corners will battle for the other spot. Webb will start at one safety position while Erick Smith and Jordan Fuller will fight for the other job. It's going to be fun to watch.
But if last year taught us anything, Ohio State should be just fine despite the turnover as Kerry Coombs and Greg Schiano are two of the very best at what they do.