Urban Meyer did something last season for the first time ever as Ohio State head coach: He lost a road game.
The Buckeyes fell 24-21 at Penn State in October after Grant Haley returned a Tyler Durbin blocked field goal 60 yards with under 4:30 remaining to clinch the victory. Before that night in State College, Meyer and Ohio State came away victorious in each of their previous 21 road outings (we're counting 2014 against Navy, though that game was played at M&T Bank Stadium in Baltimore).
As impressive run that amounted to a school record, Meyer failed to navigate a brutal road schedule unscathed in 2016. Still, wins at eventual Big 12 champion Oklahoma, eventual Big Ten West champion Wisconsin, Maryland and Michigan State is nothing to scoff at considering three of the roadies last season kicked off under the lights.
In 2017, the Buckeyes play all three of their non-conference games — Oklahoma, Army and UNLV — in Ohio Stadium. Since the Big Ten moved to nine conference games last season, not all teams can have an equal number of home and away league games every year.
This fall, Ohio State gets five home Big Ten games. Its road trips are lengthy, though. The Buckeyes travel west to Nebraska and Iowa, all the way to the East Coast for a contest with Rutgers and open the season on Thursday, Aug. 31 at Indiana.
The road slate is not quite Murderer's Row but it isn't a cakewalk. Let's rank it in order of difficulty.
5. Rutgers, Sept. 30
A simple pick here for the least difficult road game. Rutgers won two games last year under new coach Chris Ash and while the Scarlet Knights should be better in 2017, High Point Solutions Stadium is hardly threatening. The Buckeyes last won there 49-7 in 2015, their first trip ever to Piscataway, New Jersey.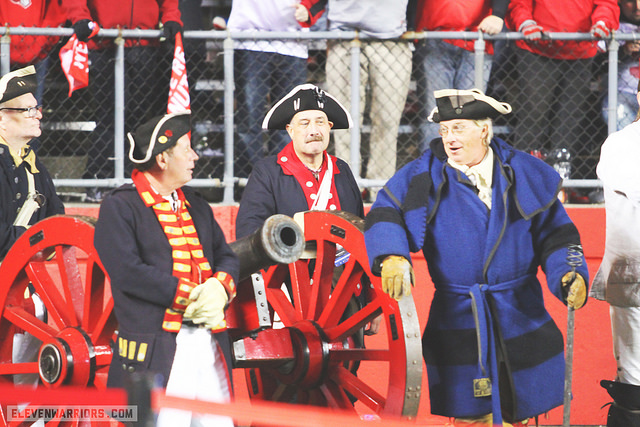 The Big Ten made that contest a night game and will probably do the same for this year's matchup. Ohio State will do its part and fill television screens on the eastern seaboard at Jim Delaney's expense. Hooray conference expansion!
4. Indiana, Aug. 31
Indiana has been a thorn in Meyer's side pretty much ever since he took over in Columbus five seasons ago, this matchup with the Hoosiers should probably be higher on this list. Odd things happen at Memorial Stadium in Bloomington.
Then again, the man at the center of all those headaches for Meyer was Kevin Wilson, who now coordinates Ohio State's offense and coaches its tight ends. It is never easy to go on the road to start a season, especially if it is against a conference foe. Ohio State does both in 2017. Wilson will be out to prove a point against his old employer and it will be pretty easy for the Buckeyes to get hyped for their opener.
3. Nebraska, Oct. 14
Tommy Armstrong and Ryker Fyfe both finally graduated, which means Ohio State will face a different quarterback from the ones it saw last year during its 62-3 butt-kicking of the Cornhuskers in Ohio Stadium. Nebraska started the season 7-0, fell to Wisconsin before traveling to Columbus and eventually lost four of its final six games in 2016.
We don't yet know the kickoff time for this game and Meyer has never coached in Lincoln. The last time they were there, they blew a 27-6 third quarter lead to Taylor Martinez and Co. in 2011. Mike Riley is recruiting better than anyone in the Big Ten West and Ohio State faces a long flight ahead of what will likely be a night game. This has all the makings of a tricky matchup.
2. Iowa, Nov. 4
Ohio State hasn't traveled to Iowa City since 2010, a game and season that *technically* doesn't exist anymore because of NCAA sanctions stemming from Tattoo-gate. The only game that "happened that year was the team's loss at Wisconsin, naturally.
Another trip to a different time zone for a crossover game, the Buckeyes will take on Kirk Ferentz's Hawkeyes a week after hosting defending league champion Penn State. The game against the Nittany Lions is scheduled for 3:30 p.m., a rarity in the sense that it is not a night game between those two teams. Ohio State's matchup at Iowa could — and likely will — be under the lights, however, a delicate scene to navigate. Ferentz pulled an upset against Jim Harbaugh and Michigan in a similar circumstance last season. As the Buckeyes enter the home stretch of their schedule, this battle with Iowa carries with it plenty of intrigue.
1. Michigan, Nov. 25
Harbaugh lost basically everyone from a team that still fell short against Meyer and Ohio State last fall. Still, The Game belongs at No. 1 on any list of rankings for reasons that shouldn't need to be explained.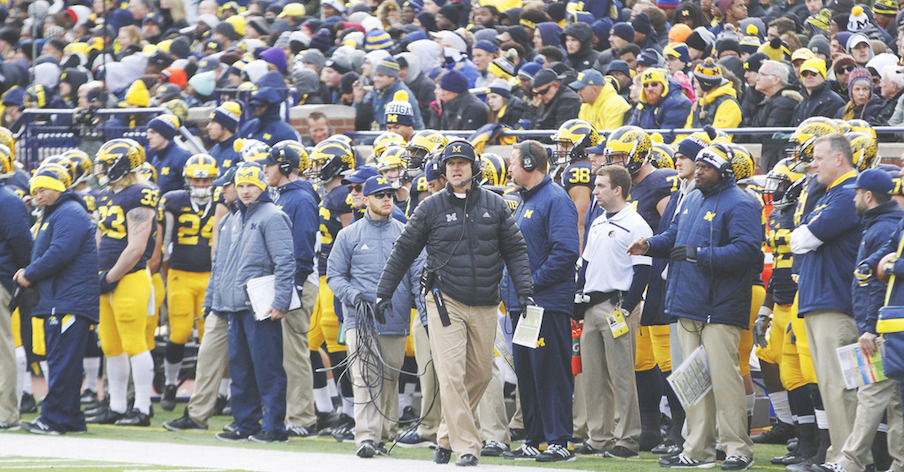 Michigan's recruiting has taken off under Harbaugh, so the expectations up north are high just like in Columbus regardless what personnel leaves the program. That is what Harbaugh faces in earnest in 2017, after going 10-3 each of his first two seasons as head coach of the Wolverines. The Buckeyes get back-to-back home games against Michigan State and Illinois before heading north the Saturday after Thanksgiving. Michigan plays road games at Penn State and Wisconsin those same weeks, tough matchups for a young team.
Meyer and Ohio State fell victim to the Nittany Lions on the road last year. How Harbaugh's group handles the adversity will determine whether or not its season will end with the Wolverines in the College Football Playoff discussion. No matter what Michigan's record is, however, the rivalry game will always be the toughest on Ohio State's slate. To add more juice, the last time the Buckeyes played there they whipped Michigan 42-13. Strap in.