If you are anxious to see J.T. Barrett throwing to Trevon Grimes, Jaylen Harris or even Ellijah Gardiner this fall for Ohio State, the steps to make that vision a reality haven't exactly started. Yet.
"The freshmen, they just got here so I haven't been throwing with them yet," Barrett said Friday at Ohio State's Annual Job Fair. "They're not in our lifting groups yet, Coach Mick [Marotti] hasn't gotten them in there yet."
"Everybody is just making sure that we're prepared and ready to go when camp starts."– J.T. Barrett on summer throwing sessions
Barrett is correct; the three receivers in Ohio State's 2017 recruiting class arrived a little more than two weeks ago and are in the midst of getting inundated to life as a student-athlete at the highest level. Workouts, classes and a job fair that requires a suit and tie are three of the multitude of items Urban Meyer and Co. throw their way immediately.
It is Marotti's job to mold those young bodies separately before they can take on a similar program with the upperclassmen. In the meantime, Barrett said he and those returning receivers have carried over what they did this spring into the summer.
"It's going well," he said. "Everybody has little groups that we have as far as receivers, lifting groups. But as far as getting our work in I think everybody is buying into what Coach Meyer is preaching to us and same thing with Coach [Kevin] Wilson and Coach [Ryan] Day."
Meyer hired Wilson and Day to give his passing game a facelift and the attention to downfield throws was apparent and talked about all spring. Barrett and his coaches called the three months that followed the annual spring game — May, June and July — the most crucial for Ohio State's passing game before the season starts on Aug. 31 at Indiana.
Barrett called spring 2017 his best as a Buckeye in terms of "accuracy and being able to get our offense into the best plays." Meyer echoed that after the spring game on April 16.
"I thought once again his accuracy was right on target like it's been most of the spring," the head coach said.
And as we churn through the final days of June and the dog days of summer come knocking, Barrett's work with Terry McLaurin, Parris Campbell, K.J. Hill, Johnnie Dixon, Binjimen Victor and others will go largely unseen. Training camp doesn't open for over a month and coaches only have two hours a week to work with players in the summer, per NCAA rules.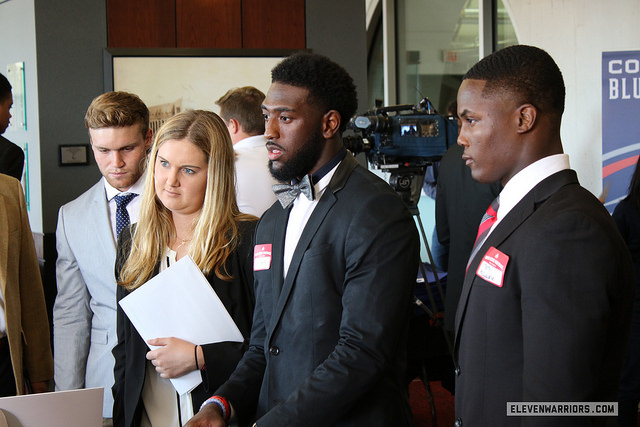 "I think we have a lot of leaders in our position groups so when it comes to the things that the coaches can't be a part of and we have footballs out there, we're just coaching each other up and doing things that we need how to do, especially as older guys," Barrett said.
Those older guys are all part of the same lifting group and the throwing workouts follow with Barrett as the conductor. Ohio State revamped its passing game this spring with two new coordinators, as Day focused on footwork with his group to achieve better accuracy and Wilson preached tempo and efficiency with his play calls.
Things were not where they needed to be during the spring game by any stretch of the imagination. But the effusive praise from the higher ups made it apparent things were trending in the right direction. The responsibility for keeping that as the track now falls upon Barrett his receivers, tight ends and the freshmen once they get their sea legs.
So far, the quarterback is pleased.
"It's not going to be perfect, it never is even with the coaches there," Barrett said. "But just making sure that guys are getting coached up on the right stuff.
"Everybody is just making sure that we're prepared and ready to go when camp starts."