Whenever Ohio State's defense gets brought up in conversation, the first thing out of coordinator Greg Schiano's mouth has something to do with the depth of Larry Johnson's defensive line. With so many strong, hard-nosed and athletic players to work with, particularly at end, Urban Meyer's defensive staff discussed different packages this spring in an effort to figure out ways to get more of them on the field at one time.
The main reason all of that was possible is due to the versatility of one player in particular: redshirt junior Sam Hubbard.
"Very talented guy. He's a big man, but he has the dexterity to move around and do some things that guys his size usually don't," Schiano said last month.
Hubbard's lateral quickness at 6-foot-5 and 265 pounds is difficult to duplicate and typically is reserved for players who make it to the next level. The NFL isn't going anywhere, so Hubbard decided almost immediately after Ohio State's ugly 31-0 loss to Clemson in the Fiesta Bowl that he wasn't either.
As a third-year player, he had the option to leave. But with his degree in finance nearly complete, Hubbard's decision to return gave Schiano and the Buckeyes an extremely valuable chip in the poker game that is stopping opposing offenses.
"Think about how difficult it has to be for a 300-pound man to go block a guy who used to be 215 pounds and run all over the field and catch the ball. He's a unique player."– Kerry Coombs
"I'm upping my game and doing it at a quick rate with Coach Johnson," Hubbard said this spring. "He's really taken my game to another level and that's what I really wanted to do. I think another year is really going to benefit me."
Hubbard's history first as a lacrosse player at Cincinnati Archbishop Moeller High School and even on the dodgeball court — where Meyer claims he found the star on a recruiting visit — delayed the defensive end's initial development at Ohio State. Meyer lamented for weeks during the 2014 season about wanting to yank Hubbard's redshirt and insert him into the lineup.
"He won't be here five years from now," Meyer said on his radio show two days before Ohio State hosted Cincinnati. "He'll be playing for money."
Hubbard still has two years to make good on his coach's promise. With a strong and healthy junior season behind him, you can all but count on Hubbard entering his name into the 2018 NFL Draft. Add that to the list of things that makes him so valuable to Ohio State's 2017 defense.
Hubbard is the key cog in Johnson's wheel on the defensive line, one that is kicking the tires on playing five linemen at one time. Meyer knows he has four elite defensive ends and is challenging Johnson, Schiano, Kerry Coombs and Billy Davis to get Hubbard, Jalyn Holmes (another athletic freak), Nick Bosa and 2016 Big Ten Defensive Lineman of the Year Tyquan Lewis on the field together with Dre'Mont Jones. A rising third-year player, Jones came to Ohio State as a defensive end but as bulked up to play tackle, yet he still possesses a quick twitch on the interior.
Ohio State's front seven returns almost intact from 2016, losing only Raekwon McMillan at middle linebacker. Chris Worley shifted over one spot, while Dante Booker certainly looks the part on the outside for Davis and opposite of Jerome Baker. Johnson's depth up front is self-explanatory but starts with Hubbard, who worked at dropping into coverage this spring.
"I'm standing up, dropping a little bit, getting back to playing in space like I did in high school. It's fun," he said. "Also coming off the edge and coming from depth on guards and stuff, it's really fun. It's a whole new aspect of my game I get to show."
How the Buckeyes plan to move him around to install other defensive packages is an essential part of their summer to-do list. All because of Hubbard and to an extent, Holmes.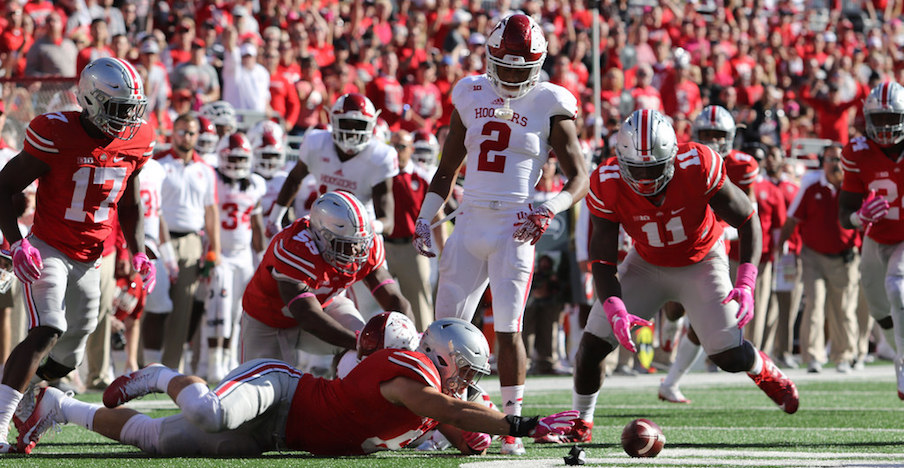 "You've got to be careful that you don't go crazy. It's only good if they know what they're doing," Schiano said about potential sub packages that include Hubbard at spots other than defensive end. "Doesn't matter if we know what we're doing. But that's our job is to figure out ways to get the best players on our team on the field, and that's going to be a big part of our summer."
Hubbard has speed, size, quick feet, hands and outstanding length. Glimpses of all have surfaced in his first two years of playing for the Buckeyes. He intercepted a pass against Maryland in 2015 after dropping into coverage, knocked down three others, forced one fumble and tallied eight tackles for loss in each of his first two seasons to go along with 10 career sacks. Hubbard is a stat-sheet stuffer if you will, and above all, a rare blend of player.
"You can see that he's an athlete who's gotten bigger and bigger and bigger," Schiano said. "But he moves with that kind of efficiency that you can tell."
"The ability to flip his hips when he's running full speed and use his hands to pressure the passer — think about how difficult it has to be for a 300-pound man to go block a guy who used to be 215 pounds and run all over the field and catch the ball," Coombs added. "He's a unique player."
And it is Hubbard's uncommonness that puts him in a different category alongside his defensive line teammates. Each player is of a different mold, yet Hubbard is the piece that could provide the most variations as Schiano and Co. plan for the 2017 season.
"Them telling me to drop, they didn't have to coach me up much because I know what I'm doing," Hubbard said. "Telling me to rush from like a linebacker stance, it's like a D-lineman coming from depth. It's a good blend and it's really helping me show my skill set to benefit the team."