With seven players selected in last weekend's NFL Draft, Ohio State has now sent more talent to the next level over the last two years than any other program in the country. And to think that number could be even greater had some former Buckeyes stayed out of trouble, remained on top of their studies or elected to stick around when the going got tough. 
That doesn't mean that every prospect who was cast aside by Ohio State gave up on their dream of making it to the league, though. In fact, one former player heard his named called late Saturday afternoon, while three others signed unrestricted free agent deals in the days following.
JAMAL MARCUS — DEFENSIVE END
A four-star prospect out of Durham, North Carolina, Marcus appeared in 24 games as a reserve for Ohio State during the 2012 and 2013 seasons. He looked poised for a breakout junior campaign after starting the Orange Bowl loss to Clemson in place of a suspended Noah Spence, but reportedly had academic problems the following spring and transferred to Akron.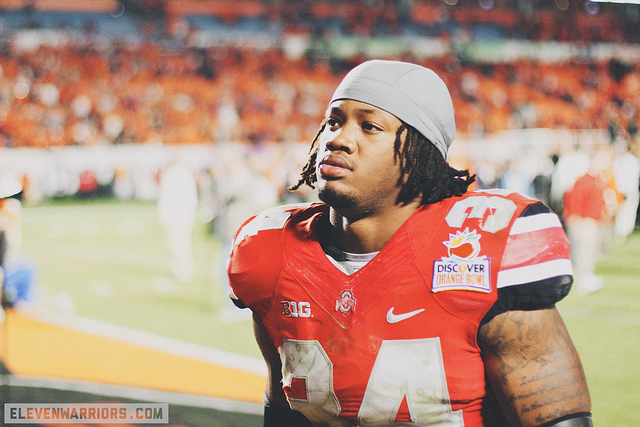 Marcus was redshirted in 2014 and therefore did not lose a year of eligibility like most transfers. He finished his debut season with the Zips with 30 tackles, 12.5 tackles for a loss, 5.5 sacks, one forced fumble and one fumble recovery, and was named third-team all-Mid-American Conference as a result.
Marcus struggled to stay healthy during his senior season, playing in only six games before shutting things down with an undisclosed injury. In spite of that, he signed as an undrafted free agent with the Cleveland Browns this week.
NAJEE MURRAY — CORNERBACK
Murray appeared in six games during his freshman year at Ohio State, recording three tackles on special teams, but suffered a torn ACL in practice ahead of the Buckeyes' game with Indiana that same season. Ohio State head coach Urban Meyer suspended the Steubenville native indefinitely for a "training camp" issue in August 2013, and he transferred to Kent State shortly thereafter.
After he was forced to sit out a season due to NCAA rules, Murray returned to Ohio Stadium with the Golden Flashes in 2014 — a 66-0 Ohio State win. Though the team never won more than three games in a season with Murray on the roster, he finished his career with 103 tackles, 5.5 tackles for a loss, four fumble recoveries, two interceptions and one defensive touchdown.
Murray was named first-team all-Mid-American Conference following his senior season, and he signed a undrafted free agent deal with the Browns after the draft.
SE'VON PITTMAN — DEFENSIVE END
Though he was among the Top 100 prospects in the Class of 2012, Pittman never saw the field at Ohio State after he suffered a knee injury in spring practice and redshirted as a true freshman. He asked for his release following the season, and though the school never confirmed the reasons for his departure, it reportedly had to do with an off-the-field issue and Pittman "looking for a fresh start."
Pittman transferred to Akron four months later and sat out his redshirt freshman season, per NCAA rules. But as a three-year starter, he helped the Zips to their first bowl win in school history. Pittman played in 33 games for Akron, recording 91 tackles, 12.5 tackles for a loss, three sacks and two forced fumbles.
Following the draft, Pittman signed an undrafted free agent deal with the Tampa Bay Buccaneers on Monday. He is slated to be reunited on the Buccaneers' defensive line with the aforementioned Spence, who also forged his own path to the NFL after being declared permanently ineligible by the Big Ten in 2014 and transferring to Eastern Kentucky.
EJUAN PRICE — LINEBACKER
The Pittsburgh native committed to former Ohio State head coach Jim Tressel in January 2011, but was so unsure of his pledge that he flipped a coin on signing day — heads, he'd sign with the Buckeyes; tails, he'd sign with the Panthers. Tressel resigned a few months later for his role in the Buckeyes' infamous tattoo scandal, so he asked for his release and transferred back home.
Because he did not practice with Ohio State, Price was permitted to transfer to Pittsburgh and did not have to sit out a year. He struggled with various back and chest injuries early on with the Panthers, though, and missed 20 games in two seasons.
He returned with a vengeance in 2015 and was named first-team all-Atlantic Coast Conference during his junior and senior seasons. He finished among the nation's leaders in sacks and tackles for a loss during his final year and was selected by the Los Angeles Rams in the seventh round of the 2017 NFL Draft.