Former Ohio State cornerback Gareon Conley, a previously projected first-round draft pick in Thursday night's NFL Draft, denied allegations Tuesday afternoon that he raped a woman in a Westin hotel suite bathroom on April 9 in downtown Cleveland.
According to Cleveland CBS affiliate WOIO-TV, the two met previously in the night at Barley House, a bar in Cleveland's warehouse district.
From our nation's site of record, TMZ.com:
According to the report, the accuser says she met Conley in an elevator and he asked her to have a foursome with another friend of his. The woman says she declined and offered to watch the other people have sex instead.

A short time later, the woman says Conley unbuttoned her pants and began to have sex with her. She claims she said, "No, stop, it hurts!" but he kept going until he finished. She says he then kicked her out of the hotel room.

The woman called 911 and described her assailant as a "black male who wouldn't take his sunglasses off and had an Ohio State tattoo on his left forearm."
Kevin Spellacy, Conley's attorney, calls the accusations "ludicrous and ridiculous." Cleveland police have yet to charge him with anything relating to the alleged incident.
From WOIO, below is an image of the police report regarding the incident: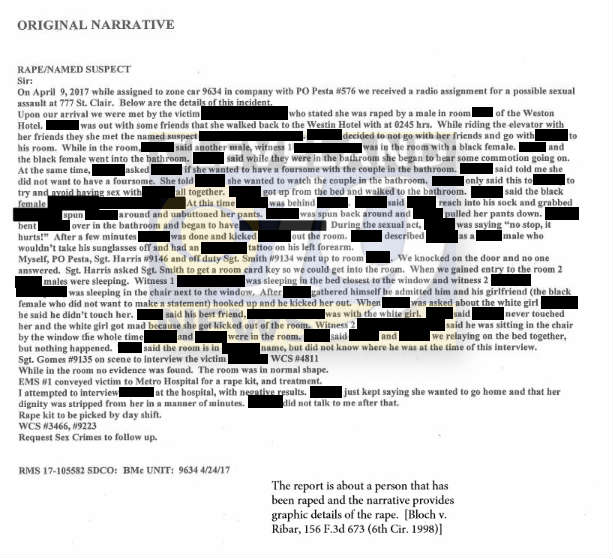 Former Buckeye defensive backfield teammate Marshon Lattimore, another projected first-round pick, offered his support to Conley shortly after news broke:
@shonrp2 Lord knows!

— Gareon Conley (@_gconley8) April 25, 2017
As for how these accusations affect Conley's draft stock, here's NFL Network reporter Albert Breer:
Gareon Conley's name was filtering to teams this morning, and those teams are trying to fact-find on this case quickly.

— Albert Breer (@AlbertBreer) April 25, 2017
Eleven Warriors had previously reached out to Conley's agent for comment. He did not return our request. Due to the allegations, Conley will reportedly not attend the NFL Draft on Thursday after previously accepting an invitation.