Ohio State reached the College Football Playoff in 2016 in what many could deem a rebuilding year for Urban Meyer and Co. Losing 12 NFL Draft picks and 16 starters doesn't happen with regularity.
Meyer is used to expectations, though, and got his team in a position to compete on the grandest of stages even without winning the Big Ten. A fabulous defense carried the Buckeyes all season and waited for J.T. Barrett and the other side of the ball to get things ironed out when it mattered most. It never happened, and Ohio State fell flat on its face in the Fiesta Bowl against eventual national champion Clemson, losing 31-0.
It led to major changes both on Meyer's staff and from a personnel standpoint, with Tim Beck heading to Texas and Ryan Day replacing him as quarterbacks coach. Former Indiana head coach Kevin Wilson will replace Ed Warinner as offensive coordinator and tight ends coach. Warinner left to be the offensive line coach at Minnesota.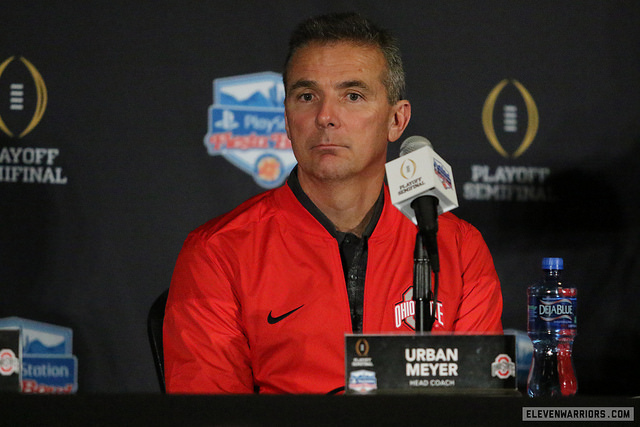 Six players elected to forgo their remaining eligibility and declare for the 2017 NFL Draft as well: linebacker Raekwon McMillan, cornerbacks Gareon Conley and Marshon Lattimore, safety Malik Hooker, wide receiver Noah Brown and do-it-all star H-back Curtis Samuel. Barrett, Sam Hubbard, Billy Price, Tyquan Lewis and Marcus Baugh all plan to return, however.
Storylines are everywhere with a program that entered the offseason with a terrible taste in its mouth. Here are five burning questions before the Buckeyes open spring practice in March.
1. Can J.T. Barrett Take a Step Forward Under Ryan Day?
By most accounts, Barrett had a strong 2016 season considering a leaky offensive line and struggling wide receiving corps to work with. He shared the Silver Football as the Big Ten's Most Valuable Player with Penn State running back Saquon Barkley and took home the second Griese-Brees Quarterback of the Year Award of his career. But Barrett did not look as comfortable in the pocket as he has in years past, primarily in 2014 when he burst onto the scene as a redshirt freshman and set a conference record with 45 total touchdowns.
It often feels like Barrett is afraid to make a mistake and has shoddy footwork at times. Better play from the guys on the outside to create separation will help ease that tension but the addition of Day to the coaching staff means the quarterback is set to work with the third different position coach in his career.
He is a fifth-year senior and in line to be a three-time captain, plus Barrett could become the first quarterback in Ohio State history to end his career 4-0 as a starter against Michigan. To do so, he must be more accurate with the football but get help with those in front of him on the offensive line and at receiver. But a positive shift in his progression as a passer is of the utmost importance and will go a long way in determining how far Ohio State goes in 2017.
2. Who Will Step Up at Wide Receiver?
Wrap your head around this: Ohio State's leading pass catcher set to return to its lineup is a tight end, Marcus Baugh. Brown and Samuel led the way in 2016 and are onto the NFL. Dontre Wilson graduated. Baugh's 24 catches for 269 yards and two touchdowns look similar to Samuel's numbers in 2015 (22 receptions, 289 yards, two scores) as the top returning pass-catching this past season.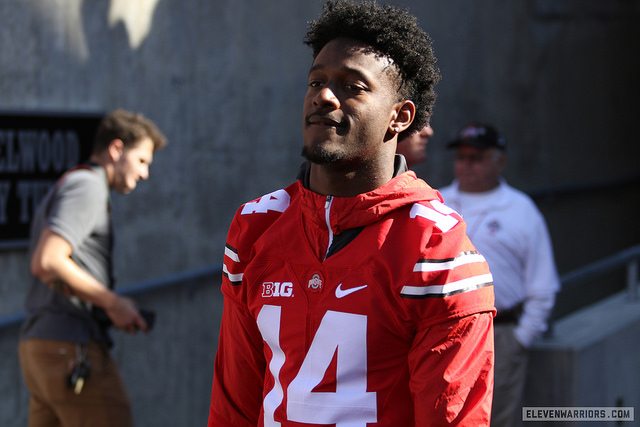 K.J. Hill is the top returner at wide receiver, with 18 catches for 262 yards and a touchdown that came in the season opener against Bowling Green. He missed time in 2016 with an ankle injury but caught 13 passes over Ohio State's final five games.
Will Terry McLaurin and Parris Campbell make a jump? They didn't this year in terms of making plays on the outside. Binjimen Victor made a nice catch in the Fiesta Bowl for 21 yards and Austin Mack played in 11 games. Trevon Grimes is on his way as a 5-star recruit in the 2017 class but suffered a knee injury that ended his high school career early. Eric Glover-Williams and early enrollee Brendon White are apparently set to try their hand at receiver. How much can they contribute? There is a massive void at playmaker in Zach Smith's room and it needs filled, quickly.
3. Can the Secondary Withstand Early Departures Again?
After Ohio State went 12-1 and beat Notre Dame in the Fiesta Bowl, three starters in the secondary — safeties Tyvis Powell and Vonn Bell and corner Eli Apple — left for the NFL Draft. Each of those guys started for two seasons (or in Powell's case, three) on the back end of the Buckeye defense. Malik Hooker, Marshon Lattimore and Damon Webb stepped in nicely in 2016, creating a slew of turnovers and turning them into points. Hooker and Conley and Lattimore are now gone to the NFL.
If so, that is three new starters in the secondary for the second straight season. Kerry Coombs and Greg Schiano recruited extremely well to combat those losses and will again depend on youth to fill in the cracks. Junior college transfer and former Alabama commit Kendall Sheffield joined the fray on Tuesday afternoon, and he didn't do so with the intention of sitting the bench.
Damon Arnette, Denzel Ward, Joshua Norwood, Rodjay Burns, Wayne Davis, Jordan Fuller, Erick Smith, Jahsen Wint and Webb are all set to be the returning names in the secondary. Shaun Wade, Jeffrey Okudah, Marcus Williamson and Isaiah Pryor are already enrolled and preparing for spring practice. Talent is readily available to help another NFL pillage of Ohio State defensive backs. Can it produce?
4. Is Bill Davis Up to the Task?
Ohio State knew Luke Fickell intended to take the head coaching position at Cincinnati in early December. The Bearcats announced him as their guy on Dec. 10. Eleven days later, Meyer hired Bill Davis to his defensive staff. The best man at his wedding, Davis and Meyer go way back.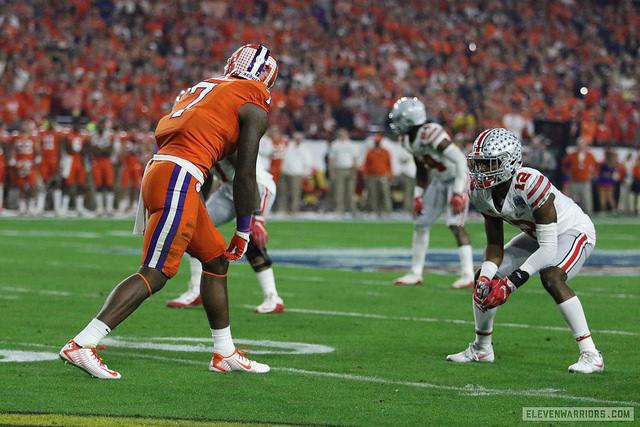 Davis hardly had success in the NFL as a defensive coordinator, though Meyer will not ask him to do that at Ohio State. He is in line to only coach linebackers, leaving the coordinating to Kerry Coombs and Greg Schiano. But can Davis recruit? Fickell's ties to central Ohio and the entire state as a whole is what made him so valuable on the top of the fact he was essentially an Ohio State lifer. Davis's best player that had remaining eligibility, Raekwon McMillan, is headed to the NFL. Everyone expected that. How he meshes with returners Chris Worley and Jerome Baker and who he taps to replace McMillan as the man in the middle will be heavily watched.
Fickell left the cupboard bursting with talent at the position but it will be interesting to learn where Davis's recruiting responsibilities lie. It will not be easy to step in for Fickell and expecting Davis to replicate what he did in Columbus is unfair. But Ohio State cannot afford a step back at that position.
5. Can Sean Nuernberger Prove He is the Guy at Kicker?
Sean Nuernberger proved valuable during Ohio State's run at the 2014 national championship, nailing all 89 of his extra point attempts and connecting on 13-of-20 field goal tries as a true freshman. Jack Willoughby graduated from Duke and transferred to Ohio State to take over kickoff duties and then beat Nuernberger out as placekicker.
But Nuernberger played in seven games in 2015, making 3-of-4 field goals and all 17 extra point tries as Urban Meyer tried to find consistency at the position. Then walk-on Tyler Durbin handled kicking duties for the duration of the 2016 season, stepping in after Meyer said Nuernberger had a groin injury during training camp. Incoming freshman Blake Haubeil — the top-rated kicker in the country — will grayshirt in fall 2017 and be put on scholarship next January. That leaves Nuernberger — or someone else — in the spotlight at kicker. Will the Buckeyes go the walk-on route again? Or can Nuernberger secure his old job?