A new season with sky-high expectations follows what was a "rebuilding" project in 2016. Ohio State was the most inexperienced team in the country last year after it lost almost the entirety of 2014's draft-ineligible national championship squad to the NFL. That "rebuilding" project still made it to the College Football Playoff. A more seasoned coaching staff and roster are a credible threat to win it all in 2017.
The eye toward team accolades in 2017 belies that some of the roster could bring home individual awards. Pat Elflein broke a multi-season dry spell by winning the Rimington Trophy last year, the first Buckeye to win one of the big national awards since James Laurinaitis and Malcolm Jenkins took home the Lott and Thorpe honors in the 2008 season.
Several Buckeyes again appear on preseason "watch lists" for major position and overall player awards this year. However, "watch lists" are cynically, and tautologically, lists of players that various award selectors intend to watch this season with little information conveyed on top of that. Some have more realistic chances of winning these honors than others. 
This season preview feature will detail the Buckeyes that appear on these watch lists and what realistic chance they have at winning them. It starts with the position awards before covering the more prestigious overall player awards.
Butkus Award

Jerome Baker and Chris Worley represent Ohio State on the Butkus Award watch list. The Butkus Award goes to the best linebacker every year.
Of the two, Baker might be Ohio State's best chance to secure the award. Baker is a "big-play" linebacker that Ohio State fans may remember for his pick-six against Oklahoma and 10-plus-tackle performances against Wisconsin and Michigan. Selectors are also eyeing him for the Bednarik and Nagurski honors, which go to best overall defensive player.
2017 Award Watch Lists for Ohio State


| Award | Description | Buckeyes on Watch List |
| --- | --- | --- |
| Bednarik | Best Defensive Player | Jerome Baker, Nick Bosa, Tyquan Lewis, Denzel Ward |
| Butkus | Best Linebacker | Jerome Baker, Chris Worley |
| Doak Walker | Best Running Back | Mike Weber |
| Hornung | Most "Versatile" Player | Parris Campbell |
| Mackey | Best Tight End | Marcus Baugh |
| Maxwell | Best Offensive Player | J.T. Barrett, Mike Weber |
| Nagurski | Best Defensive Player | Jerome Baker, Nick Bosa, Sam Hubbard, Tyquan Lewis |
| O'Brien | Best Quarterback | J.T. Barrett |
| Outland | Best Interior Lineman | Jamarco Jones, Billy Price |
| Rimington | Best Center | Billy Price |
| Thorpe | Best Defensive Back | Denzel Ward |
This discussion does not intend to downplay Chris Worley, who was fourth on the team last year in tackles. His move inside should allow him to accrue even more tackles toward conference and national honors. It's just that Baker might be Ohio State's best linebacker in 2017.
Still, competition is stiff for the Butkus every year. Alabama linebackers have won the award three times since Nick Saban took over the program. Reuben Foster, now in the NFL, was last year's winner. Rashaan Evans and Shaun Dion Hamilton will make a push this year.
My hunch is the real two favorites for the award this year are Malik Jefferson (Texas) and Azeem Victor (Washington). Jefferson is an athletic freak who, if Texas has a one-year rebound under Tom Herman, will be a major reason for Texas' improved fortunes. Azeem Victor led the country in tackles through nine games for a tough Washington defense. However, he broke his leg against USC and sat out the season. If he's full-strength, he'll be tough to beat for the award.
Andy Katzenmoyer (1997) and James Laurinaitis (2007) are the only two Buckeyes to win the Butkus Award.
Doak Walker

Mike Weber appears on the watch list for the Doak Walker Award, given annually to the country top college running back.
Weber is a good candidate. He had an exceptional redshirt freshman year for the Buckeyes. He should do even better in 2017. Given Ohio State's rush offense, he might even be a top-five rusher in the country.
However, Weber seems like a better candidate for this award in 2018 should he return for a redshirt junior year. Saquon Barkley (Penn State) is a runaway favorite for this award. His stiffest challenge should be Kamry Pettway (Auburn), who was also a Doak Walker Award semifinalist last year.
Eddie George (1995) is Ohio State's only Doak Walker Award winner.
Hornung Award

Parris Campbell appears on the watch list for the Paul Hornung Award. This is a newer award created in 2010 to honor the legacy of the only Heisman player from a sub-.500 team. Hornung was a versatile player at Notre Dame and the Louisville Sports Commission wants to honor his gridiron legacy with an award for the most "versatile" player in college football.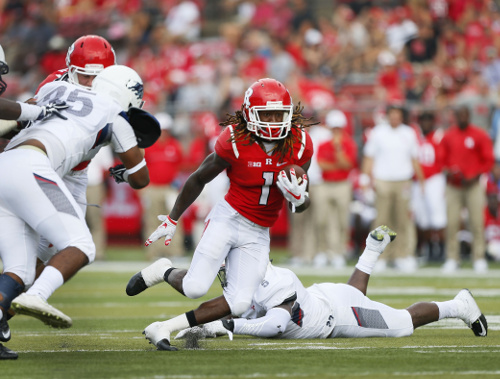 Owen Marecic, who won the first award at Stanford in 2010, best exemplifies the spirit of the award. He was a two-way player at fullback and linebacker for the Cardinal. In practice, the award goes to starters who also excel as punt or kick return specialists.
Campbell is a longshot at this award. Expect return threats like Braxton Berrios (Miami) and Christian Kirk (Texas A&M) to lead the pack early for this award. Janarion Grant (Rutgers) is a trendy dark horse for this award. Grant missed most of last year with a broken ankle, but he's one of the most electric players in the country, even on an awful team like Rutgers.
Mackey Award

Marcus Baugh appears on the watch list for the Mackey Award, given annually to the best tight end in the country.
Baugh could have a fine year for Ohio State as a redshirt senior. He may even thrive more than previous tight ends because of Kevin Wilson's addition to the coaching staff. However, Mackey Award winners need to have monster years or, more accurately, built-in name recognition after monster years. This captures well the awards given to Tyler Eifert (Notre Dame, 2012), Austin Seferian-Jenkins (Washington, 2013), Nick O'Leary (Florida State, 2014), and Jake Butt (Michigan, 2016). None of those award-winners had magnificent seasons in the year in which they won the Mackey Award, but they had name recognition after having great seasons the previous year.
My pick for this award is Adam Breneman of UMass. Ohio State fans may remember him as a tight end Ohio State pursued but lost to Penn State in the 2013 recruiting cycle. Knee injuries eventually led to a transfer to UMass, where he has since thrived. He led all active tight ends last year with 70 catches for 808 yards and eight touchdowns.
Ohio State has, unsurprisingly, never produced a Mackey Award recipient. The award only dates to 2000.
Davey O'Brien Award

J.T. Barrett appears on the watch list for the Davey O'Brien Award, given yearly to the best quarterback in the country.
Barrett will likely have a better season this year than he had last year. This assumes the offensive line improves and that Kevin Wilson and Ryan Day can correct a lot of what made last year's offense sputter at the most inopportune times. He has the hype too.
However, this year's award-winner will also likely be this year's Heisman winner. I made my argument in the Heisman predictions for Sam Darnold of USC but also read Kyle's argument for Jake Browning (Washington) and Ramzy's argument for Baker Mayfield (Oklahoma).
Troy Smith (2006) is Ohio State's only Davey O'Brien Award winner.
Rimington Trophy

Billy Price represents Ohio State on the watch list for the Rimington Trophy, given annually to the country's best center. He hopes to make Ohio State a repeat-winner of the award, following Pat Elflein's win last year.
Price winning this award seems like a stretch. Offensive linemen lack easily accessible metrics like defensive linemen, which results in this award largely going to players who pass the "look test" and have some built-in name recognition. Elflein had both attributes in his favor last year. Price will start the season well behind what Elflein had to his advantage last year.
Alternatively, Brian Allen (Michigan State) does have these things going in his favor. Michigan State was woeful last year, but Allen was superb. He'll be the Big Ten's best shot at the Rimington if Michigan State returns to the postseason in 2017.
There are other familiar names that should be favorites to win this award. Expect it to go someone in the SEC. Frank Ragnow (Arkansas) is my pick. Bradley Bozeman (Alabama) will challenge for it as well. Alternatively, there are two "dark horse" candidates in the Pac-12 with otherwise solid reputations at center. Scott Quessenberry (UCLA) and Coleman Shelton (Washington) should challenge for this award as well.
Jim Thorpe Award

Denzel Ward appears on the watch list for the Jim Thorpe Award, given annually to the country's best defensive back.
Think of what Malik Hooker did last year for Ohio State as perhaps the most feared defensive back in the country. That wasn't enough to win the Thorpe Award, or even the conference accolades at the position for that matter. Denzel Ward should be fine for Ohio State but it's unlikely he'll have the superhuman year that Malik Hooker had last year, which wasn't even enough for this award.
Minkah Fitzpatrick (Alabama) is likely the favorite for this award. He's a phenomenal player on a great defense that routinely produces individual award-winners pro forma. Derwin James (Florida State) and Quin Blanding (Virginia) will be his biggest challengers.
Antoine Winfield (1998) and Malcolm Jenkins (2008) have won the Thorpe Award playing for Ohio State.
Outland Trophy

Jamarco Jones and Billy Price appear on the Outland Trophy watch list. This award is peculiar for restricting its eligibility to the best player on the interior of the line on either side of the ball. Offensive tackles are eligible, but defensive ends are not.
The allocation of this award is also peculiar. Centers and guards are eligible but almost never win of late. Dave Rimington (Nebraska) was a center that won the award in consecutive years in 1981 and 1982. His teammate, Dean Steinkuhler, won the award the next year as a guard. Since then, interior linemen have won the award just five times. Greg Eslinger (Minnesota, 2005) and Joshua Garnett (Stanford, 2015) have been the only interior offensive line winners this century.
Additionally, defensive tackles are eligible but almost never win it of late. The Football Writers Association of America almost instinctively thinks of this as an award for the best offensive tackle.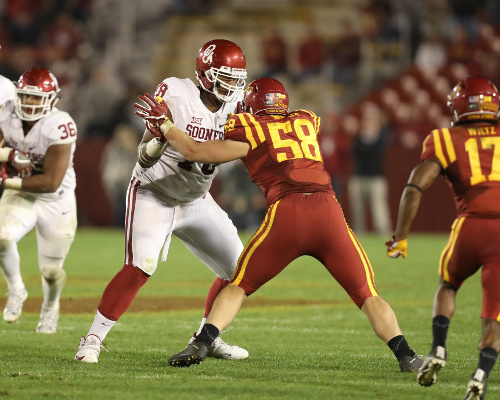 Jamarco Jones is a solid dark horse for this trophy, especially if he has a good year and Ohio State's offense kicks it to another level. One obstacle Jones may encounter is he lacks the kind of name recognition that other players have. Like centers, offensive tackles don't have the same kind of metrics for the lay sportswriter who casts these votes. Name recognition and built-in prestige matters more for offensive linemen than quarterbacks or running backs, for which completion percentage and yards per carry are more accessible and easier to understand.
With that in mind, Orlando Brown (Oklahoma) is my pick for this award though Frank Ragnow (Arkansas) might take it as only the second center to win the award since Dave Rimington's back-to-back wins in 1981 and 1982. He's also my pick for the Rimington Trophy.
Orlando Pace (1996) is Ohio State's most recent Outland Trophy winner. Past winners include Jim Parker (1956), Jim Stillwagon (1970), and John Hicks (1973).
Chuck Bednarik Award, Bronko Nagurski Trophy

Five Buckeyes appears on these two watch lists for the best overall defensive player in the country. Jerome Baker, Nick Bosa, and Tyquan Lewis appear on the watch lists for both trophies. Denzel Ward is on the Bednarik Award watch list and Sam Hubbard is on the watch list for the Nagurski Trophy.
Denzel Ward is a longshot for the Chuck Bednarik Award. Defensive backs are nominally eligible for these awards but they almost always go to defensive linemen or linebackers. Patrick Peterson and Tyrann Mathieu won the Bednarik in 2010 and 2011, if you want an idea of what exactly a defensive back must do in a season to get this award.
Tyquan Lewis might be Ohio State's best shot at one of these awards of the players that appear on both watch lists. Lewis' eight sacks in 2016 were tied for 46th best in the country. He should again have a great year for Ohio State.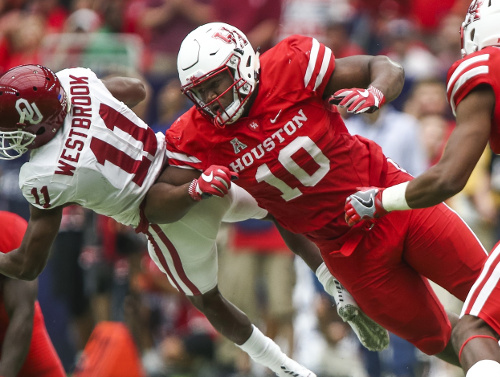 However, several players had much better seasons last year and appear on these watch lists. Harold Landry (Boston College) had 16.5 sacks. Arden Key (LSU) had 12 sacks. They'll again have great seasons and challenge for these awards.
The most intrigue might be Ed Oliver, who is almost certainly trying to build a portfolio toward being a future No. 1 overall pick. Houston should be fine in its first year without Tom Herman, but Oliver should be amazing.
Different selectors vote on these awards but there's usually some convergence of opinion. Both committees have selected the same best overall defender in the past five seasons.
James Laurinaitis (2006) is Ohio State's only Nagurski Trophy winner. No Buckeye has won the Chuck Bednarik Award yet.
Maxwell Award

J.T. Barrett appears on the watch list for the Maxwell Award for the second straight year. He is joined by Mike Weber. The Maxwell Award goes every year to the best offensive player in the country.
Until recently, this award had a distinction as akin to a Heisman consolation prize. Notable winners in this vein include A.J. McCarron (Alabama, 2013), Manti Te'o (Notre Dame, 2012), Andrew Luck (Stanford, 2011), and Colt McCoy (Texas, 2009). However, the past three winners also won the Heisman, suggesting this trophy could be becoming a Heisman Trophy clone.
The competition for this award is always tough. The discussion for the Doak Walker Award suggested Mike Weber may be a year removed from being a credible threat for honors as the country's best running back. Additionally, players like Sam Darnold, Jake Browning, and even Baker Mayfield may have better seasons at quarterback. There's no plausible path to the Maxwell Award for the two Buckeye watch list nominees that doesn't include a Doak Walker or O'Brien trophy.
Sam Darnold, my Heisman pick, is also my pick for the Maxwell Award. Additional top challengers include Saquon Barkley and Jake Browning.
Ohio State has won the Maxwell Award four times in the history of the award. Howard Cassady won the first in 1955. Bob Ferguson and Archie Griffin won in 1961 and 1975. Eddie George won it most recently in 1995.