Three defensive backs expected to start right away, a handful of other contributors in line to round out rosters, an Australian trying to make one and a few free agent wideouts. Ohio State's 2017 NFL Draft haul isn't as outrageous as last year's, but it still is set to make a considerable imprint this fall at the professional level.
Three Buckeyes went in the first round, all from the defensive backfield: Marshon Lattimore, Malik Hooker and Gareon Conley. Four others heard their names called on Friday and Saturday: Curtis Samuel, Raekwon McMillan, Pat Elflein and Noah Brown. Additionally, Cameron Johnston, Dontre Wilson and Corey Smith all signed as free agents. Craig Fada even earned a minicamp invitation from the Houston Texans.
While Ohio State's secondary haul the last two seasons is unprecedented and each is either a current contributor to an NFL team or is expected to be this fall, how do the rest of the Buckeyes that realized their dream this weekend fit in with their new teams?
Let's explore.
---
Marshon Lattimore — Cornerback, New Orleans Saints
New Orleans ran out one of the worst defenses in the NFL last year, especially against the pass. The Saints finished 27th in the league in total defense and dead last at defending the pass. Sean Payton and Co. must have been squealing when Lattimore, the highest-rated cornerback in this year's draft, fell to them at No. 11.
As such, you can all but pencil Lattimore into the starting lineup from Day One. New Orleans allowed 274 passing yards per game in 2016 and is still actively trying to trade with New England for Malcolm Butler, though such a move was deemed "unlikely" before the Draft opened on Thursday night.
New Orleans showed more interest in free agency outside of just Butler but in taking Lattimore are telling the world they expect him to be an impact player right away alongside Delvin Breaux P.J. Williams, Sterling Moore and others at corner.
Malik Hooker — Safety, Indianapolis Colts
Like New Orleans, the Colts struggled to stop people last season. Especially through the air, allowing 263 passing yards per game. The natural move for Indianapolis, in a similar way as the Saints, was to jump at the opportunity to scoop up a fantastic talent like Hooker when he fell to pick No. 15.
The Colts must address their cornerback position in the draft too but Hooker was too good of a player to pass up. He shoots to the top line of their depth chart alongside probably Clayton Geathers as the free safety of the future in Indianapolis. Provided he is healthy once camp opens and can stay that way, expect Hooker to roam in the back end of the franchise's defense a bunch this fall. The Colts picked off just eight passes in 2016. Hooker snagged seven by himself in three fewer games at Ohio State last season.
Gareon Conley — Cornerback, Oakland Raiders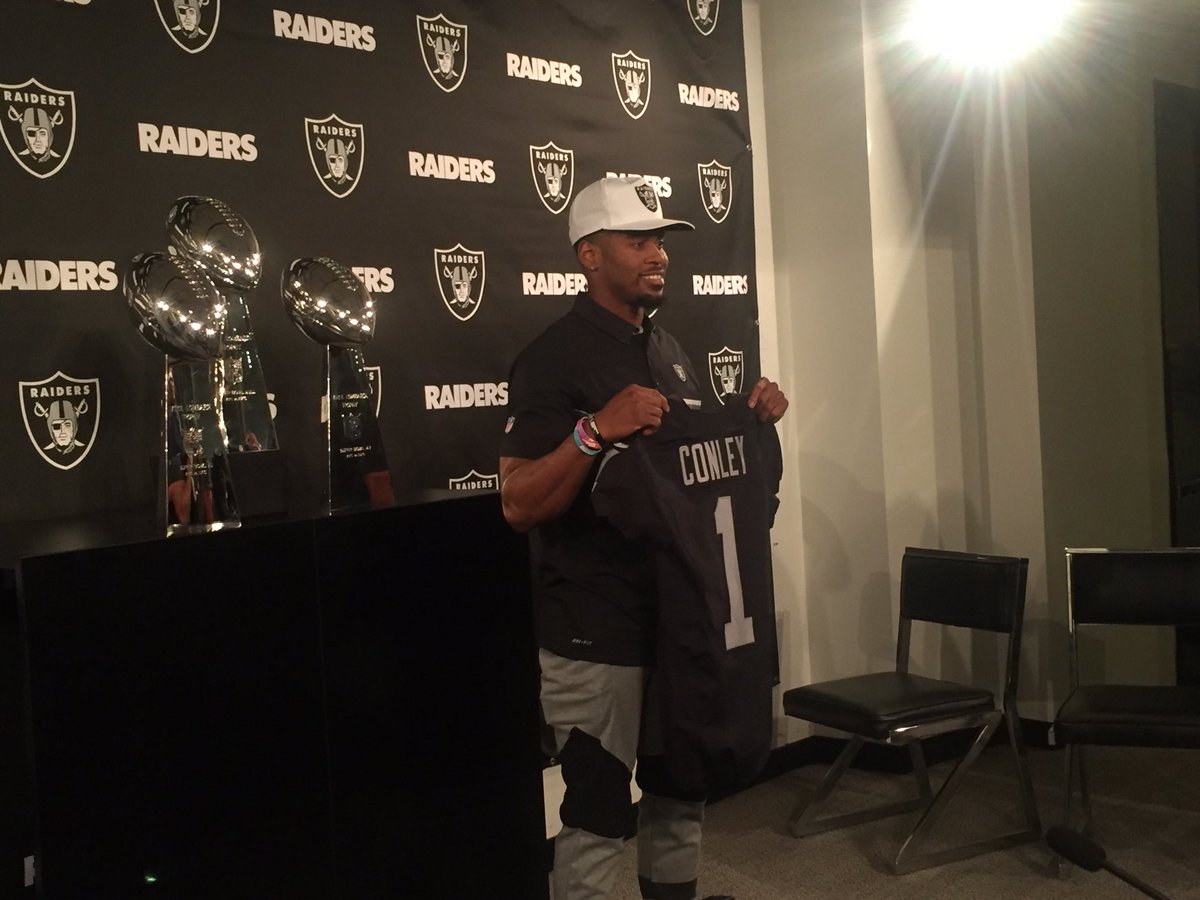 Same draft, different Ohio State defensive back. Oakland's defense ended last year 24th in the NFL against the pass, giving up 258 yards per game through the air. The Raiders also allowed a league-high 61 completions of at least 20 yards in 2016. With young offensive talent like quarterback Derek Carr, wide receivers Amari Cooper and Michael Crabtree and a recent trade for some guy named Marshawn Lynch, the Raiders acted quickly to improve the other side of the ball when they took Conley 24th overall on Thursday night.
Conley is set to meet with Cleveland police on Monday to provide his official statement and DNA in an effort to exonerate himself from rape accusations stemming from an incident at a downtown hotel on April 9. The Raiders claim they did their homework on the freshly opened case and Conley even took a polygraph test to further prove his innocence. Provided nothing on the legal side prevents him being on the field, Conley has a chance to be Oakland's top cornerback or at the very least play in the slot like he did some at Ohio State last year.
Curtis Samuel — Wide Receiver, Carolina Panthers
Samuel became the first offensive player selected from Ohio State pretty early on Friday night. Carolina pounced on him with the 40th overall pick in the 2017 NFL Draft, pairing him with 2015 NFL MVP Cam Newton and another multi-purpose talent in Stanford's Christian McCaffrey. The Panthers chose McCaffrey with the eighth pick a night earlier.
It's because of that where Samuel's situation gets a little unique. While he undoubtedly was ecstatic to be the eighth pick in the second round of this year's draft — after many projections had him as a late second, early third round choice — his skill set is very similar to McCaffrey's. The question now becomes how the Panthers plan to utilize both of them effectively since each was a Swiss Army Knife for his respective college team — will their presence hinder the growth of the other? Coming off a 6-10 season where they only averaged 23.1 points per game, it's clear Carolina wants the Samuel-McCaffrey blend to become potent.
Raekwon McMillan — Linebacker, Miami Dolphins
Heading into the Draft, McMillan's game screamed that of an AFC or NFC North linebacker. A dude who can tackle everything and plays the run well, it seemed to make sense that he would land with an organization that must deal with the elements when the calendar turns cold in November, December and January. However, he landed at the complete opposite end of the spectrum in Miami, who snatched him up with the 54th pick.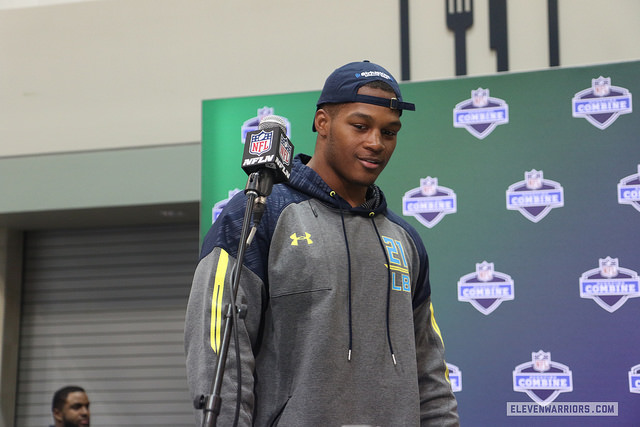 A strong college player, NFL brass and analysts struggled to see McMillan as a traditional three-down linebacker at the next level. He looks to hop right into Miami's 4-3 scheme alongside Lawrence Timmons and Kiko Alonso as someone general manager Chris Grier called an "alpha guy." Sounds like a pretty strong endorsement for someone who had to answer questions about his coverage ability and speed during the pre-draft process.
Pat Elflein — Center, Minnesota Vikings
After playing both extremely well in college, the question about Elflein's NFL future depends on if he will play center or guard. A safe pick because of his penchant for hard work and dedication to his craft, Elflein is yet another Ohio State offensive linemen coached by Ed Warinner to not only make it to the NFL but land in the NFC North. Taylor Decker starts for the Detroit Lions at left tackle and Corey Linsley is Green Bay's starting center.
Minnesota's line was decimated by injuries a year ago, so picking Elflein made sense. Head coach Mike Zimmer said he views his third-round draft pick as a center too, so that is where the 2016 Slob King will start his career. He could be snapping and blocking for Teddy Bridgewater as early as the 2017 season opener, provided the star quarterback is healthy after major knee surgery.
Noah Brown — Wide Receiver, Dallas Cowboys
The final Buckeye drafted, Brown waited, waited and waited some more before getting a phone call from Jerry Jones and Jason Garrett in Dallas as the 239th overall pick. Ezekiel Elliott vouched for his former teammate with his bosses, as evident by this video when Garrett told Brown that his running back told him "from Day 1" that taking Brown was a good idea.
Going so late in the Draft can be a good or bad thing depending on the roster a certain player joins. Sometimes it is better to sort of "pick your own team" if you go undrafted and have options after the fact. Dallas also drafted Ryan Switzer from North Carolina and has two sure starters in Dez Bryant and slot receiver Cole Beasley. Outside of that, there is room for Brown to make an impact in one of the league's best offenses. If he doesn't, the practice squad might be his best option of staying in the league.
Cameron Johnston — Punter, Philadelphia Eagles
Johnston and Philadelphia had a great relationship starting way back in early March at the NFL Combine. It ended up working out for the best, as he signed with the Eagles on Saturday not long after the Draft concluded.
Johnston is set to compete with incumbent starter Donnie Jones, who is 36 years old and in the second of a three-year contract with Philadelphia. The Eagles finished 11th last season in net punting at 42.6 yards per boot, so it's not like they struggled in the department. Johnston must show he can punt with the more traditional style the NFL likes instead of the rugby style he made famous in Columbus.
Dontre Wilson — Wide Receiver, Los Angeles Chargers
Wilson also signed as a free agent and is headed to California with a shot to make a team and realize his NFL dream. Wilson's injury history forced him to work tirelessly to even get a sniff in the pros but as the old adage goes, it only takes one team.
Keenan Allen and Travis Benjamin are already key targets for Philip Rivers on the outside, and Los Angeles drafted Clemson's Mike Williams and Montana's Jamaal Jones this weekend. There is a void for a pass-catching threat out of the backfield a la Danny Woodhead (who now plays for Baltimore after three seasons with the Chargers) so if Wilson shows he can do that, he'll have a shot at making the team.
Corey Smith — Wide Receiver, Cincinnati Bengals
Well, would you look at that — an Ohio team reached into the Ohio State pool of NFL talent. Corey Smith signed as a free agent with the Bengals on Sunday.
Smith might have to make his mark on special teams, which he did in Columbus at Ohio State. Cincinnati has one of the best wide receivers in the NFL in A.J. Green, drafted Tyler Boyd last year and Washington's John Ross this year in the first round. It looks like Andy Dalton has his three top receivers in line for the foreseeable future, so that hill to climb looks mighty for Smith. But he has a chance.