And that's why Ohio State versus Michigan is the greatest rivalry in not just college football but in all of sport.
Facing off for the 113th time, Ohio State and Michigan played into the first overtime in the rivalry's history and it was the Buckeyes who emerged victorious in a heart-stopping 30-27 double overtime roller coaster ride. 
Ohio State looked dead in the water after Michigan took a 17-7 lead midway through the 3rd quarter as the Buckeye offense sputtered against a stout Wolverine defense.
A strange thing happened on the way to heartbreak city however as J.T. Barrett and company woke up just in time to close the game on a devastating 23-10 run, handing Michigan its 5th-straight loss to Ohio State and moving Jim Harbaugh to 0-2 against the Buckeyes to start his tenure in Ann Arbor. 
All Harbaugh and his disciples could focus on afterward was how the Wolverines got screwed by a spot on a 4th and 1 Barrett carry (they didn't) allowing Curtis Samuel to score the game-winning touchdown one play later, making Ohio State's biggest comeback against Michigan since 1987 that much sweeter. 
The win improved Ohio State to 11-1 overall and 8-1 in league action and with Penn State handling Michigan State in Happy Valley, the Buckeyes won't have an additional opportunity to build on their already-impressive resume. 
Will that be enough to get into the College Football Playoff or will the Buckeyes need help? Those questions will have to wait until next weekend for definitive answers.
For now, here are Five Things from yesterday's thrilling win over Michigan. 
---
semi-sweet sixteen
For three quarters J.T. Barrett was largely awful completing just nine of 23 throws for 57 yards and an interception (which was just as much on Samuel as it was Barrett) with another 52 yards on the ground on 12 carries but thanks to a stingy Buckeye defense and three Michigan turnovers, the good guys trailed by only three at 17-14. 
Barrett's shaky passing to that point saw him miss Samuel on what could've been a 95-yard slant pass for six as one of numerous poor throws while a handful of others were batted down at the line of scrimmage. 
But with Ohio State's offense desperate for Barrett to come alive, he did just that completing six of nine throws during the 4th quarter and overtime sessions for 67 yards with another 73 on the ground including a 7-yard touchdown run up the gut giving the Buckeyes a 24-17 lead in the first overtime. 
Barrett was particularly clutch on Ohio State's final drive in regulation as he completed four of five throws for 52 yards including a 13-yard hookup over the middle with Marcus Baugh putting Tyler Durbin in position to force overtime with a 23-yard field goal with six seconds left in regulation. 
For the game, Barrett tallied 249 total yards and a touchdown to help keep Ohio State's playoff hopes intact.
No question about it, Barrett's passing has been woefully inconsistent at times this season but the man continues to come up big when it matters most and it shouldn't be overlooked that he's not always getting much help thanks to leaky pass protection and a lack of competent wide receivers. 
STEPPING UP AND STEPPING OUT
Ohio State's linebacking trio of Raekwon McMillan, Jerome Baker and Chris Worley put on a show yesterday combining for 42 tackles, 1.5 TFL, a sack and a hurry. 
McMillan showed just how made he is to play against pro-style offenses racking up 16 stops repeatedly stepping into holes to meet De'Veon Smith among others. He also triggered Malik Hooker's pick six giving Ohio State a 7-3 lead as he tipped a Wilton Speight pass on a blitz up the gut.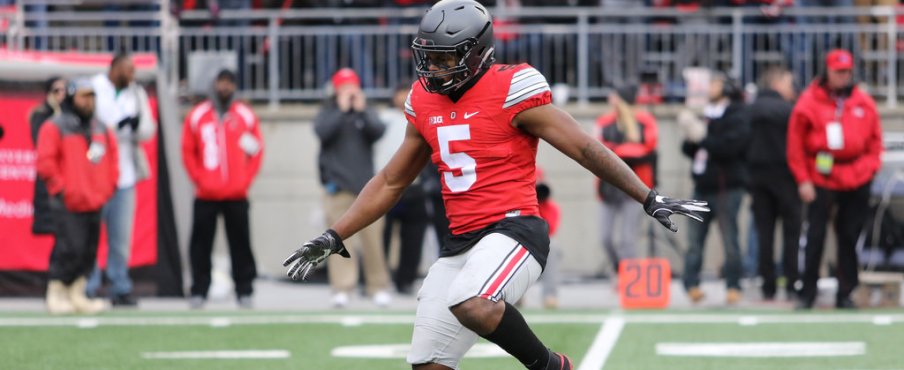 Baker tallied 15 stops and two huge plays including a sack on a 3rd and 7 play to force a punt and later his interception of a Speight throw and subsequent 22-yard return to the Michigan 13 yard line set up a Mike Weber plunge four plays later cutting the Wolverine lead to 17-14 with less than a minute remaining in the 3rd quarter. 
Worley logged 11 tackles of his own and single-handedly forced a 3-and-out early with back to back stops in run support before tight coverage on Jake Butt forced an incompletion and punt. 
With the trio doing work all day long Ohio State's sputtering offense actually outgained Michigan 330-310 as the Wolverines were held to 91 rushing yards on 2.1 per carry and just five total yards in the 4th quarter. 
CRY BABY CRY
Hat tip to Harbaugh for his in-game and postgame ranting about the officials. 
Harbaugh received an unsportsmanlike conduct flag after Michigan was called for offsides as Ohio State lined up for its first offensive play following Baker's key interception. A Michigan defensive lineman crossed the line of scrimmage and appeared to hit an OSU offensive lineman triggering the flag. Harbaugh went berserk over the call, launching a stack of papers and smashing his headset on the ground prompting the unsportsmanlike hanky, which combined with the offsides, moved Ohio State from the 13 to the 4-yard line without snapping the ball. Ohio State scored two plays later cutting the UM lead to 17-14. 
Post game, Harbaugh cried ad nauseam about the spot of the football following Barrett's 4th and 1 run behind left tackle in the 2nd overtime. It was undoubtedly an awkward landing by Barrett as he bounced into OSU tight end A.J. Alexander but the spot appeared to be legit (or at absolute minimum wasn't the no-brainer Jim claimed it to be) paving the way for Samuel to score the game-winner on the next snap sending Harbaugh sprinting for the press room and Ohio State to victory lane. 
Harbaugh also voiced his displeasure over a pass interference call on Delano Hill who mugged Samuel on a huge 3rd and 7 play extending Ohio State's drive to tie the game at 17 forcing overtime. Jim thought the flag was ridiculous because the ball was uncatchable which was absolutely untrue. The replay showed clear pass interference and that the was most certainly in Samuel's vicinity.
The sting Harbaugh felt as he tried to deflect his team's repeated mistakes allowing Ohio State to remain in a game it had no business winning only sweetened the reality he is now one of just two Michigan coaches (Rich Rod is the other) to lose their first two games to the Buckeyes. 
TROUBLE IN THE TRENCHES
It can be easy to forgive and forget dreadful play if things still break in favor of the local team but the reality is that if Ohio State does earn a bid into the College Football Playoff, its offensive line could ultimately cut the season short. 
After a few solid weeks since the debacle at Penn State, sophomore right tackle Isaiah Prince was beaten like a drum all day by Taco Charlton. 
Charlton is a fine player to be sure but Prince was so outclassed that Barrett seemed unable to consistently focus on receivers because he was wary in anticipation of the heat he knew would soon be coming off the right edge. (Why Ohio State never elects to chip to his side is a question for another day.)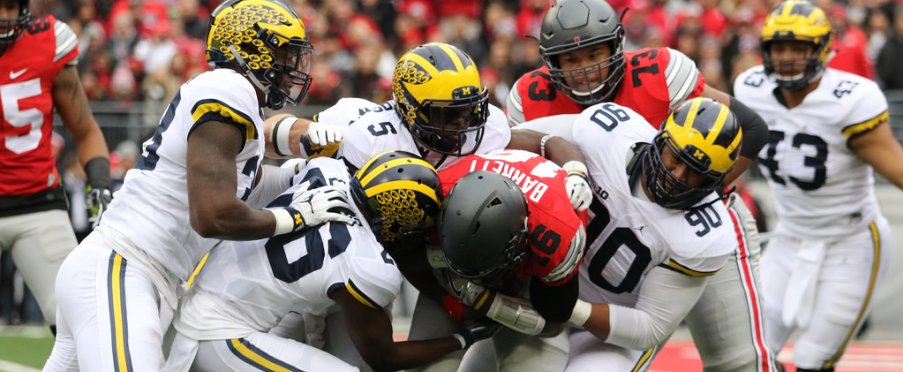 Prince was not alone however as who many consider to be an unexpected source was also leaky as hell in pass pro as Pat Elflein had his own share of difficulties keeping heat off the quarterback. 
It's entirely possible Elflein's outing was the worst of his career and though his well-earned reputation will be enough to keep him out of the media's mouth, whoever Ohio State plays, hopefully in the playoff, will no doubt look to see how Michigan exploited the All-American candidate who has had a handful of tough games this year whether it be via blocking issues or penalties.
With true freshman Michael Jordan understandably a little shaky from time to time along with Prince's struggles, the Buckeyes can't afford for Elflein to be anything less than stellar. 
Yesterday, as it has been much of the season, left tackle Jamarco Jones did work at the line's toughest position from a physical standpoint. Also of note, Billy Price looked to have a decent day while Prince, Elflein and Jordan, in that order, left Meyer and staff wanting more. 
IT'S A WALKOFF
In the best walkoff scene since Zoolander versus Hansel, Curtis Samuel strung together 23 yards on two runs in double overtime triggering bedlam in the Shoe. 
His 15-yard jaunt untouched around the left side into the end zone to win the game will be the play seen on future The Game montages but it was his 8-yard zig-zag on 3rd and 9 keeping Ohio State alive was a thing of absolute determination and beauty.
Ohio State looked severely disjointed in that 2nd overtime as Prince yielded another sack on 2nd and 5 setting up Samuel's weaving scamper off a swing pass that started right but was forced to go back left after Jabrill Peppers cut off the sideline. 
Samuel okey-doked near right hash before taking off left and using a block from Terry McLaurin to put Ohio State in the much talked about 4th and 1 converted by Barrett to set up Samuel's winning tote along left end. 
Samuel's athletic maneuvering continues to amaze but what I think is easily overlooked is how he doesn't show any negative body language despite being underutilized on a pretty consistent basis. This week, to be fair, Samuel did have nine touches through the 1st overtime and while that is still too few, he was targeted nine times in the passing game to that point but Barrett's inaccuracy hurt his total touches. 
Salute to Samuel for staying patient and team-focused all year even as virtually everyone around him wondered aloud why he wasn't an even greater piece of the offense.