Paging Bill Carollo.
Ohio State head coach Urban Meyer doesn't believe his team should have been assessed a 15-yard penalty for sideline interference late in the first quarter of its 30-23 overtime victory at Wisconsin on Saturday. The side judge whacked Meyer in the face accidentally while signaling for the clock to continue to run after Curtis Samuel lost two yards on an option pitch from J.T. Barrett.
"I don't know if I'm allowed to say this or not. I don't care," Meyer said to laughter on Monday during his weekly press conference. "This should not have been a penalty from Bill Carollo. He barely grazed my headset."
Carollo is the Big Ten's Coordinator of Officials, a position he has held since 2008.
"I remember Shelley saying, did you get hit in the face? What are you talking about? Oh, that. It should not have been a penalty," Meyer continued. "We just got to do a better job staying back."
The NCAA college football rulebook states "A coach that's even in the white area on our field and interferes with an official trying to track in the white area working his position" in Rule 9, Section 2, Article 5. A coach or play that makes contact with an official will first be warned and later assessed a 15-yard penalty.
The Buckeyes received their warning earlier in the first quarter and officials also issued warnings to their sideline in a few previous games this season. Against Tulsa, an assistant tripped an official as he backpedaled and another flag came out in the team's win over Indiana.
"He was just like, 'Man.' It was almost like when your hand got caught in the cookie jar as a little kid or something. He was a little upset with himself."– J.T. Barrett on Urban Meyer
Meyer is a coach that normally spends the majority of his time in the white area between the playing field and his team's bench, as fully immersed in the game as possible without being in the way.
On Saturday, it cost what was at that time a struggling offense 15 yards. The Buckeyes punted three plays later, unable to dig out of what became a 2nd-and-27 deep in their own territory. After being told on Monday what happened and shown a GIF of the play, defensive end Jalyn Holmes joked "the ref should get a fine for that or something." He wasn't serious, but his head coach was when he recalled how he felt about it.
"That broke my heart. To put your players in a 15-yard penalty for that in a big game," Meyer said. "Some will say, 'well, that's just the rule.' Get rid of the damn rule. That's not a good rule."
Whether you agree with Meyer or not, it happened to him before. He referred to a SEC Championship Game while the head coach at Florida, of which he got a 5-yard penalty. The rule changed in 2015 to first install a warning with a second offense being a 15-yard flag. When asked on Monday which SEC Championship Game, Meyer joked "none of your business."
It became Ohio State's business on Saturday, however, and cost its offense a drive while the Buckeyes trailed 10-3.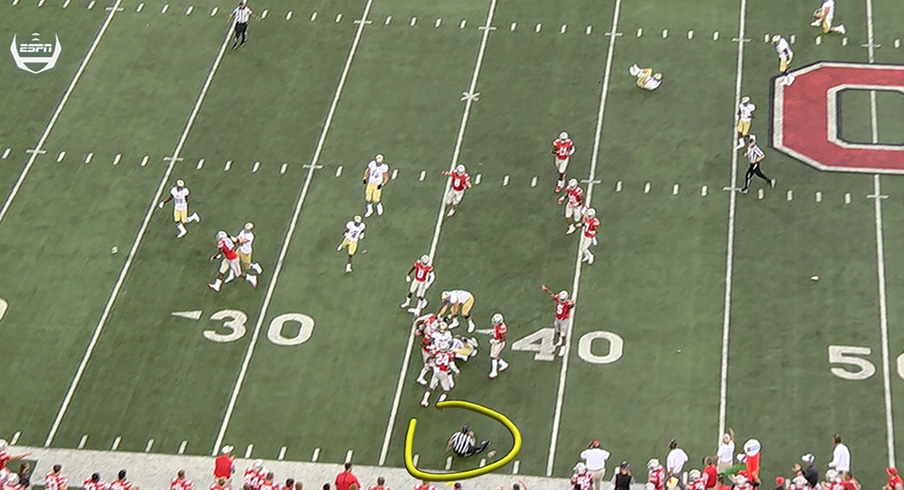 "I saw that he was really disappointed in himself," Barrett said on Monday. "He was just like, 'Man.' It was almost like when your hand got caught in the cookie jar as a little kid or something. He was a little upset with himself."
The Buckeyes moved back 15 yards and failed to move the chains during a first half that ended with a 10-point deficit. Ohio State came back and won the game 30-23 in overtime but on Monday, Meyer shared his displeasure for it being a 15-yard penalty.
"You have to stay off the white, and I think I had one foot on the white, and I was behind the ball, though," Meyer said. "So I always try to stay, for that reason, stay behind the ball. We all have to do a better job. I'm not being critical, but 15 yards on that?"