Chris Ash almost said it jokingly and without pause, as if it is an afterthought. Because, well, it makes sense that it is anything but for him.
"I'd be foolish not to take a lot of what I learned at Ohio State because it works extremely well," the first-year Rutgers head coach said Tuesday on the Big Ten teleconference.

RUTGERS SCARLET KNIGHTS
2-2, 0-1 B1G
ROSTER / SCHEDULE
---
NOON – SATURDAY, OCT. 1
OHIO STADIUM
COLUMBUS, OHIO
---
BIG TEN NETWORK
BTN2GO
Ash coached the safeties and teamed up with Luke Fickell to serve as an integral part to what Urban Meyer dubbed a "complete overhaul" of Ohio State's defense during 2014 and 2015. The rugby-style tackling Ohio State instills in each of its defenders is due to Ash, who brought the concept with him from Arkansas to Columbus.
"We were a very average tackling team, he was persistent and we went from an average tackling team to the fewest missed tackles (in the country) under Chris," Meyer said.
That led to Big Ten and College Football Playoff National Championships in 2014, and Ash helped turn three starters from the secondary the last two seasons into NFL players. Safeties Vonn Bell and Tyvis Powell as well as corner Eli Apple now play on Sundays for the New Orleans Saints, Seattle Seahawks and New York Giants.
On Saturday, however, Ash represents the eighth former assistant turned head coach Meyer will face in his dominant college football coaching career. Meyer is 6-1 against his former colleagues, the lone loss coming in 2010 to Mississippi State and Dan Mullen in Meyer's final season as head coach of the Florida Gators.
"It's not about me. It's not about the other people in this program that have been at Ohio State. It's about us preparing our football team to continue to get better and go play against a great opponent," Ash said on Monday. "That's all I'm worried about."
Rutgers faces a steep hill to climb with a first-year head coach, new athletic director and a program that fell into the depths under former coach Kyle Flood its first few seasons as a member of the Big Ten. Flood lost his job both due to his team's poor performance and other off-field incidents, namely when he sent an email to a professor from a personal account trying to change the grade of one of his best players to keep them eligible.
Still, it is clear Ash believes in what he and his young coaching staff—one littered with ties to Ohio State—are building on the east coast. Aware of the challenge the Scarlet Knights face on Saturday against an extremely proficient Ohio State team ranked No. 2 in the country, Ash reiterated time and again this week that his focus is on making his team better with each passing game.
"I'm not trying to compare us to anybody else, especially Ohio State. I'm trying to compare us from the previous week," Ash said. "Are we getting better? If that translates into wins then great, that's what we want. But we're just focused on our process and improvement. We just happen to be playing a great opponent this week."
Rutgers Breakdown
The Scarlet Knights enter Saturday's contest a respectable 2-2 after a 14-7 defeat at the hands of Iowa a week earlier. Wins against Howard and New Mexico followed an ugly 48-13 loss at then-No. 14 Washington in the season opener, a game Ash said his team was not prepared for in the sense of going across the country to play an opponent ranked in the top 15.
"They were fast, they were well-coached, they were experienced," Ash said. "We didn't take care of the ball and gave up too many big plays and that cost us in that game, big time."
The competition stiffens even more on Saturday at Ohio State, an uber-talented team rested from an off week following a monster performance at Oklahoma. Not only does Ash's team face one of the conference's best, it must do so without two of its best players.
2016 Statistical Comparison
 
OFFENSE
56.7
3rd
POINTS FOR
27.3
80th
306.0
7th
RUSHING OFFENSE
220.3
35th
239.3
61st
PASSING OFFENSE
167.0
111th
545.3
9th
TOTAL OFFENSE
387.3
86th
.537
8th
3rd DOWNS
.362
90th
.929
25th
RED ZONE
.750
101st
DEFENSE
12.3
9th
POINTS ALLOWED
26.0
64th
102.3
20th
RUSH DEFENSE
181.8
88th
176.0
24th
PASS DEFENSE
180.8
28th
79.6
3rd
PASS EFFICIENCY DEFENSE
131.5
73rd
278.3
14th
TOTAL DEFENSE
362.6
47th
.267
14th
3rd DOWNS
.281
17th
.500
2nd
RED ZONE
.375
1st
SPECIAL TEAMS
7.9
66th
PUNT RETURN
14.0
23rd
26.0
23rd
KICKOFF RETURN
32.5
5th
47.2
2nd
NET PUNTING
33.0
114th
MISCELLANEOUS
+ 3.0
1st
TURNOVER MARGIN
- 0.5
84th
9.7
120th
PENALTIES
4.8
17th
14
EDGE
4
Wide receiver, return specialist and top all-around playmaker Janarion Grant is out for the season after hurting his leg in the Iowa game. A knee injury in the same game also knocked senior defensive end Quanzell Lambert out for the year.
Options for Ash to replace both Grant and Lambert are thin as his roster lacks developed and available depth. But the Rutgers head coach did note this week that redshirt freshman wide receiver Jawuan Harris should see an uptick in opportunities with Grant out. Along with running back Robert Martin—who has a Big Ten-leading 358 rushing yards in three games—Harris provides quarterback Chris Laviano the best chance to move the ball from the skill positions.
"Jawuan is a version of Janarion. He's not Janarion, but he's our next-best version of Janarion," Ash said. "He can do a lot of things. Play receiver, running back, can be a punt returner, kick returner. He's got some skill set similar to what Janarion has."
Harris has eight catches for 161 yards and a pair of touchdowns so far this year, while senior wide receiver Andre Patton leads the team with three scores. The loss of Grant looms large, however—he had 20 catches and 210 yards this season before going down.
Ash brought similar schemes with him from Ohio State on both sides of the ball but it will take a while before he gets any sort of consistency due to differing personnel.
"Kind of similar to ours, that was the main thing," Ohio State defensive end Tyquan Lewis said. "How similar it is, the similarities, they run probably a little bit more zone than what we run."
"Offense, defense, kicking game—it's almost a mirror," Meyer added.
The similarities are sure to be there but not necessarily to the extent for the simple fact Rutgers doesn't have J.T. Barrett orchestrating its offense, with toys like Curtis Samuel, Dontre Wilson, Noah Brown and Mike Weber to get the ball to. On defense, the Scarlet Knights are improved with Ash at the helm, at least against the pass. Last season, they finished 13th in total defense in the Big Ten, 12th against the pass and 12th against the run.
So far in 2016, Rutgers is eighth in total defense, fourth in pass defense and a woeful 13th against the run.
"I think (Ash is) going to get them ready to go to play against us. I think they have a good philosophy that's a lot similar to ours," Barrett said on Monday. "With that, it kind of makes us comfortable being that we've seen it before but I know as well he's going throw in some new wrinkles with it. Just gotta make sure we're prepared and ready to go."
"Their defense, they're athletic," right guard Billy Price added. "There's some good guys out there. Coach Ash has a good squad and some of the coaches were past coaches here so I know they have a great staff and great kids."
Meyer said on Monday that his defensive staff changed some of its signals in order to combat Ash and the extensive former Ohio State coaching presence this weekend. Including Ash, eight former Buckeye staffers now work for Rutgers.
"We changed most of our defensive signals prior to this and offensively we're being very cautious, also special teams, my guy that helped me, Vince (Okruch), was there, he's on their staff, so we got to just be sharp," Meyer said.
How much that understanding and knowledge of how things are ran at Ohio State—exactly what Ash is trying to implement at his new employer—helps Rutgers on Saturday remains to be seen. Its head coach isn't putting too much stock in it, however, as it also works the other way.
"I don't see an advantage that my knowledge of anything there has, to be honest with you," Ash said. "At the end of the day, it comes down to players going out and making plays on the field."
Ash lost two of his best weapons for the season last weekend and knows the depth in his program is not where it needs to be to even become an annoyance to teams like Ohio State, Michigan and Michigan State in the rugged Big Ten East. He remains at least a year or two away from that even being part of the discussion.
Buckeye Breakdown
Rested and rejuvenated after an off week, Meyer announced injuries to wide receiver K.J. Hill (out 3-4 weeks with a high ankle sprain) and linebacker Justin Hilliard (out for the season with another torn biceps). Ohio State's staff hit the recruiting trail with the extra available time last week before fully diving into the game plan to beat Rutgers. It also worked to fine tune mistakes that led to 29 penalties in Ohio State's first three games, including four flags for a delay of game at Oklahoma two weeks ago.
"It was a lot of just logistics—mechanics not logistics, mechanics of the offense," Meyer said. "We had a couple fubars in that crowd that hurt us a little bit and getting the plays in a little quicker. Just continual development of players."
As dominant as the Buckeyes looked in their 45-24 win in Norman, experience in Big Ten play is not as prevalent on the roster this season than last. And even though Rutgers is a lower-tier team in the conference, Ohio State said it stressed the need to come out sharp for a noon kickoff.
"Every week is serious. It's an intense season now and every week matters," Price said. "With our league, you never know who is going to win."
"From the film, I think every Big Ten team comes out and competes but they come out and they compete," Lewis added. "Have a pretty solid O-line. It looks like a pretty decent team."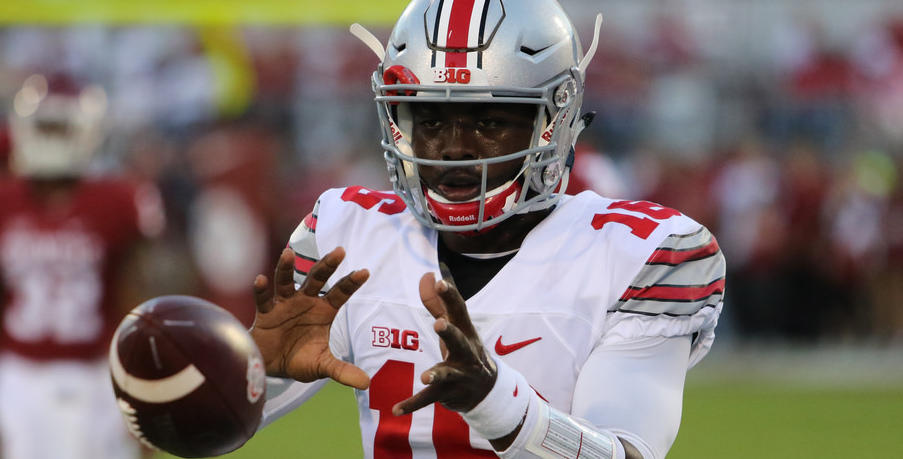 Ohio State rode its terrific performance against Oklahoma into an unusually early off week but still had areas it could improve. The penalties are a concern for Meyer and minor adjustments could make for even bigger plays. For example, Barrett overthrew both Curtis Samuel and Marcus Baugh against the Sooners. Had he connected, both likely would have scored touchdowns.
"I worked on little things myself, main thing was probably ball placement," Barrett said. "Try to do a better job of helping the receivers out when they catch the ball so they could run after the catch. Overall as a team, we just got back to our fundamental stuff."
A weekend without a game in September is rare but breaks up Ohio State's non-conference slate with its nine-game trek in the Big Ten. Rutgers represents the first and doesn't appear on paper it should pose much resistance with how much the Buckeyes rotate terrific players everywhere from cornerback, to running back, wide receiver and on the defensive line.
But don't tell Meyer that. The fact Ash leads Rutgers is enough to make the Scarlet Knights a threat.
"I just worry about that they know you so well. We're running scout team today and our twos are running Rutgers' plays and I'm sitting there going, 'That's our play,'" Meyer said. "There's going to be a lot of similarities in both things. We changed some verbiage, make sure the signals are completely different."
The Buckeyes are set to get the services of star corner Gareon Conley back, after he left the Oklahoma win with a shoulder stinger. Kerry Coombs said Wednesday that Conley is 100 percent, while Dante Booker remains questionable with an MCL sprain.
Even if Booker sits out again—he missed Ohio State's wins against Tulsa and Oklahoma—Jerome Baker appears prime to continue shouldering the workload at outside linebacker. His pick-six of Baker Mayfield put Ohio State out front 14-0 in Norman, a massive play that solidified the Buckeyes' position at handily winning that game.
That's kind of how it's been early in the 2016 season for Ohio State. For the first time in his tenure, Meyer feels good about the majority of depth he has on both sides of the ball, though the backup offensive line remains a concern. Larry Johnson rotates as many as 10 players on the defensive line. Coombs has four cornerbacks he feels comfortable playing. Zach Smith rotates a bevy of wide receivers. Mike Weber and Curtis Samuel share carries with Dontre Wilson out of the backfield.
Meyer's Buckeye train is rolling and gets its first conference test Saturday.
"Being able to have those weapons back there," Meyer said, "what's really fun is when you go in that room and start game planning with Dontre and Curtis and Mike Weber and J.T. We just gotta make sure we continue that with bringing guys in.
"Our goal every week and mission statement for our program is 'Nine Strong,'" he continued. "You don't go to Norman, Oklahoma, playing seven strong to win. We were pretty much nine strong. My concern is the depth of the two offensive line. It's still not where we need it to be. Who is our backup tailback? Those type of things. As far as the first string, nine strong, we just need to continue it."
How It Plays Out

Ohio State's return to Columbus and from a week off carries much less excitement than the last time it dressed for a game. The drop in shine from a matchup against Oklahoma to one against Rutgers is palpable, with all due respect to the Scarlet Knights.
They represent two very different programs at two very different places on their trajectory. Meyer has Ohio State in a position to compete for a College Football Playoff spot annually, while Ash just hopes to put together a respectable campaign in his first year ever as a head football coach.
The quality of athlete on each side is different and the track record of each coach are polar opposites. But Ash is not blind to what he is up against on Saturday in his first return to Ohio Stadium, plus the process he faces in trying to turn Rutgers into a winner.
"They have tremendous players, they coach them exceptionally well. They're playing well," Ash said. "We're trying to improve and build a program here."
Ash turned to his boss during his two-year stint in Columbus looking for advice on picking between what Meyer called "a couple opportunities" to be a head coach. He outlined that as his next step in his coaching career upon his arrival at Ohio State and Meyer helped him see that Rutgers was his best option.
"When I advise coaches if they ask my opinion it's recruiting No. 1 and have they won before. If the answer is the recruiting base is below average and they haven't won before, don't you take that job. Don't you do it," Meyer said. "Because in four years, you'll be looking for one, or three years. The one thing about Rutgers, have they won before? Absolutely. Do they have a great recruiting base? One of the best in America. It's kind of a no-brainer for him."
Ash has a long way to go but his team doesn't appear ready to compete with the upper-echelon of the sport. Meyer deals with a different kind of stress but one that he is used to; his team owns headlines and only trails defending national champion Alabama in both the AP and coaches polls. Ohio State made a statement two weeks ago to get to 3-0 but Meyer worries about dropping a dud in the form of a poor performance while he works to push his team up the highest mountain in college football's landscape.
"My concern is with all the added publicity, press conferences and everybody being told how good they are," Meyer said. "I really worry about that."
His players echoed that sentiment this week and said they plan to focus on their issues in order to be even better than they were against Oklahoma and not come out flat against a team that will be overmatched. It is not in their plans to start a nine-game conference stretch without an open weekend that way especially with former head coach and one of Meyer's mentors Earle Bruce set to become just the 14th non-band member to dot the "i" in Script Ohio.
"We're getting ready to hit the grind," Meyer said.
---
ELEVEN WARRIORS STAFF PREDICTION: Ohio State 55, Rutgers 10