After a strong spring that was followed up by a solid fall camp performance, Dante Booker earned one of Ohio State's starting outside linebacker positions. But after the Buckeyes' first three games of the season, Urban Meyer, Luke Fickell and Co. already have a tough decision to make.
Do they give Booker his starting job back when he returns from a minor injury or ride things out with Jerome Baker?
"We're going to need them all," Meyer said Monday morning.
Not exactly a definitive statement and it's easy to see why.
Booker was injured during Ohio State's season-opener, a 77-10 rout of Bowling Green. He left the game in the first half and did not return. His injury was later ruled an MCL sprain and he has missed the Buckeyes' last two contests.
In place of Booker, Baker started the last two weeks and flourished. The sophomore from Cleveland was named Big Ten co-Defensive Player of the Week after recording seven tackles, 1.5 sacks and a 68-yard interception return for a touchdown in Ohio State's 45-24 dismantling of Oklahoma.
Baker's play made an impression on his teammates.
"I saw someone that's not scared to put their nose in there because the box can get tricky sometimes," fellow linebacker Chris Worley said. "We all knew Jerome could play; that wasn't a problem. We've got a tremendous amount of talent on this team. That was the biggest thing, just seeing him take on all those blocks and having fun out there playing."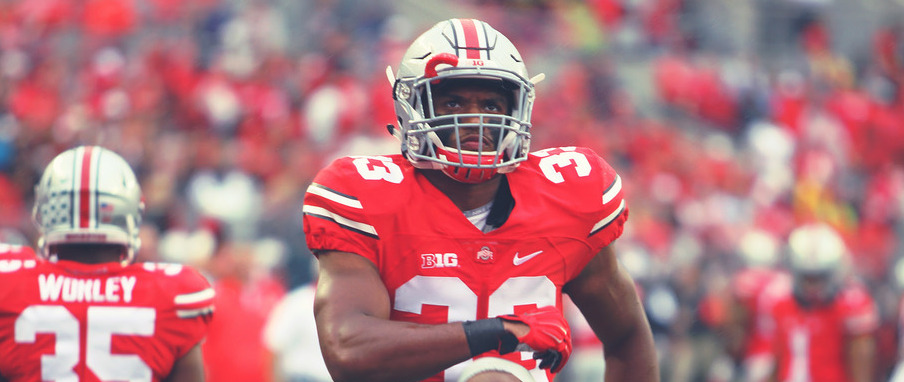 It's an interesting dynamic because Baker was brought to Ohio State as a probable SAM linebacker in the Buckeyes' defense — the role Darron Lee starred in the last two seasons and the one currently occupied by Worley.
But injuries can often throw a wrench into things, and Baker is a good enough athlete to play both positions. He was a highly-recruited player — just like Booker — and he has certainly shown flashes of untapped potential thus far.
"Coach Fick's motto is the SAM and WILL [are] interchangeable," Worley said. "We have the same base fundamentals whether you're outside the box or inside the box. There are some minor changes when you do play WILL, but the base principles are the same so it wasn't that difficult of a task.
"It's just getting comfortable playing out of the box as often, but Jerome is a great player so it wasn't that hard."
During his weekly press conference Monday, Meyer said Booker was probable to play Saturday when Ohio State hosts Rutgers. The Buckeyes' head coach did not commit to either as a starter but said he expects Booker to be "involved immediately" when he does, in fact, return to the lineup.
Meyer said Ohio State doesn't necessarily have a rule when it comes to a player returning from injury to regain their starting spot.
"You get the benefit of the doubt," Meyer said. "At Ohio State, there's a bunch of good player around here, but you certainly get the benefit of the doubt. There's no rule."
In the past, though, it's been somewhat different. Meyer often states "a player must get beat out" to lose their starting spot no matter how they got it in the first place. Whether they crack the lineup due to injury, suspension, or whatever else it may be, if the replacement plays well enough they've had to be beaten out by the person who once held their spot.
Take the 2015 quarterback battle for example. J.T. Barrett got injured and Cardale Jones excelled in his place. Afterward, Meyer decided Jones would be his guy to start the season and said it was because Barrett did not beat out Jones despite having been the starter the previous season.
Every case is different, of course, and this one is certainly a tough call. But with the way Baker played the last two weeks and Booker's high ceiling, it's reasonable to think both will see plenty of snaps going forward.
"As long as there's good, healthy competition at positions," Meyer said, "that's what happens."