Fact: The next road game Urban Meyer loses at Ohio State will be his first.
Fact: Ohio State visits three difficult places to play in the Big Ten this fall — Wisconsin, Penn State and Michigan State.
Fact: Ohio State also plays a true road game against two of the four teams that made it to the College Football Playoff last season.
The Buckeyes enter fall camp Aug. 7 with a host questions and a young, but talented team readying to try and answer them. Ohio State plays Bowling Green and Tulsa to open the 2016 campaign before it heads to Norman, Oklahoma to battle quarterback Baker Mayfield and the Oklahoma Sooners at Gaylord Family – Oklahoma Memorial Stadium.
The matchup serves as an excellent litmus test for Meyer's young squad, which then won't hit the road again until nearly a month later at Wisconsin — hardly a cakewalk.
With such a difficult road schedule on the horizon, I decided to rank each game from least difficult to most though I'm positive we will disagree on some things.
---
5. Maryland, Nov. 12
This one is pretty easy. Maryland has a new coach DJ Durkin, but Randy Edsall left things in disarray when the school fired him a day after Ohio State beat the Terrapins 49-28 in Columbus.
The only time Ohio State played in College Park was in 2014 when J.T. Barrett scored five touchdowns and the Buckeyes won 52-24. Kickoff for this tilt remains unknown, but chances are high it is a noon #banger unless Durkin beats Michigan and/or Michigan State before. At the very least, it will kick off at 3:30 p.m.
Ohio State could sleepwalk through this game since it is going to change the norm and not be a night game — the Buckeyes play four straight under the lights before it. Even if that happens, however, Ohio State is supremely more talented and should have the kinks of essentially a new roster worked out by then.
4. Michigan State, Nov. 19
The last time Ohio State and Michigan State met at Spartan Stadium, Barrett turned in a magnificent performance and the Buckeyes won 49-37. Michigan State must replace Connor Cook at quarterback but beat Ohio State in 2015 without him. Tyler O'Connor looks like the favorite at the position and Michigan State returns a strong rushing attack led by Ohio native L.J. Scott.
Plus, there is the Mark Dantonio effect. In his first four seasons at Ohio State, Meyer lost only four games — two of them were to Dantonio and Michigan State. So even though the Buckeyes won the last time they played at Spartan Stadium, Dantonio should have his team ready to go come November.
Michigan State also won the Big Ten and went to the College Football Playoff last season. However, the Buckeyes played very well in Spartan Stadium during their last visit, which also came in November. That's why it sits at No. 4 on my list, although arguments can be made for games 2-4 to be interchangeable.
3. Wisconsin, Oct. 15
A week before Meyer takes his troops to Penn State, the Buckeyes visit Wisconsin for only the second time in his tenure. Ohio State won 21-14 in overtime in 2012.
The Badgers don't have a guy set in stone at quarterback either — Paul Chryst gets to choose between senior Bart Houston or redshirt freshman Alex Hornibrook. That's a reason why this game isn't higher, but Wisconsin will likely have the situation figured out by mid-October and make this entire paragraph a moot point.
However, like Penn State, Wisconsin is off the week before it hosts Ohio State for a night game. The only difference is this is Ohio State's first Big Ten road game and Camp Randall Stadium won't be easy to navigate. The Oklahoma game should be baptism by fire for a young Ohio State roster, so even though Wisconsin is a different animal entirely because it is a conference game it won't be like the Buckeyes will head into this one without any road experience.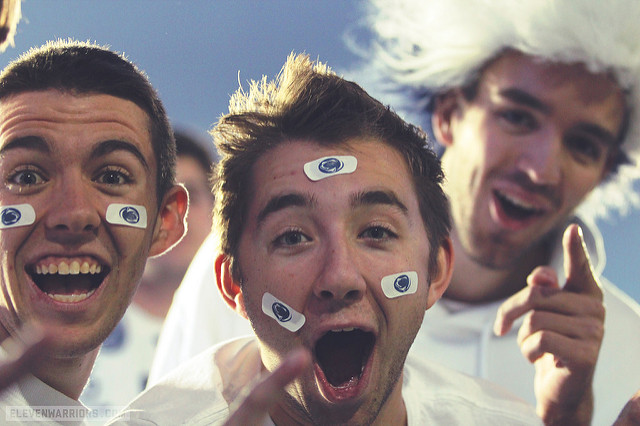 2. Penn State, Oct. 22
The four non-Maryland games on this list weren't easy to place on an easiness to toughness scale. The four places left for Ohio State to travel to — Beaver Stadium, Spartan Stadium, Gaylord Family – Oklahoma Memorial Stadium and Camp Randall Stadium — are not for the weary.
But I put Penn State at No. 2 because of what happened in 2014. Ohio State was clearly the better team that year (it eventually won the national title), but blew a 17-0 lead and needed double overtime to win. The Nittany Lions still haven't named a starter at quarterback, though redshirt freshman Tommy Stevens looks to be the guy. James Franklin hasn't beaten anyone of sustenance in his first two years as head coach of the Nittany Lions (sorry, a 9-4 UCF team in 2014 doesn't count) but is expected to take a step forward in 2016.
Penn State is off the week before it hosts Ohio State and the matchup is scheduled to be its third straight home game. That will help Franklin's push to beat the Buckeyes, but Meyer's team looks better on paper. However, White Outs under the lights are wild in State College. It won't be easy, as we saw two seasons ago.
1. Oklahoma, Sept. 17
No. 1 on this list is a pretty easy choice for me. Oklahoma won the Big 12 in 2015 and made the College Football Playoff, plays in a massive stadium and hosts Ohio State under the lights. Oh, and by the way, their quarterback is a Heisman Trophy contender.
Gaylord Family – Memorial Stadium is a difficult place to play too — Oklahoma has lost only eight games since 2000. Bob Stoops' team is loaded on both sides of the ball and led by Baker Mayfield at quarterback. The fact that this is Ohio State's first road game of the season and it is a night game makes is easily the toughest on the schedule.
Ohio State should take care of Bowling Green and Tulsa relatively easily in its first two games, but a trip to Norman, Oklahoma isn't an easy thing for anyone — especially a team mostly made up of freshmen and redshirt freshmen.