When Urban Meyer looks back at the most successful teams he has ever coached, he recalls the seniors that blossomed during their final year of college football as integral reasons for the team's prosperity.
Specific to Ohio State, the head coach mentioned defensive end Steve Miller and Curtis Grant for the plays they made both on and off the field during a dream 2014 campaign. The same goes for Michael Bennett, Evan Spencer and Jeff Heuerman, unquestioned leaders from that team.
Last season, Meyer spoke highly of Taylor Decker, Joshua Perry and Braxton Miller and the way they kept their team's focus on beating Michigan and Notre Dame even though a shot at another championship died with a loss to Michigan State.
Star players are essential for a team's success regardless their class, but seniors are expected to lead a team even if they are not a starter. Last season, the Buckeyes recognized 18 seniors (13 of whom were on scholarship) on Senior Day.
Only six seniors grace the 2016 Ohio State football team scholarship grid. The program experienced considerable overhaul following a historic NFL Draft, so plenty of new faces will be looked to make plays this fall.
But Meyer will rely on the six guys playing out their collegiate eligibility most, especially in the non-conference season when the Buckeyes visit Oklahoma in primetime.
Here is what Meyer and Ohio State needs from each one of them so he too can look back fondly at the end of their careers.
---
Bri'onte Dunn, Running Back
Dunn's career never took off the way it was supposed to. A highly touted member of Meyer's first Ohio State recruiting class, he scored twice as a true freshman. Then immaturity and an unwillingness to do the dirty work on special teams resulted in a redshirt in 2013, before he fell behind Ezekiel Elliott, Curtis Samuel, Rod Smith and others on the depth chart.
This is Dunn's last chance and he must fend off another talented young guy for carries, redshirt freshman Mike Weber. It remains unknown how touches in the backfield will be divided out this fall, but Meyer hasn't been shy about telling the world he wants Dunn to start in the season opener against Bowling Green because he is a senior.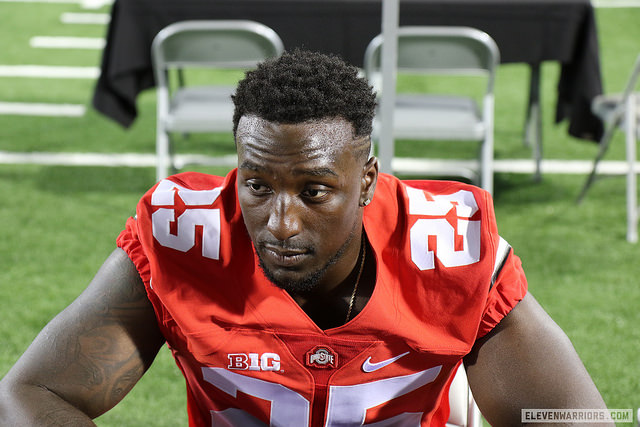 A solid ball carrier, Ohio State needs Dunn to be a leader to the young running backs like Weber and Antonio Williams to leave Tony Alford's position room in the same condition as when the coach got there before last season. Dunn is at least two years older than any other scholarship player at the position and that includes Curtis Samuel, a true junior. Even if he eventually yields to Weber for the starting job, Ohio State cannot afford for Dunn to mentally check out again.
Pat Elflein, Center
Another fifth-year senior, Elflein is the best pro prospect among the other players in the 2016 graduating class. Already a two-time All-Big Ten performer, he moved to center from guard following last season to replace Jacoby Boren and show his versatility. And, because Ohio State desperately needed him to.
Elflein is an excellent player, a beacon of consistency that Ohio State needs with every one of his snaps to quarterback J.T. Barrett. The offense lost a ton of talent, but that key duo returns. Meyer knows how much Elflein and Barrett mean to his program, but it all starts up front with the guy making the line calls and controlling the line of scrimmage.
"If you were trying to break in a new quarterback and a new center, you probably have no shot," Meyer said this spring. "The fact that these two guys are back, we have a shot. I think we have a decent shot of being good on offense, and it's mostly due to those two guys coming back."
That cannot be overstated, but Elflein is already a team leader and set to grow into even more of one this summer and fall. He, Barrett and middle linebacker Raekwon McMillan were named captains by the coaching staff in January. In 2016, the Buckeyes need him to be himself, stay healthy and show the new starters on the line how to do things.
Corey Smith, Wide Receiver
Most of what Smith does this fall revolves around the health of his right leg, which he fractured in Ohio State's 31-24 victory at Indiana. The NCAA granted him a sixth year of eligibility, and wide receivers coach Zach Smith said in April he expects the senior to be 100 percent when fall camp opens Aug. 7.
Smith's injury last year removed a willing edge blocker and a fine athlete who has speed down the field from the lineup. He won't make the most 'wow' plays, but is a solid contributor and did make a lengthy grab in the national title game against Oregon before fumbling. As long as he is healthy and shows he can hold onto the ball, chances are Barrett will look his way early due to his experience.
Smith graduated this spring, is a father and has grown as a man since coming to Ohio State in 2013. He and Dontre Wilson are the lone seniors at wide receiver and need to make plays while also taking younger guys under their wing. Smith has shown he can be a vertical threat too if needed, which the offense desperately needs.
Dontre Wilson, H-back/Wide Receiver
Wilson came to Ohio State with enormous expectations, the first splashy and speedy recruit in Meyer's tenure. A struggle to add weight led to Meyer calling him "a hood ornament" a few years ago and a nagging foot injury decreased Wilson's production last season immensely.
Still, his straight line speed in space is rare. Wilson is also valuable in the return game, though he lost his job to Jalin Marshall in 2014. Ohio State is sure to look at him to be involved in that part of the game during his senior season as long as his foot issue is in the rearview mirror.
The list of young offensive weapons Ohio State has to work with is extensive — but the majority is inexperienced. Like Smith, the Buckeyes need Wilson to show his worth within the confines of the offense whether it be blocking, running, catching or as a returner. He also needs to teach Austin Mack, Binjimen Victor and Demario McCall into the culture of Ohio State's receivers room. This is Wilson's last rodeo. How will he respond?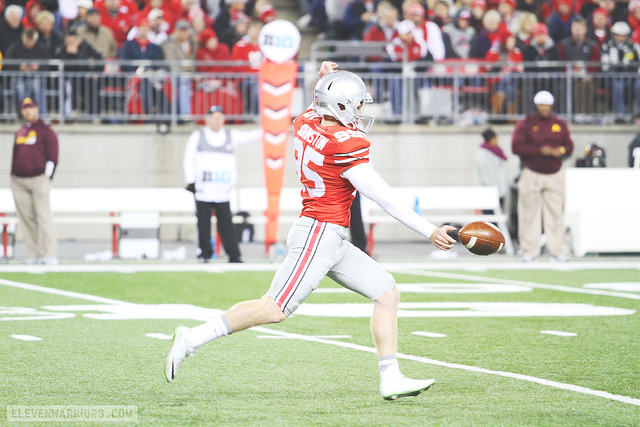 Cameron Johnston, Punter
Ohio State already has its punter in waiting, Drue Chrisman, to replace Johnston when he graduates. The Buckeyes depended on the Australian much more last season than they anticipated with all the NFL talent that returned on offense from the 2014 national championship team. Johnston more than delivered.
Johnston's 43.9 yards per punt average was second in the Big Ten and 25th in the country last season and his 40.3-yard net punt average was 15th nationally. Overall, Ohio State's special teams were stellar in 2015. Johnston is a key reason why.
In order for him to do the most he can for his team in 2016, he needs to be just as good if not better. Ohio State's offense is young but talented, capable of exploding but also mental errors. Johnston's ability to consistently pin Ohio State's opponent deep in its own territory is often a forgotten luxury. He needs to do so again his senior year.
Cam Burrows, Defensive Back
Burrows is on this list because he is in his fourth year with the program, though he said this spring he received a redshirt in 2015 after he missed nine games with a foot injury. The defensive back graduated this spring, so the 2016 season is likely his last.
Burrows worked his way back to health during spring practice but did not do many team-related activities so as to not re-aggravate his injury. He remains locked in a battle to start at safety with Malik Hooker, Damon Webb and Eric Glover-Williams but has played as the defense's third corner in nickel packages in the past. Burrows is a fine athlete who is versatile and must show that in 2016 to get on the field.
Burrows will get his chance to be a key contributor for Greg Schiano and Kerry Coombs in the secondary this fall and has shown in the past that he is willing to play multiple positions in order to satisfy a team need. That should be the case again in 2016.
---
Two other seniors that are key contributors at Ohio State are linebackers Joe Burger and Craig Fada, walk-ons that Luke Fickell counts on significantly in his position room and are also special teams menaces. Each is on scholarship this summer, but won't be for fall semester and football season.
Burger and Fada are undoubtedly leaders on the team, just like the six other seniors mentioned above must be in 2016 for the Buckeyes to have success.
Ohio State has more questions than answers due to lack of returning starters from a 2015 team that went 12-1 and won the Fiesta Bowl, but Urban Meyer will turn to his seniors for leadership and production in more places than just the football field.