Kerry Coombs and Greg Schiano know what they face. And they welcome the challenge, a main reason Urban Meyer brought them to Ohio State.
The program's long success of exporting cornerbacks to the NFL speaks for itself. Three Buckeyes at the position made their way to the league since Meyer took over ahead of the 2012 season: Bradley Roby, Doran Grant and most recently Eli Apple. Roby and Apple were first round picks. Grant is entering his second year with Pittsburgh.
There are more beyond those that coincided with the Meyer regime, too. Malcolm Jenkins, Ashton Youboty, Chris Gamble, Nate Clements, Ahmed Plummer, Antoine Winfield, Shawn Springs and others played (or still play) in the NFL following stellar college careers.
"It is the standard of the corner room that you are going to be in the conversation to be a first-round draft pick," said Coombs, Ohio State's cornerbacks coach. "That's been established well before I came here and that is a tradition that we are not going to let go of."
So who is next in line to be a first round pick? According to Coombs and Schiano, it is Gareon Conley, a redshirt junior slotted as Ohio State's lead corner following Apple's early departure.
"He's a very talented guy who's played a lot of plays around here," Schiano said of Conley. "I actually hope we fast-forward two years for that, but the reality of college football these days is that if they're good enough they're going to go. He's got a chance for sure."
Conley first made a name for himself during the first half of Ohio State's 49-37 victory at Michigan State in 2014, when he started in place of Apple and gave up a pair of big plays that led to the first score of the game. Apple replaced him despite a gimpy hamstring, enough to relegate Conley back to the shadows behind the starters. He recorded just 16 tackles and two pass breakups as a redshirt freshman.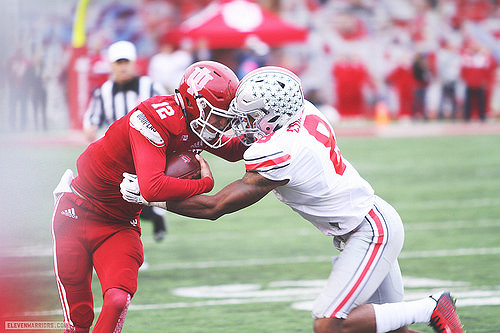 The 2015 season, however, was a different story. Conley emerged as the steady hand opposite Apple with a newfound confidence, something his coaches and teammates saw coming. He finished his redshirt sophomore campaign with 49 tackles, two interceptions and five pass breakups. He even blocked a punt against Rutgers.
Conley looks well on his way to putting himself in position to be like his teammates before him and become a draft pick. He could even blip into the first round like Apple did with a solid year, provided he stays healthy.
"We talk about it freely in our room that that's the standard and if you're not working to that level, the question has to be why," Coombs said. "So I'm excited about the way our kids have latched onto that and absolutely that pressure should be felt in that room."
Coombs gave a stirring vote of confidence to Conley in January, when he said the corner is "absolutely ready" to take over as a leader at that position. Conley has the charisma to be the lead guy, Coombs said, and he'll need it as the lone returning starter in Ohio State's secondary. It hasn't been decided who will start opposite him in 2016, but the available options are young.
But when it comes down to it, that's the next step in becoming a first-round draft pick as an Ohio State cornerback, in addition to pushing out the necessary results on the field.
"He's a guy that works awfully hard, very serious about his approach to the game and he's working awfully hard to develop himself physically," Schiano said. "It's a matter of going out and doing it again."