Just five summers ago 11W was delivering you a daily dose of infinite sadness.
It was 2011, the Summer of Tatgate. Ohio State football was beaten into the ground each day from every angle through voices ranging from Noted NCAA Expert to I Have No Real Grasp of the Topic But I'm Loud So I Have a Show. 
It was the story of that offseason, which happens each summer to one lucky topic. If you're very young or suffering from amnesia, here's a quick recap of the winners since then:
2016: Satellite Camps* (your current leader)

2015: Cost of Attendance & Ohio State's QB derby (tie)

2014: Conference expansion and realignment

2013: The Unbeatable SEC

2012: Jerry Sandusky and Penn State

2011: RIP, Ohio State football
Scorching takes burn hottest during the summer months when there's no live action to smother their embers. This year it's Satellite Camps, which have been around forever but largely ignored until Michigan's head coach made that impossible. 
Five years doesn't seem like a long time until you remember that was an era when a coach lying about knowing his players had sold their own belongings for cash and discounted ink made Ohio State - as notorious identity thief Doug Gottlieb once put it - the cesspool of college athletics.
Both Noted Expert and But I'm Loud provided their valuable insights on a daily basis. Articles were written in every publication on earth, typically with one of two photos as the centerpiece:
a. Scowling Jim Tressel: beneath his librarian exterior lurks a monster

b. An OSU athlete's body part: an elaborate tattoo! There's no way he paid for that. How deep does this go?
Ohio State lost a beloved coach, its best player, mortgaged the 2011 season and absorbed a bowl ban. But we're not here to relive that summer or deconstruct how poorly the *fire emoji* takes from that summer have aged (it's already been done).
We are here in the fifth summer of Urban Meyer at Ohio State to fondly look back on the predictions made for his tenure in Columbus.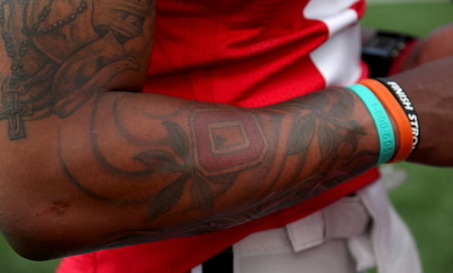 Meyer was introduced as Ohio State's coach while Michigan was still celebrating its second win over the Buckeyes in 11 tries. The idea that the cesspool of college athletics could snatch up a championship coach who had quit the industry while publicly dealing with both health and family issues less than a year earlier was just too much for some adults to handle.
People angry with Meyer for how he left Florida found themselves in the same canoe with those with an already healthy distaste for Ohio State. They were joined by pearl-clutching, outraged subscribers to pure amateurism who refused to accept the Buckeyes might end up landing on their feet despite their vicious crimes against NCAA rules. 
And they all got together five offseasons ago to predict Meyer's fate at Ohio State, each determined to be the shiniest and most memorable turd in the Buckeyes' punch bowl. 
Let's take a look back at some of the best ones!
---
Bleacher Report: Urban Meyer Will Continue Corruption in Ohio State
Ohio State is going from Jim Tressel to Urban Meyer. Way to clean up the program.

I always felt that Urban Meyer was getting out of Florida before something hit, just like Pete Carroll in USC. Meyer doesn't want to get caught doing things like Tressel, but he still wants to rein over whichever program he runs like a limitless dictator.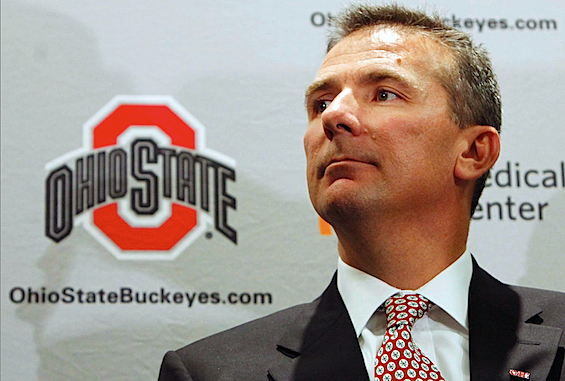 Once Meyer got away with helping Aaron Hernandez commit murder it emboldened him to move his crime syndicate north. The media was a little too suspicious in Gainesville, so he escaped to somewhere a little more under-the-radar where the press wouldn't be as likely to poke around his criminal empire.
Somewhere sleepy and quiet. Like Ohio State!
With a coach like Urban Meyer in the conference, teams looking to join a bigger league in this age of realignment will consider the Big-10 more now.
You are correct, professor. This is exactly how universities determine conference affiliations.
My prediction is that Meyer will be out of Ohio State in five years. His departure will be shrouded in controversy, but the NCAA will find nothing. Surprise, surprise.
Uh oh. Tick tock!
---
Palm Beach Post: Don't expect Urban Meyer to go the distance at Ohio State
The smart money says Urban Meyer will quit on Ohio State, too.
The author has bravely credited his prediction to smart money. Because people who disagree with you don't have a differing opinion; they're just dumb.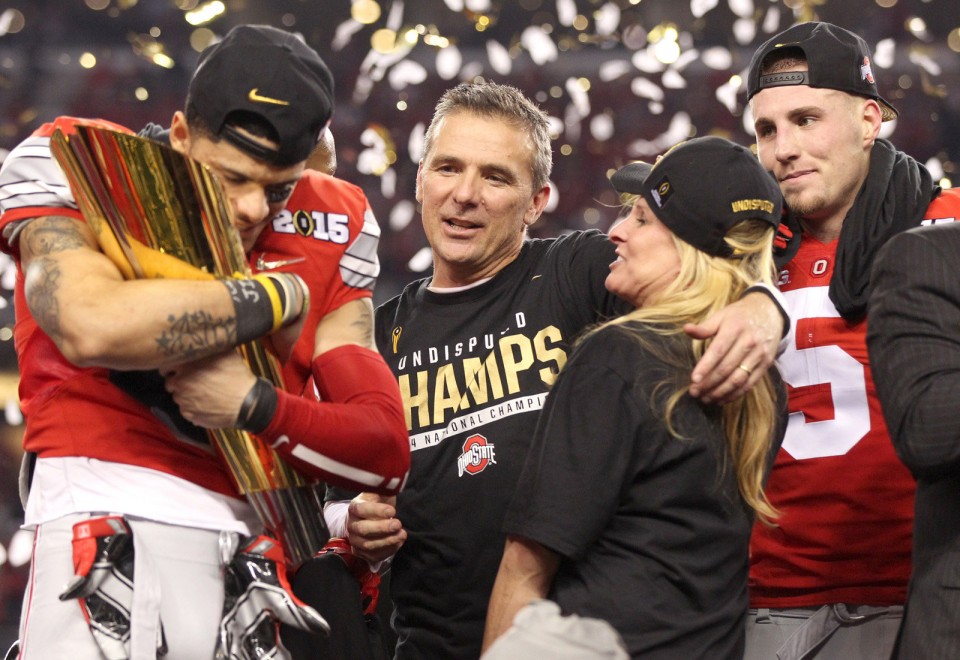 And if he does fulfill the terms of the six-year deal he just signed to become the Buckeyes' coach? The same smart money says Meyer never will match the success he had at Florida with two national titles in six seasons.
So if the smart money is wrong, don't worry - there's more smart money behind it. This is how gambling addicts operate.
Meyer's Buckeye teams have been eligible for national title consideration three times. He's only got three more seasons to make the smart money look stupid. Urban was 44-9 after four seasons in Gainesville. His Buckeyes are 50-4 thus far.
The team Meyer inherited at Florida from Ron Zook for the 2005 season was much better than the one he'll inherit at Ohio State. 
Urban went 12-0 with the team he inherited at Ohio State with No Postseason This Year looming over every Saturday. The smart money says that was one of the best coaching jobs in coaching history. Pick a lane, smart money.
Meyer won his first national championship in his second Florida season with Zook recruits at the team's core. That's not how it's going to go so immediately for the Buckeyes, who'll need Meyer to be at his recruiting best if they are to regain powerhouse status out of the wreckage of this season.
This turned out to be correct. Meyer did not benefit from any Ron Zook recruits at Ohio State.
---
SURVEY: Can we believe a word Urban Meyer says?
Chris Dufresne, Los Angeles Times 
So what if Meyer double-talked and backtracked his way out of Florida? The only stat Gator fans should care about is two BCS titles in six years.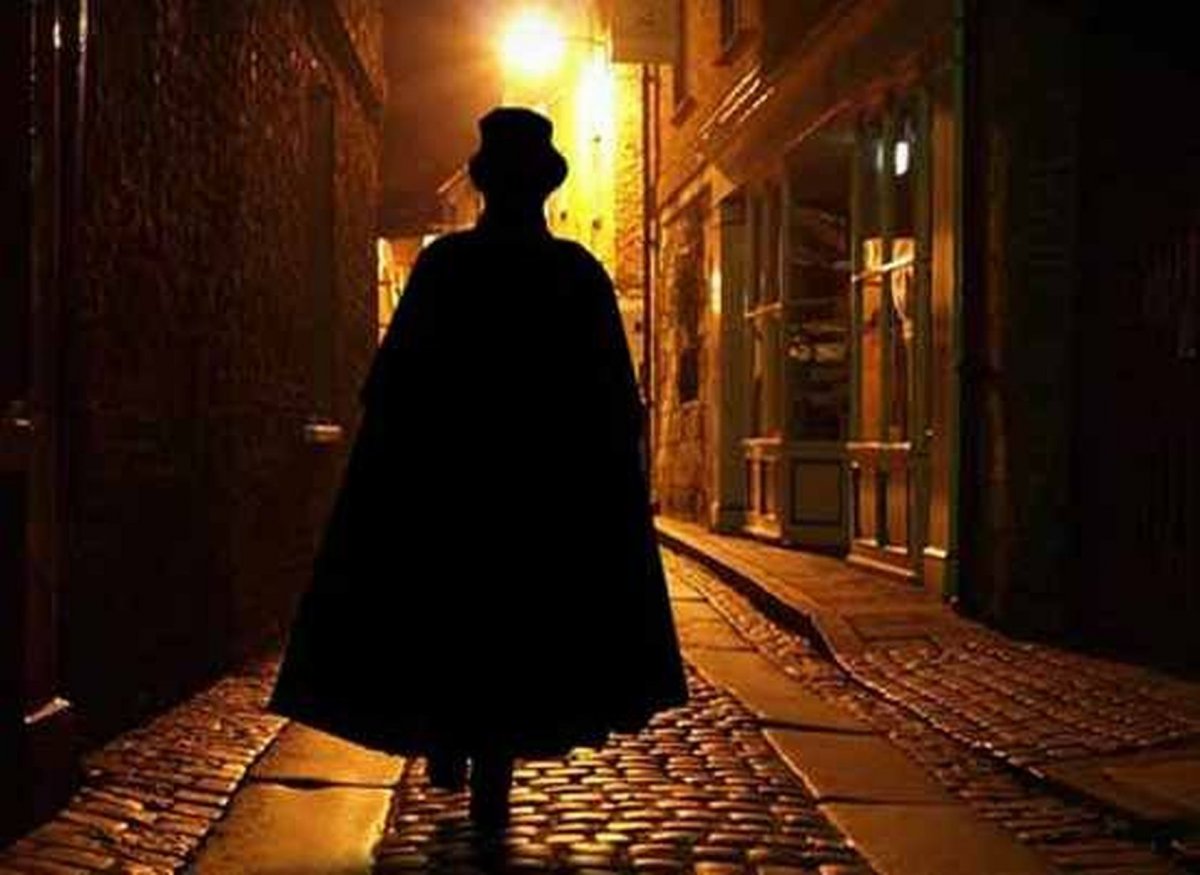 Gator fans - and all fans - should care about more than that. And they do, but it's more fun to paint college football fatalists with the big, dumb brush that says nothing matters to them except winning. That's not true for anyone except Florida State, which is above the law and equipped with its own snickering Boss Hogg district attorney.
Meyer has a right to do whatever he wants, and we have the right to think he's 10% genius and 90% disingenuous.
Holy shit, 90% disingenuous? Serial killers are generally, what, only 66% disingenuous? No wonder Hernandez was so comfortable making his college coach an accessory to his crimes.
---
Mike Bianchi, Orlando Sentinel
O-Lie-O State.
Folks, you don't get to Mike Bianchi's position at the bottom of the sports media sewer without being able to construct a winning rhyme.
Meyer's decision to take over at Ohio State came just 10 months after he said he was leaving Florida to spend more time with his family and to take care of some mysterious health issues.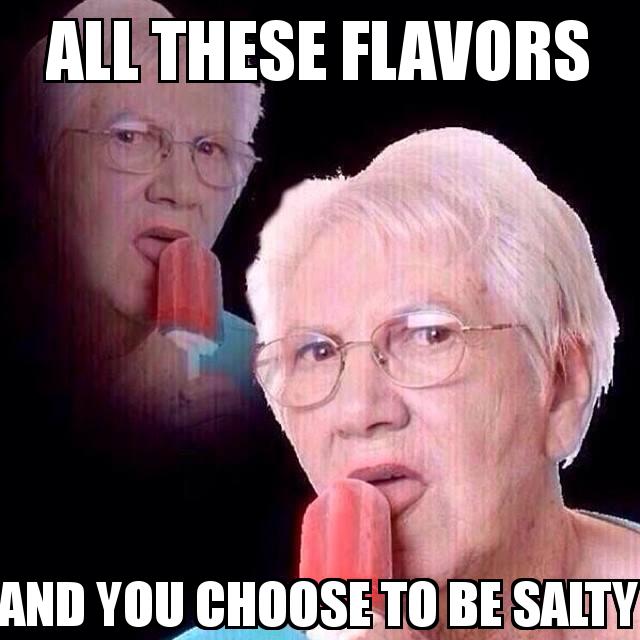 Which was diagnosed and treated with a proton pump inhibitor (that link is from Bianchi's own paper, which apparently he doesn't read) 
Meyer took a job with ESPN almost immediately after he left UF (so much for the family obligations) 
Let's be brutally honest: Being in sports media isn't all that demanding. I mean, Mike Bianchi can do it.
and now — after seeing the mess of a program he left behind in Gainesville — it's becoming more clear what his health issues were:

BareCupboard-itis.
He's got a point. Urban certainly does seem to hate recruiting.
NoTebow-itis.
Also valid. Buckeyes still can't seem to find a serviceable QB who also can't throw.
NickSaban-itis.
Even Bianchi should have known that this is a curable disease.
---
2011: The Year I Learned to Hate College Football
This year I was broken by just how disgusting the institution of college football has become. It started with the scandals at Ohio State and the University of Miami. Both showcased just exactly how hypocritical the system is, as athletes are pilloried in the public square for violating NCAA rules that deny them even modest compensation.

But those problems seem positively quaint after the happenings at Penn State and the way the economic, social, and cultural imperative of big-time college football was put ahead of the safety and welfare of small children.
This is healthy perspective. The Jerry Sandusky tragedy and the culture of silence in State College that helped enable it reset everything.
But the straw that snapped my back was seeing free agent head coach Urban Meyer get a 24 million dollar, six year contract at the Ohio State University. 
That was worse than what happened at Penn State?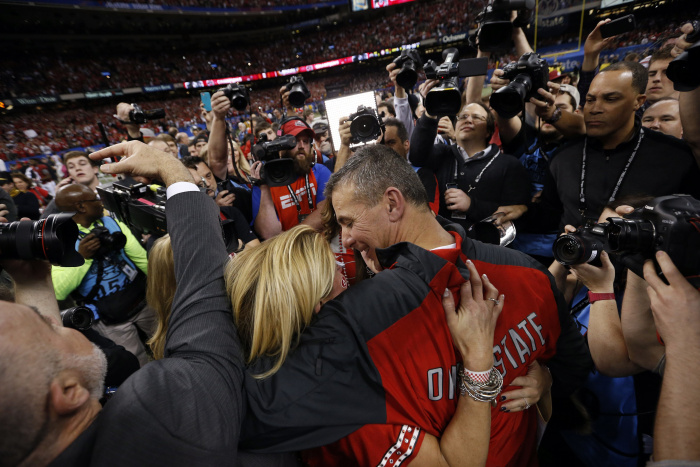 Fresh off scandal, the Buckeyes were back in business. There were two things about this that made me physically ill. 
More physically ill than a former coach using the sanctuary of his affiliation with a proud football tradition to commit at least 52 counts of child sexual abuse?
First was the fact that this money for Meyer is guaranteed, unlike a Ohio State player's four-year scholarship which can be rescinded at year's end by Coach Meyer if that player falls out of athletic favor. 
This was worse than raping kids?
Then there's that number: $4 million a year. Legendary Ohio State coach Woody Hayes at the peak of his prominence made slightly more than $40,000 a year. That was just 35 years ago.
This was worse than raping kids?
For winning college football programs, the amount of cash flowing in the system is staggering. 
This was worse than raping kids?
For mediocre and losing college football programs, the sport is bankrupting athletic departments, but they spend more with the hope that a winning team will cover all losses. 
Sir, you have obviously never heard of Purdue. That is forgivable, if not encouraged.
---
2012: A look ahead
Not only is Meyer returning from a one-year "sabbatical" from coaching, but he's returning to one of the most storied football programs in the country, one that's spent the past year mired in off-field controversy that cost Jim Tressel  his job and the university a sizable dent in its reputation.
The "constant" use of "quotes" around Meyer's "retirement" will never stop being "clever."
Will OSU be getting the pre-2010 Meyer, the one who won two BcS titles — one at the expense of the Buckeyes — and helped build Utah into a BcS contender, all the while coaching with inordinate and inhuman amount of fire and focus?  
The c in BCS is lowercase here - twice - to communicate the author's opinion that the BCS is BS, or bullshit, which is a colloquial use of bovine excrement to communicate dissatisfaction. It's important to explain these things to those of us who aren't quite as sophisticated or passive-aggressive enough to use "quotes" or devices like BcS, O$U, etc. 
Or will they be getting the 2010 Meyer, the one who admittedly left the Gators football program in disarray in the post-Tebow era?
Just two variants of Meyer exist: Championship or Full-Blown Meltdown. He's a coach who lacks any gradient. This is the precise type of science that goes into composing a Hot Sports Take.
---
Urban Meyer, Ohio State primed to dominate the Big Ten
As I watched Meyer and strength coach Mickey Marotti celebrate (following their win in East Lansing) I realized it might be time to warn the other programs in the Big Ten about what will happen in the next few years. So here it goes:

You are completely screwed.
Ohio State is 1-2 against Michigan State since Staples wrote this. Thanks, buddy.
You might get Meyer this season. His Buckeyes are still fragile and vulnerable at times. Heck, Nebraska might even beat Ohio State in the Horseshoe Saturday. But Meyer will put you through a living nightmare in successive seasons. It won't last forever, because the same external factors that plagued Meyer at the end of his tenure at Florida exist at Ohio State, but the next few years will be miserable.
Patently false. The last few years have not been miserable at all. Wait, I forgot who he was talking to.
Unlike the rest of the coaches in the Big Ten, Meyer understands what a program must do to win a national championship in this era of college football. 
This is known on the streets as "subtweeting Kyle Flood." 
Ohio State dominated the Big Ten in the first decade of this century, and Jim Tressel left plenty of infrastructure in place even though he also brought on the NCAA sanctions that threatened to wreck the program. Just as Ron Zook left behind a wealth of defensive talent at Florida for Meyer to inherit, Tressel left behind a group of players who understand winning. 
The Buckeyes have averaged one loss per season under Meyer with Tressel's leftovers, so now he's on his own. Here's hoping Urban is able to finally win with his own guys over the next season* or two.
---
* If he lasts that long.