When Kerry Coombs was asked who would line up opposite of Gareon Conley at cornerback if Ohio State had a game in the immediate future, he was understandably blunt in his response.
"Don't know," Coombs said Jan. 7. "Gareon will be one of them, and one of those other guys is going to be the other one. Good question."
"Those other guys" is a blanket statement for a wealth of young and largely unproven talent at corner, similar to the way many things look for Urban Meyer's 2016 Buckeyes.
Junior Damon Webb, true sophomores Denzel Ward and Eric Glover-Williams, redshirt sophomore Marshon Lattimore and redshirt freshmen Damon Arnette and Joshua Norwood are next in line to step in for the departed Eli Apple, who declared for the NFL Draft 11 days ago.
That list doesn't include the two corners in the 2016 recruiting class, Wayne Davis and Kareem Felder, both ready to sign with the Buckeyes in a few weeks. Lest we forget Cam Burrows, a defensive back with a skill set that allows him the ability to play multiple positions once he finishes his rehabilitation from a foot injury.
"You got Marshon Lattimore, you got all these really good, young players that it's their time to shine and time to go," Meyer said Jan. 7. "I really like the class coming in."
Returning Ohio State CB Career Statistics

| NAME | YR | TACKLES | TFL | SACKS | INT | PBU |
| --- | --- | --- | --- | --- | --- | --- |
| Gareon Conley | rJR | 65 | 1 | 0.5 | 2 | 7 |
| Cam Burrows | rJR | 31 | 0 | 0 | 0 | 5 |
| Marshon Lattimore | rSO | 5 | 0 | 0 | 0 | 3 |
| Damon Webb | JR | 13 | 0 | 0 | 0 | 1 |
| Denzel Ward | SO | 7 | 0 | 0 | 0 | 0 |
| Eric Glover-Williams | SO | - | - | - | - | - |
| Joshua Norwood | rFR | - | - | - | - | - |
| Damon Arnette | rFR | - | - | - | - | - |
| Wayne Davis | FR | - | - | - | - | - |
| Kareem Felder | FR | - | - | - | - | - |
Coombs' position group has lost a top player each of the last three years to the NFL. First was Bradley Roby after the 2013 season, then Doran Grant last year and now Apple. Its been a revolving door, but the constant influx of talent led to Ohio State's complete overhaul on the back end the last two seasons, with Coombs and Chris Ash, now the head coach at Rutgers.
"We recruit that way and we recruit the very, very best players in the country, try to develop the crap out of them while they're here and give them the opportunity to play at the highest level here," Coombs said. "They see that as their future career."
Glover-Williams and Ward played special teams in 2015, the latter blossoming into a vital part of Coombs' kickoff team with his blazing speed. Meyer raved about the unit's 2015 performance for five straight minutes last week.
"You can see on the videotape, I think we finished No. 1 in America in kickoff cover," he said. "It was either No. 1 or No. 2. And in my world it's No. 1. They were phenomenal."
Lattimore had surgery in 2014 on his hamstring, knocking him out and forcing a redshirt that year. He played in spots last season when Webb was suspended minutes before the Northern Illinois game in September. Webb then battled a high ankle sprain the rest of the season. Arnette came to Ohio State with a leg injury, joining Norwood in a redshirt during their first years in Columbus.
"The other guys that redshirted, both Arnette and Norwood, Arnette had an injury issue, but I did get a good chance to work with him in bowl practice and he is going to be a very, very good player," Coombs said. "I'm very excited about what I saw in bowl practice. Josh Norwood is a guy that needs to continue to develop because where he was from a size and strength standpoint when he arrived on campus — and we knew that when we recruited him that he was going to be a developmental guy."
Norwood, Ward, Glover-Williams, Arnette and Jamel Dean made up the contingent of cornerbacks Ohio State took in last year's recruiting class. Dean has since transferred to Auburn.
"Denzel played extremely well on special forces this year," Coombs said. "He has elite speed and he will thrive in the offseason program. He needs that and he'll get a good full dose of Coach Mickey Marotti and he'll be a very competitive player next year."
He continued: "Eric Glover-Williams had the opportunity to play on special teams and will also benefit from the offseason program."
Coombs called Lattimore "a very gifted athlete" provided he can stay healthy, a piece of the vast puzzle of players yearning for a chance to start opposite of Conley—the unquestioned leader in the room.
"The good young corners are good young corners," Coombs said. "They're going to develop and they're going to grow. They'll have a great spring, a great opportunity to play in the spring and I'm looking forward to working with them."
Ohio State lost the bulk of its defensive starters after the season. Ash is now at Rutgers, replaced by new co-defensive coordinator and safeties coach Greg Schiano. The expectation for the defense as a whole to continue its upward trajectory remains the same, though, a presumption that comes with the territory in Columbus. Especially with how well it slowed down Biletnikoff Award winner Amari Cooper in the Sugar Bowl and then future draft pick Will Fuller in the Fiesta Bowl.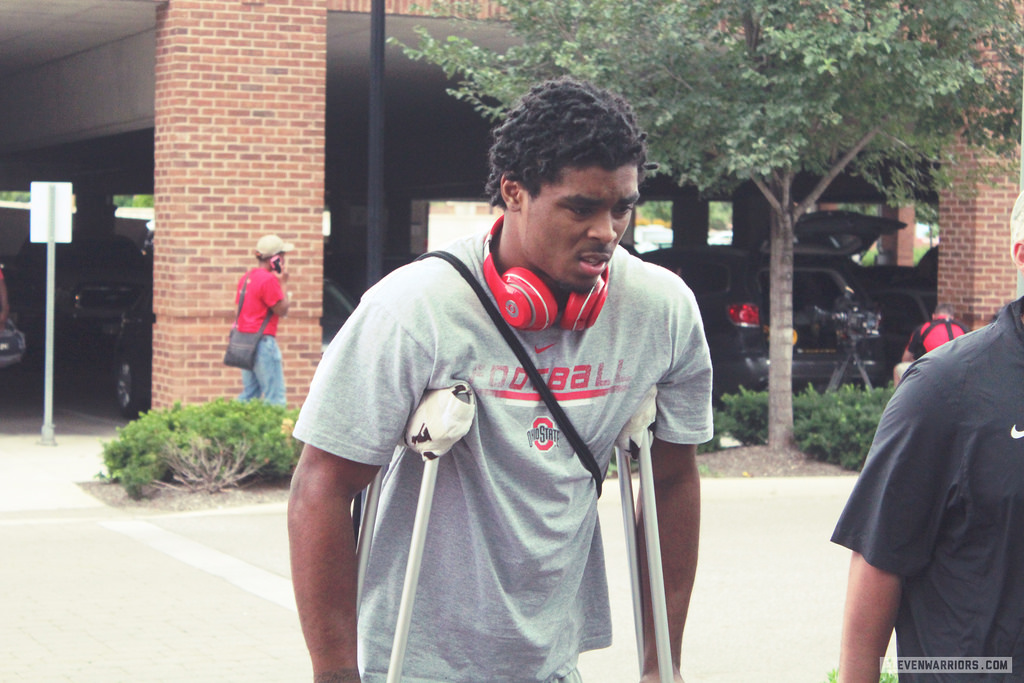 "That will be up to the coaches and the players. I think that they can be very, very good," Coombs said of the unit. "They're going to be fast, I can promise you that. It's going to be a fast defense."
It starts with filling the starting slots in spring practice, of which include a handful of players trying to separate themselves at corner. It'll go a long way to changing Coombs' answer when he is next asked about who will start on the other side of the field with Conley.
"I think that this is why you love to coach. It's to develop players, it's to see the growth in players," Coombs said. "If people are waiting around for us to be apprehensive or fearful, they're at the wrong place. I can't wait to get started with them and get them out there on the field and let them play. We recruit good players and they're going to show up and play extremely well."