There's much more to bowl season than ludicrous gift baskets.
As the sun set over Phoenix this afternoon, a handful of Buckeyes, after spending time with the press during Media Day and then knocking out their final practice of 2015, set their sights on doing something a bit bigger.
Bryce Haynes, Jack Willoughby, Nick Conner, Justin Hilliard, Stephen Collier, Branden Bowen, Noah Brown and more took time to give back to the community that is putting on such an incredible show for them.
The Ryan House, a support community for families and children affected with life-limiting or potentially end-of-life challenges, welcomed the Buckeyes as they do every family that comes through their doors: With open arms.
For an hour the Buckeyes played, chatted and gave back a little of themselves. While the residents at the Ryan House found themselves with autographed footballs, T-shirts and memories that can hopefully brighten some dark days, it was the Buckeyes themselves who left feeling like they'd received something.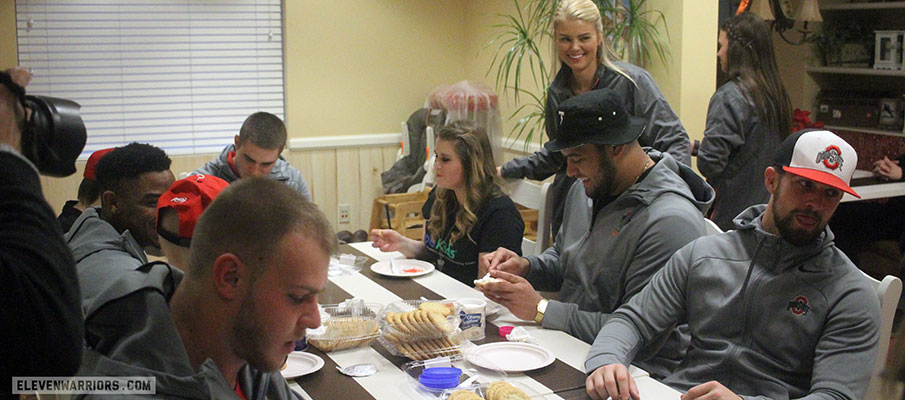 "Being able to come out and give back to the community is huge," Collier, the redshirt freshman quarterback from Georgia, said. "Sometime we live in a bubble where our whole lives are dominated by football and this gives us a fresh perspective on things."
When you see kids who have every reason to bemoan life's unfairness choose not to, it can open your eyes.
"The 6 a.m. (workouts) don't seem nearly as bad," Collier added. "When you see what some people and some children are going through.
Branden Bowen, a freshman offensive lineman from Utah, agreed.
"I've been blessed with an incredible life and to give back to those that may have a disability or an illness is amazing, seeing their reactions are priceless," Bowen told Eleven Warriors. "Seeing their reactions are priceless. I remember how excited I was when I met a college football player when I was younger, so it means that much more to me. Doing things like this is always great."
The facilities at the Ryan House provide their residents a number of options for day-to-day exercise, both physically and mentally. It's a 12,000 square foot home with a garden, creative rooms, music rooms, family rooms and even an indoor hydrotherapy pool. To see the impact that something as simple as a one-hour long visit from guys on a football team a lot of the kids might never have heard of can make? To steal a phrase from Urban Meyer, that's the true power of the unit and it's something that stood out to Hilliard, the five-star freshman linebacker from Cincinnati St. Xavier High School.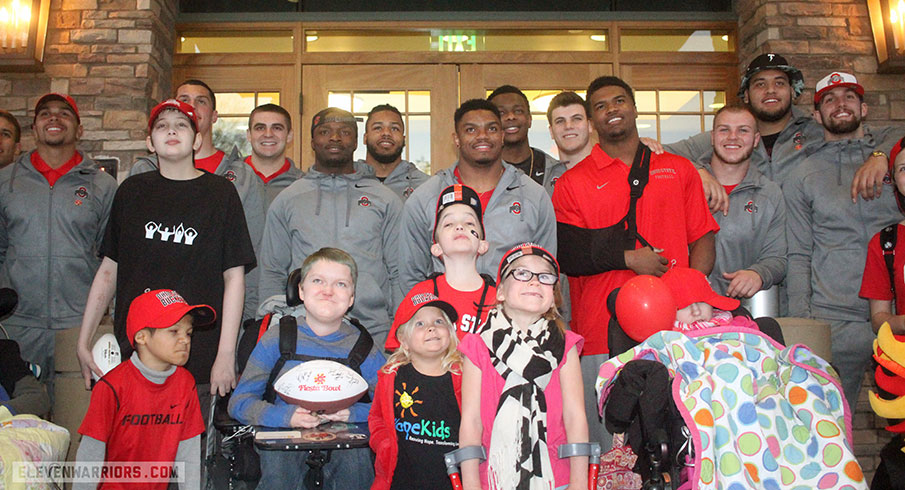 "(Ohio State) gives us opportunities to give back," Hilliard said. "It's refreshing to see kids and their families with all the reasons to be down but have that constant smile on their faces. It's awesome to see what being apart of Ohio State football does."
There were no flashy uniforms, no chrome helmets. There were two, three people with a camera on-hand and a few Fiesta Bowl representatives to keep things moving when the "heroes" in attendance let themselves get lost in being a kid again.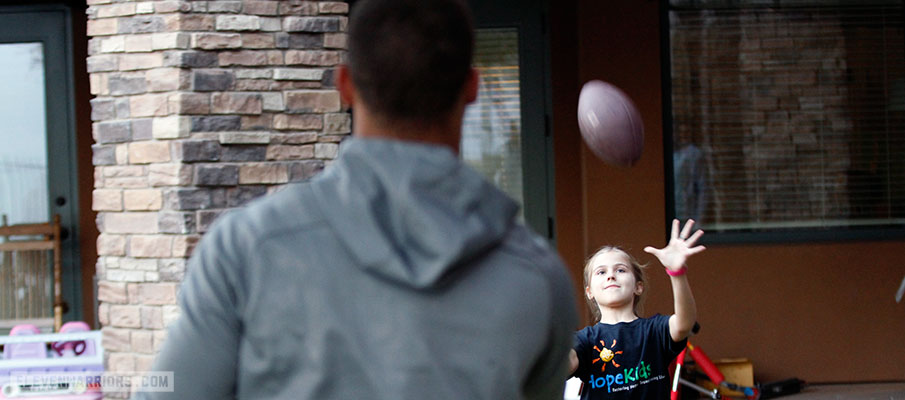 Collier had to be ushered inside to see other residents because he was having such a great time with one resident, Joel, playing tag and scrambling around a jungle gym; that is when a "public relations event" morphs into something different, something more meaningful. 
"Overall," Collier said. "It was just an amazing experience."