With extra time than just the normal week to dissect Ohio State's next opponent, a New Year's Day kickoff in the Fiesta Bowl allows us to get in touch with those who cover Notre Dame.
The Buckeye and Fighting Irish kick off at 1 p.m. Jan. 1. Here to break down the Irish's offense, defense and special teams is Frank Vitovitch from uhnd.com, the most seasoned independent site covering Notre Dame football. Follow them on Twitter to get insight from the other side of the ball as we count down the final days of 2015 ahead of the final game of the season.
Without further ado, here's a scouting report of Notre Dame in all three phases.
---
Notre Dame Offense
The 2015 Notre Dame offense was supposed to be a high-powered attack led by the left arm of Malik Zaire and powered by a potent one-two punch on the ground with Tarean Folston and Greg Bryant. By the second week of the season, Zaire was lost for the year with a broken ankle, Folston was done with a torn ACL, and Bryant didn't even make it to camp before he was suspended and then transferred out. That, however, didn't stop the offense from being the highest scoring of the Brian Kelly era at Notre Dame.
Deshone Kizer has had some ups (three fourth quarter comebacks) and downs (an ugly turnover-fest against Boston College) but by any measure, has performed better than anyone could have hoped when Zaire went down for the season. Kizer tossed 19 touchdowns and ran for another nine to lead Notre Dame to a 8-2 record in the games he started. He's been at his best when he is moving the chains with his legs and when the game has been on the line. Kizer ran for more than 100 yards twice this season, both on the road (Temple and Stanford).
In crunch time, Kizer has played like anything but a rookie. Against the Cavaliers, he threw the game winning touchdown to Will Fuller in the final seconds. A few weeks later he nearly rallied Notre Dame back against Clemson in the fourth quarter. Halloween night, Kizer marched the Irish down the field in the final minutes and again found Fuller in the final minute for a game-winner.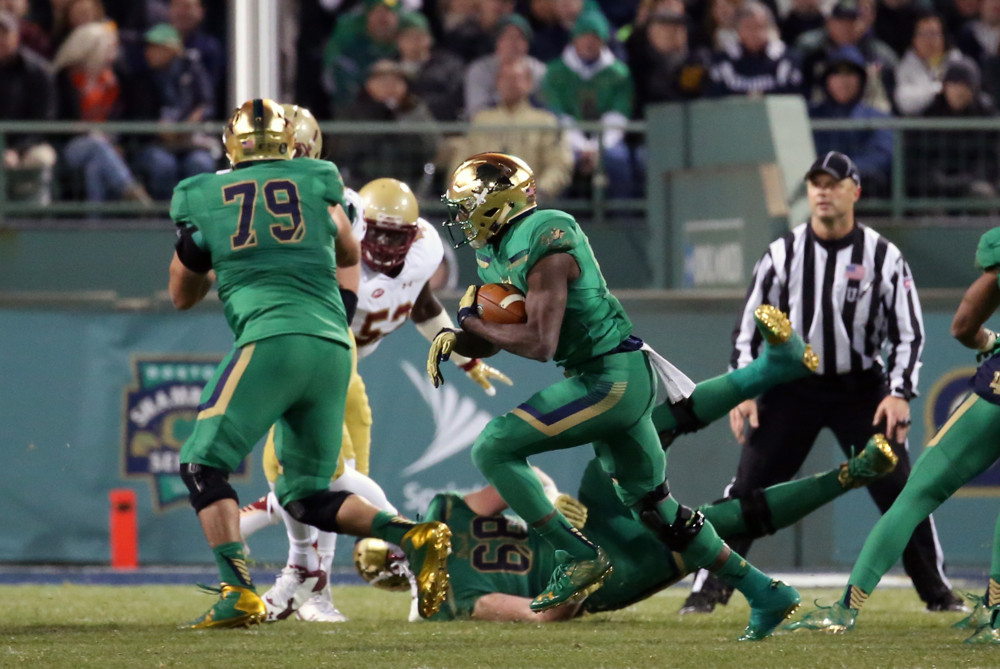 Despite being a first time starter, Kizer has not been rattled very often this season.  He looked a little shaky in the first half against Clemson before picking up Notre Dame and putting them on his back and his performance against Boston College was alarming.  Kizer responded by nearly leading the Irish to another come from behind victory the very next week against No. 6 Stanford. He simply left too much time on the clock—which, considering it was only 30 seconds, gives some early insight into the Notre Dame defense. More on that later.
Kizer's efforts have been made possible by a stout, veteran offensive line anchored by likely top-10 pick left tackle Ronnie Stanley and fifth-year senior captain and center Nick Martin. Flanking Stanley is Mike McGlinchey – a massive tackle who has been nearly as impressive as Stanley in 2015. If there is one weak spot of the line, it sits at right guard where junior Steve Elmer has struggled with consistency this year – especially in pass blocking. I expect Ohio State to send a lot of the pressure at Kizer via Elmer. 
On the ground, Notre Dame could very well be without 1,000-yard rusher C.J. Prosise for the Fiesta Bowl. The converted wide receiver started the year on a torrid pace before injuries took their toll. Prosise got knocked out of the Pittsburgh game with a concussion which also cost him the following week against Wake Forest. The senior back then got knocked out of the Boston College game with an ankle injury that caused him to miss the season finale versus Stanford as well and he is not yet back to being a full participant in practice.
If Prosise is unable to go, freshman Josh Adams will see the bulk of the carries again. Adams, a fairly unheralded recruit, eclipsed 140 yards in three of the last four games of the year including a Notre Dame freshman single game record of 168 yards at Stanford. He is averaging 7.4 yards a carry this season with 757 total and has a great chance to break Darius Walker's Notre Dame freshman season rushing record in the Fiesta Bowl. He is 29 yards away.  
When the Irish go through the air, they will look to get Will Fuller involved early. Fuller was sensational in 2015 but was held in check by Clemson, Temple and Wake Forest. In the loss to the Tigers, he caught just two passes for 37 yards. Against single coverage, he's been hard to stop, so even with Ohio State's skill in the secondary I don't expect him to get too many chances in single coverage. Fuller has also been plagued by some bad drops throughout the season. He dropped an easy touchdown in the narrow win over Boston College and had a rather uncharacteristically rough night catching the football.  
Outside of Fuller, senior Chris Brown has been Notre Dame's most reliable wide receiver.  He's been steady all season long and has come on late – especially against Boston College. The same could be said of Torii Hunter Jr. (son of former Detroit Tiger Torii Hunter). Hunter has started to become a big play threat for the Irish out of the slot. Junior Corey Robinson (son of David Robinson) is a massive target, but has regressed as a junior with just 13 catches for 159 yards after racking up 40 receptions for 539 in 2014.
One position that has not produced much for Notre Dame this season is tight end.  Notre Dame will be getting Durham Smythe back in the Fiesta Bowl, though. Smythe was lost for the regular season against Virginia but is expected to be at almost full strength against the Buckeyes. In Smythe's absence, freshman Alize Jones has made a few catches but the position has not produced anywhere close to the level that past Notre Dame offenses that featured the like of Kyle Rudolph, Tyler Eifert and Troy Niklas have.  
One area to watch out for is red zone offense where Notre Dame has struggled all season. The Irish were 90th in the country in redzone offense, getting points only 80 percent of the time. They have been even worse at producing redzone touchdowns. In 50 trips inside the opponents 20-yard line, Notre Dame only has just 28 touchdowns (16 rushing, 12 passing). The lack of a tight end threat and the regression of Robinson have been two primary reasons for their struggles.
Notre Dame Defense
Notre Dame runs a 4-3 defense under second-year defensive coordinator Brian VanGorder. After a hot start to his tenure in the early stages of 2014, VanGroder has come under serious fire from Notre Dame fans for a defense that has been described as overly complicated. His defense held the reputation for being "attacking" and "aggressive," but to date his defenses have not produced high sack or turnover totals. Notre Dame tied for 112th in the country this season with just 13 turnovers forced, while tying for 77th with just 23 sacks. (To compare, Ohio State is 69th with 19 turnovers forced and tied for 20th with 34.0 sacks)
Despite its struggles and tendency to give up big plays, the Notre Dame defense was ranked surprisingly high in the only defensive metric that truly does matter – points allowed. Notre Dame gave up 22.4 points a game this season, good enough to be ranked 34th overall. Not an elite status by any means, but given the tenor of Notre Dame fans about the defense, it's higher than one might expect.
Up front, Notre Dame will benefit from the return of defensive tackle Jarron Jones. Jones suffered a MCL injury in camp that cost him the entire 2015 regular season but he has returned to practice and is fully expected to play in the Fiesta Bowl. His injury in camp had just as much of an impact on the season for Notre Dame as did the losses of Zaire and Folston. It's still unclear what his volume of work will be against Ohio State, but anything he can give Notre Dame will be a boost.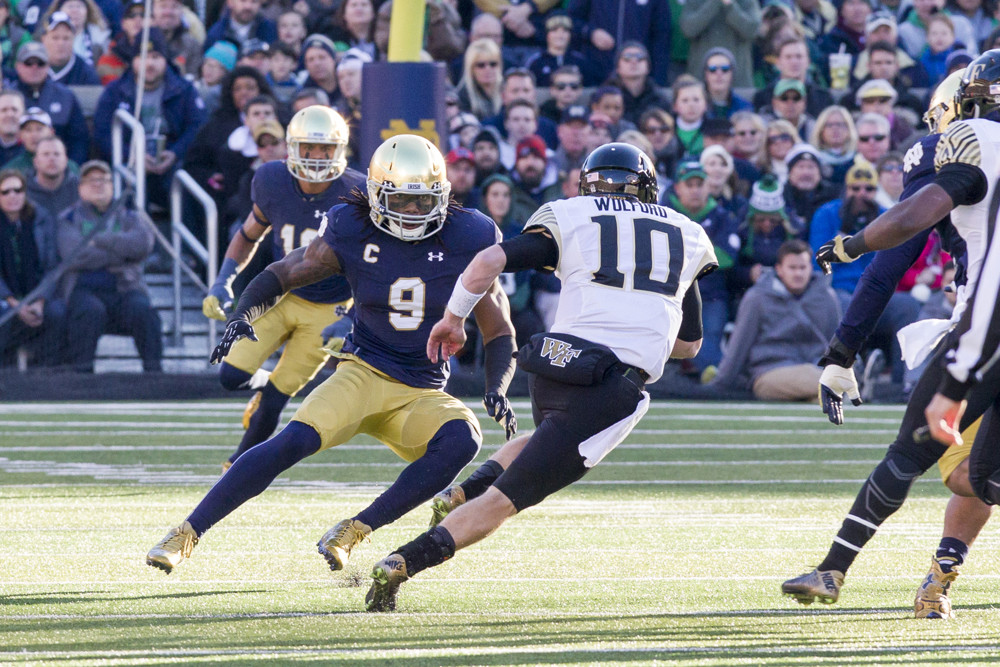 The defensive line for Notre Dame is anchored by All-American Sheldon Day. Day had by far his best, and healthiest, season in 2015 and is the unquestioned leader of the unit. Day led the Irish with 14.5 tackles for loss. Isaac Rochell is a solid strong side defensive end, but is better against the run than the pass. Inside, freshman Jerry Tillery and sophomore Daniel Cage will split snaps with Jones at the nose. Notre Dame's best pass rusher is weakside defensive end Romeo Okwara. He led the Irish with 8.0 sacks in 2015.
At linebacker, Butkus Award winner Jaylon Smith is the headliner of the entire defense. His stat line doesn't exactly jump off the page, but Smith is a physical freak who continually made plays all season long that most linebackers simply don't have the athletic ability to make. What makes Smith's success even more impressive is the fact that starting middle linebacker Joe Schmidt tallied only 65 tackles all season long. That's 65 tackles from a starting MLB who played every game with opposing offenses attempting to stay away from Smith. Schmidt, the former walk-on, struggled to regain the level of play he displayed in 2014 before his season was cut short with an ankle injury against Navy. I fully expect Ohio State to target No. 38 and attempt to steer clear of No. 9.
The front seven was the strength of the defense and held Heisman finalist Christian McCaffrey to under 100 yards, but on the season the Irish run defense is ranked 60th in the country and allows 165.6 yards a game.
Notre Dame's secondary has shown flashes at times this season, but inconsistency has plagued it throughout, leading to far too many breakdowns. Just as senior Keivarae Russell was returning to form after missing the 2014 season, he was lost for the year against Boston College and is doubtful to play in the Fiesta Bowl. In his absence, Notre Dame will turn to Devin Butler, who played OK against Stanford but had his performance marred by a missed tackle on a 3rd-and-goal play that ended up as an easy Cardinal touchdown. Safety Max Redfield is a former 5-star recruit, but has been victimized in the passing game at times this year. This is a secondary that has been susceptible to trick plays throughout the season as well. In short, Ohio State has the talent to really push this secondary to the limits.
The Notre Dame defense is 28th in the country against the pass, giving up with just 195.9 yards a game. Those numbers, however, are influenced by Notre Dame facing several run oriented offenses (Navy, Stanford, Georgia Tech) and several weak offenses overall (Boston College, Wake Forest, Texas, UMass).
Notre Dame Special Teams
For the first time in the Brian Kelly era, special teams were a weapon, not a liability. All phases of the Irish special teams units performed well throughout the season and for the first time in years, the return game was a big play threat. Freshman speedster C.J. Sanders had a kickoff return for a touchdown against Stanford and a punt return for a touchdown against UMass earlier in the year. He's got great top end speed and is a threat to take a kick the distance if given a lane. Fun fact: Sanders also played young Ray Charles in the the movie "Ray".  
Freshman kicker Justin Yoon was named a Sporting News Freshman All-American after connecting on 15-of-17 field goals including an impressive 52-yarder against Navy. His season got off to a shaky start with a couple missed extra points, but since the Virginia game, Yoon has been rock solid for Notre Dame. Any kick under 50 yards is a pretty good bet for the Irish.
Tyler Newsome averaged 44.0 yards per punt in his first season as a starter with a long of 62. Even though Notre Dame is using a true freshman at place kicker and at both punt/kick return and a redshirt freshman at punter, the special teams have been very good all season long.
---
If you'd like to see our scouting report with uhnd.com, you can do so by clicking here.
At some point next week, we're planning to exchange some more in-depth inquiries with Frank. Stay tuned, but until there, head over to uhnd.com for any and all Irish insight you desire.
Also, stick with Eleven Warriors for more insight on the matchup, like this look at the Irish run defense by Kyle Jones.