It's a late November Friday night in Toledo, and one Ohio State fan is standing in his home, paint brush in hand, ready to piece together the latest bit of own personal masterpiece in the greatest rivalry in all of sport.
That rivalry, spawned on the gridiron in the late 1800s, includes his beloved university, for which he's been a part of since birth.
"I was born in University Hospital on Archie Griffin's third birthday," he says, then divulging into a tradition struck deep within his family's loins. "While my dad was in attendance at The Ohio State University, my grandfather started our family tradition in the 1920s. He was a football trainer, equipment manager and then my dad was an equipment manager in the '50s."
This Buckeye was born in Columbus, but raised in Northwest Ohio where the hate for the University of Michigan football team runs deep — "we are ground zero" — in a city comprised of a wide range of football allegiances.
Fewer than 10 miles south of the Ohio-Michigan border, Toledoans must choose between a pull of maize and blue, scarlet and gray and even the gold and blue of the University of Notre Dame. South Bend, Indiana is just 150 miles west.
"You will not find a town that has as many Ohio State fans and Michigan fans and Notre Dame fans for that matter. It really kind of looks like a Mercedes Benz decal. Divided equally into thirds if you will," he said. "As far as finding Michigan and Ohio State partisans, you will not find equal numbers of them, I don't think, anywhere else on the planet."
An unpartisan way of sports alliance wasn't in the cards for this fan, however, who we'll call Frank for the purpose of this story. He wishes for his identity to remain anonymous — doing so has allowed him to establish a reputation as the guy who's added color to The Game since 2007, usually at the expense of the man roaming the Michigan sideline as head coach of the Wolverines.
From Lloyd Carr to Rich Rodriguez, later Brady Hoke and now Jim Harbaugh, Frank — along with other Buckeye fans — smile as they recount the recent dominance by Ohio State against Michigan. The Buckeyes are 12-2 against their rivals in the last 15 years, not including a victory lost to NCAA sanctions stemming from the 2010 season. That includes a string of four straight since Urban Meyer's arrival in Columbus.
"I'm trolling without being rude or disrespectful. I ran down the scores, Urban v. Brady, that's as close as I got to smack. I was just stating facts," Frank said. "But before that and since that, I just have spoken to the Michigan coach."
Frank claims he's been to every Ohio State-Michigan showdown for the last 25 years, with only one exception: 2003. The Buckeyes, in Jim Tressel's third season, suffered their only loss to Michigan in his tenure, a 35-21 defeat in Ann Arbor.
"I feel very guilty about it," Frank said.
---
They unrolled it near the midway point of the fourth quarter, with Michigan limping to the finish line of a 42-13 beatdown at the hands of Ohio State.
Ezekiel Elliott and J.T. Barrett were putting the finishing touches on a 369-yard rushing performance by the Buckeyes — literally running right down the throat of Jim Harbaugh's second-ranked defense — and Frank's crew knew it was time to send his salutations toward the presumed savior of the Michigan program.
"They were so excited," Frank said. "Because Michigan is back baby, and 'Welcome Home Coach Harbaugh' is what they had been saying for a year."
Billboards, bumper stickers, signs — they all said the same thing. Even the school embraced the idea of greeting its former quarterback home to Ann Arbor in a similar fashion, the man tasked with revitalizing a program which had grown stagnant under Hoke.
So there was Frank's sign, bold and glistening in the Michigan Stadium sun, surrounded by scarlet and gray-clad fans: WELCOME HOME COACH HARBAUGH, written in massive silver typeface beset on a sheet of scarlet fabric.

"We unfurled it a little bit earlier, usually I wait until the end, but it is 42-13 and the Michigan fans have left the house," Frank said. "So there's plenty of room to unfurl this puppy, let's just do it."
Unfurl it they did, collectively gut punching and knocking the wind from the sails of those Michigan supporters that chose to stick around and endure the final moments of their team's supposed revival against its most hated opponent.
Belief of Harbaugh's greatness was represented not only on billboards and other signage around the city, but even on ATMs, in restaurants and barber shops. He had given Michigan fans hope on their way to nine wins in his first season — and still has a chance to bring the program back to where it stood in the days of old — but this particular Saturday the Buckeyes couldn't be stopped from stepping on their throats as they left the building.
And neither could Frank.
"We were making the banner and what we couldn't know was that Ohio State was going to annihilate its rival in Ann Arbor — what a beautiful thing," he said.
---
His first sign was conceived in 2007 in Ann Arbor, in a similar way as his most recent. Then-Michigan head coach Lloyd Carr had lost three straight to Ohio State and Jim Tressel, and whispers about his imminent firing upon completion of his 13th season were everywhere.
"I thought this could be kind of fun to throw up a banner, because I knew we were sitting right at the tunnel, right at the 50-yard line," Frank said. "This is going to be funny, if we wind up on top, this is going to be really funny to say 'SO LONG COACH CARR, WE'LL MISS YOU!'"

Frank and his crew made it happen, but with social media in its youth, its impression wasn't felt like it would have been today.
Those that immediately followed received more attention, first at the expense of once-embattled Michigan coach Rich Rodriguez:
"HEY COACH RODRIGUEZ, WELCOME TO THE BIG TEN!" came at the end of a 42-7 Buckeye win in 2008
"HEY COACH RODRIGUEZ, WE LOVE YOU!" in 2009 after a 21-10 Ohio State triumph, and
"VIVA RODRIGUEZ!" in the vacated 2010 season, presented directly behind Michigan's bench near the end of Ohio State's 37-7 victory that helped push Rodriguez out the door in Ann Arbor. Frank's message, though, hoped his tenure still had life.
"That captured our sentiments because we wanted him to live as Michigan's coach," Frank said. "He was so awful. They couldn't keep him around."
Rodriguez's 15-22 mark as Michigan's head coach only kept him around for three seasons, but Frank wasn't done. Upon Brady Hoke's arrival in 2011 — the only time he beat the Buckeyes, who were amid a forgettable 6-7 campaign — the concentration of the banner shifted there.

"He called us Ohio. So I made a banner that said 'Brady: 0, Ohio: 1,'" Frank said.
That banner never made an appearance, though, due to Ohio State's 40-34 loss. Frank, undaunted, burnt it to a crisp upon his return to Toledo, hoping to kill all dark magic that came along with that treacherous season.
"What else was I going to do with it?" he said.
More followed, with Frank counting Meyer's triumphs over Hoke in the next three seasons with a simple scoreboard unfurled near the end of each victory. The final tally of that matchup stood with Meyer leading 3-0, so Frank shifted to Harbaugh, the assumed king who would rejuvenate the Michigan program.
"Now Brady's gone and we had to welcome Coach Jim Harbaugh, didn't we?" he said.
He did, capturing the thoughts in the minds of passionate Buckeyes everywhere who saw it on their television screens with roughly four minutes to play Nov. 28. The ABC cameras shot a mass exodus of maize and blue scattering from the stadium with their tails between their legs, before finding those Wolverine fans who stayed and were distressed in their seats over what they'd just witnessed.
Then came Joey Bosa's interception of Wilton Speight and Meyer's directive to keep his foot on the pedal and continue playing the starting offense the ensuing possession.
"I think part of this, it's recruiting-driven," analyst Todd Blackledge quipped on broadcast. "That's one of the things that they've talked about with Jim Harbaugh coming back to Michigan, that it's going to change the landscape in the Big Ten from a recruiting standpoint."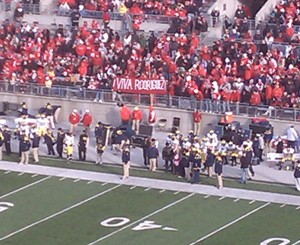 "It's sending a message," Blackledge's partner, Brad Nessler, said.
Meyer yearned for more points against Harbaugh in their first meeting, but didn't get them. He message was sent, however, as was Frank's and the rest of his Ohio State brethren who chanted O-H-I-O throughout Michigan Stadium that day.
"We felt like we could win it," Harbaugh said after, but the talent disparity between the two squads was tangible. It proved the coach has a long way to go before he can truly lock horns with Meyer to compete in The Game.
---
Frank isn't shy about his love for Ohio State and pure disdain for Michigan.
"I have some friends that are Michigan fans, I do, I'll admit that," he said. "But I can't say they're very close friends."
However, Frank knows this current age of dominance by his favorite team is something he must savor every moment.

"I just know that these are good days and we must appreciate them and revel in them," Frank said. "There's no guarantee they'll continue on. You just never know what the future might hold."
He's unsure what the future holds for his next banner adventure, but is keen to why he spends time to put together a semi-sarcastic, yet respectful message for the Michigan head coach.
"I do it in part because I really like adding spice to the rivalry," Frank said. "I think it's incumbent upon us as fans. I take great pride in the fact that the Ohio State-Michigan rivalry has been referred to as the greatest rivalry in sports. That, to me, is a sacred trust. It's something to be preserved."
He doesn't let anyone know what the banner is going to say on that fall November afternoon, for secrecy sake. Frank also wouldn't let us reveal the exact way he gets his banners into either Ohio or Michigan Stadium ("I must preserve the confidentiality of those," he said) but did say they're typically 16 feet wide by 8 feet tall.
A healthy size, though hardly in a grand scheme of two of the largest football stadiums in the country.
The way he slides the banners past the heightened security on game days is private, but you can imagine it's quite the process.
"We have our ways," Frank said. "We're mysterious about it."
It's also always a mystery how Michigan fans will respond to the signage, but Frank said he's surprisingly only had an issue one time, when one of his three daughters — all Ohio State grads or soon to be — took the brunt of the dismay.
"One time, a courageous Wolverine fan did knock my teenage daughter on her keister," Frank said. "She was fine, she was uninjured, but she did actually try to snag the flag out of her hands, but made very much a half-hearted effort."
What isn't mysterious is Frank's adoration for his university, his city and the Buckeye football team. The banners are just his way of showing it.
"I enjoy being on top when I'm there because I lived in Toledo during those John Cooper years when he was 2-10-1 (against Michigan)," Frank said. "So why would I do this? I do this because I want to add some heat to the rivalry personally as much as I can to make this the greatest rivalry in sport as it's been referred to. I believe it still is."