When Urban Meyer took the podium early Saturday evening following his team's woeful 17-14 loss to Michigan State, he fed his fingers through his hair and did something he hadn't all season after a game.
He opened the floor up for questions.
Meyer, the Ohio State head coach who had never lost a Big Ten regular season game prior to the loss to Mark Dantonio's Spartans, usually has a few words to recap what he'd just witnessed on the gridiron. Saturday was different.
"We lost the line of scrimmage. And obviously you start loading up the box in those kind of situations and we were — the passing game was just, it was not there. I think we maybe had a couple of opportunities, but it just was obviously tough conditions to throw the ball. But we tried inside/outside and they beat us at the line of scrimmage and we were unable to execute in the throw game. That was a very poor performance."
Poor might not even be the right word to describe it. The Buckeyes managed just five first downs and 132 total yards of offense against a Michigan State defense that had taken a step back from the vicious unit that beat Ohio State in the 2013 Big Ten Championship Game.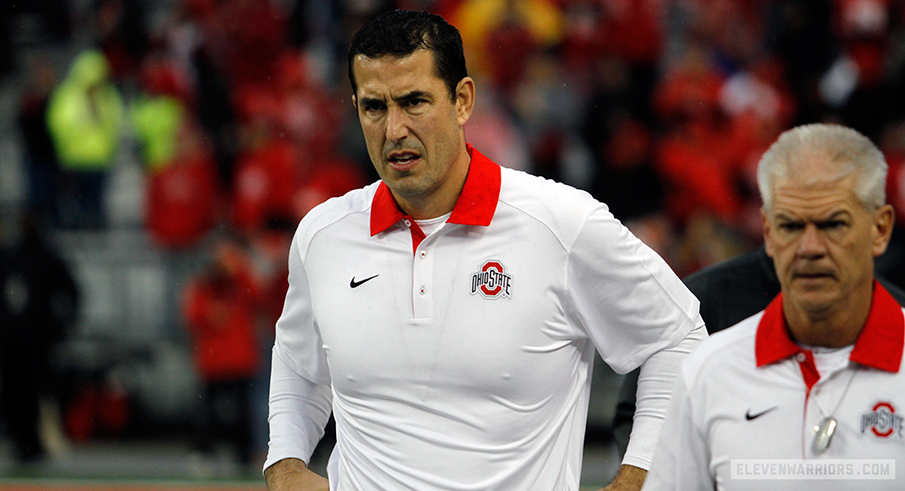 It was the ugliest offensive performance since Meyer's Columbus tenure began in the 2012 season, and one of the worst in his entire career.
"Offense had a rough day. I'm disappointed. I'm disappointed in the play calling," running back Ezekiel Elliott said. "I'm disappointed in the situations we were put in and I wish it all played out differently."
Elliott struggled to find much space against the Spartans, finishing with 33 yards rushing on just 12 carries. Ohio State was unable to move the ball with any consistency all afternoon against a stout Spartan defense, even when a driving rain and whipping wind subsided in the second half.
The flat offensive performance was a long way off from the 49-37 victory in East Lansing one year ago.
"You have different plans going into games based on what we saw on film so our game plan was different compared to last year," quarterback J.T. Barrett said. "I know it was the same defense, but they also didn't play other teams the same way so defenses change and things like that. What happened this game, they played their best defense and we had a different plan for them. They made the plays when they needed to and we didn't make the plays."
Barrett only threw the ball 16 times, completing nine passes for 46 yards and a third quarter touchdown to Jalin Marshall following a muffed punt. Meyer and the offensive staff hardly opened up the playbook to throw the ball down the field, even though Michigan State entered the contest 11th in the Big Ten in pass defense.
"I call a lot of plays anyways. So finger will be pointed right here," Meyer said. "And I have to do better. We didn't — very conservative."
Even though Barrett hardly stretched the field in the throw game, Elliott said he begged Meyer for more touches. But they never came.
"I was lobbying to Coach Meyer all game," Elliott said. "I heard no explanation."
The running back carried the ball on eight of 10 plays during Ohio State's first scoring drive, including the 1-yard plunge into the end zone to give the Buckeyes their initial lead. He didn't look 100 percent due to a leg infection that was held under wraps all week and hospitalized him for three days, but insisted he was fine after the game.
"I had an infection in my leg and honestly I didn't think I was going to be able to play during those days. It took a toll on my body, but I was able to get back to practice Thursday and play in the game. What happened today, just is kind of like a bad dream." 
However much the sheets of rain and wind or Michigan State's defense affected the in-game play calling, Elliott didn't hold much back in expressing his dismay to how things unfolded.
"I feel like we just weren't put into the right opportunity to win this game. We weren't put in the right situations to win this game. I don't think Michigan State was better than us. They weren't. But we didn't execute."
Michael Geiger kicked a 41-yard field goal as time expired to give Michigan State a win and put the Spartans right back in the thick of things in the Big Ten East Division. He made it even after Meyer called a timeout to ice him, a last ditch effort for a chance for at an overtime victory after playing not to lose the entire game.
The Ohio State defense was gassed after Michigan State dominated time of possession and had the ball for 38:10. It showed late in the game, but a trio of offsides penalties on third downs crippled the odds the Buckeyes would be able to stop the Spartan rushing attack.
"It's things that we talk about, we harp on. In big games, when talent is equated those are the kind of things that probably come back to bite you as much as anything," Luke Fickell said. "We still had opportunities to stop them. It went from 3rd-and-8 to 3rd-and-3 and the reality is we didn't stop them. There's no finger pointing, there's no blame. Obviously we've got to correct it and do those things, but we still had an opportunity to stop them and we didn't get it done."
Elliott was bottled up, but still has plenty of touches considering how the Buckeyes only ran 45 total offensive plays. Michigan State's defense kept the Spartans in it from start to finish.
"Their D-line was pretty good," Barrett said. "Very active, quick, did a good job getting off blocks, didn't allow you to double team. The way their defense plays, they attack the gaps really hard so you've got to come off the double teams faster and it's a lot of one-on-one blocking. They did a good job getting off blocks, the D-ends just contained everything outside. Good D-line for sure."

"I've been down this road before, where you do good. I just love the group of guys down there. And we have to do better," Meyer said. "Yeah, I do. I do. A lot of different perspective maybe had several years back, you lost a game, you're pissed off, you go do the best you can, go to work tomorrow."
The entirety of Ohio State's team must do that, with a slim chance to earn a chance to Indianapolis still sitting in their back pocket. If the Buckeyes beat rival Michigan on the road next Saturday and the Spartans fall at home to Penn State, Meyer will have his team back competing for a championship for the third consecutive season.
It's the only way of hopefully remaining in the College Football Playoff picture.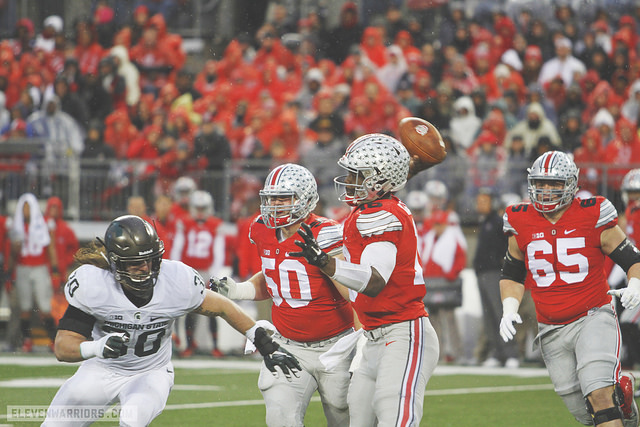 "We've got to get a couple of first downs and start finding a way to complete a pass and beat our rival," Meyer said. "No disrespect, but (the Playoff is) certainly not any conversation — you're right, a lot of things happen, but we've gotta fix some obvious problems."

"We had a couple of our leaders just say a few words," added Joshua Perry. "The biggest thing is that it's going to be hard to respond. Just getting better. We gotta go out tomorrow, even though it's a Sunday, we still gotta go out there with the mentality that we gotta get better. That's going to be the big thing. I think leader's are going to have to push that, for sure."
The Buckeyes had a chance to prove their worth to the nation Saturday, but fell short and struggled to show any of the identity that led to a Big Ten, Sugar Bowl and National Championship last season. A much improved Michigan team awaits with Jim Harbaugh at the helm, but the visiting team in next week's matchup must regroup and rebound to give itself a chance.
"This is part of football. You wish all the time you can win every game, but you're going to lose some. With that, I think it's one of those deals where you see where you're at as a team," Barrett said. "I still feel like we're a good team, just hit a speed bump. That happens."
The Buckeyes must win out and get some help to make it into the the College Football Playoff for the second straight season, but weirder things have happened. Saturday showed how difficult it is to win each and every time it lines up.
"We talk about things in the past and everybody has that," Barrett said. "There's only a few teams every once in a while that goes undefeated so it's not one of those deals where I think there should be an uproar about not finishing undefeated or anything like that. It's one of those times where you look at each other and it's, 'So what are we going to do now?' Come together, pick each other up and go about our business."