It started with a tweet. Well, not really a tweet. A favorite of a tweet.
Two days after watching from the sideline as his teammates toppled SEC giant Alabama in the Superdome, 42-35, and nine days before those same colleagues were set to face off against the high-flying Oregon Ducks and 2014 Heisman Trophy winner Marcus Mariota, Braxton Miller made an accident.
Well this is awkward.... pic.twitter.com/rSh2AQNnKM

— Josie Janavicius (@josvicius) January 3, 2015
Any living, breathing human being that owns a smartphone in 2015 could mistakenly click a link, like a post or favorite a tweet they didn't intend to while scrolling through pages of information at their fingertips. Miller just happened to do it right before Ohio State was set to beat the Ducks by 22 points to win its eighth national championship.
The two-time Big Ten Player of the Year un-favorited said, then sent another since-deleted tweet claiming he made an error.
Rumors swirled for months about Miller's future as a football player. Was he transferring to Oregon to play out his final year of eligibility? What about Alabama? Or Florida State? They both needed signal callers to replace some who had just left the program.
The arguments and unrest among fans and media alike was constant, especially after Cardale Jones announced he would return for another year in Columbus. A shock to some, considering the incredible run Jones made to become the sport's darling while he led the Buckeyes to an improbable title in place of an injured J.T. Barrett.
Miller remained quiet. His high school coach, Jay Minton, believed he'd stay put. So did Ohio State's athletic director, Gene Smith.
Only an athlete of Miller's caliber could ignite the fire that was (for a while) a three-armed quarterback race to lead the defending national champions in 2015; even with a twice-surgically repaired throwing shoulder.
Once Miller affirmed he would remain with the Scarlet and Gray, not much time elapsed before he made a position switch.
He wanted to stay a Buckeye. He wanted to help his team win football games. He didn't trust his shoulder. He did what was necessary for himself and his future football career.
Saturday, he must do something neither he nor his head coach is looking forward to: Lace up his cleats and don his shoulder pads one final time in Ohio Stadium.
"If you don't have that kid, you start your coaching career at Ohio State with a .500 or an 8-5, 8-4, whatever it is. If you don't get momentum then those other great things just don't happen," Urban Meyer said Wednesday. "Certainly doesn't happen in that kind of time frame."
---
It was never supposed to be this way.
Miller, as talented a football player as you'll find in the state of Ohio, was always meant to be next in line behind Terrelle Pryor under the watchful, yet vigorous eyes of Jim Tressel. The 2011 season was meant for a clipboard and an education, and when Pryor left for the NFL, Ohio State would become Miller's baby.
We all know how that went.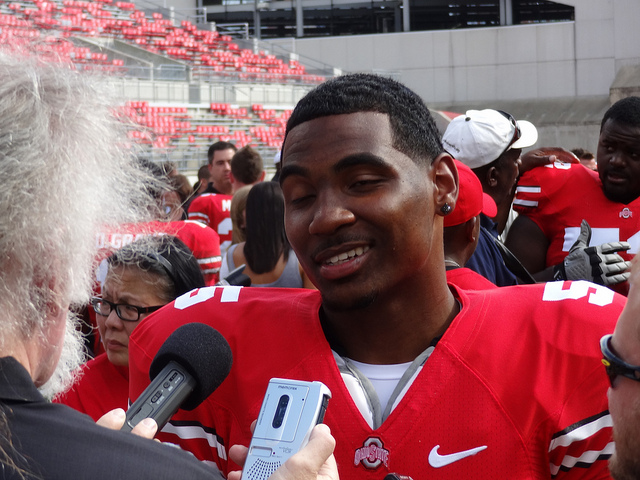 Thrown to the fire as the young, but athletic savior despite being just 18 years old, Miller became Ohio State's lone hope when Pryor and Tressel exited amid the black eye of Tattoo-gate.
The Buckeyes emerged from that season 6-7, treacherous waters that border on blasphemy in Columbus. But Meyer returned home after a year hiatus to resurrect the school and program he grew up adoring.
Set to be at the forefront was Miller, a player who's talent oozes unspeakable adjectives that made even his new head coach's heart race upon hearing his name and the first meet and greet between the two of them.
"All due respect, everybody in this room, that was the highlight of my day, not this," Meyer said at his Ohio State introductory press conference Nov. 28, 2011. "To tell you I'm excited to coach him, I'm not using the correct adjectives. And because there's mixed company around I'm not going to use the correct adjectives, how excited I am."
Saturday, the Ohio Stadium on-field football relationship between player and coach comes to a close.
"It's gonna be a hard one when you look out there and you don't get to coach him any more," Meyer said. "Braxton is really dear to my heart and this entire program."
---
Ohio State won't forget Miller. Miller won't forget Ohio State.
The university and football program's stuck by him through wins and losses, shoulder surgeries and Silver Footballs.
"Keep in mind, he's had challenges physically over the years," Vice President and Director of Athletics Gene Smith told Eleven Warriors in May. "So he knows that this is a place where we're going to help him, we're going to take care of him. He's smarter than what people realize, so I think he thinks about those things."
Smith was reaffirming his belief that Miller would stay put and play out his final year of eligibility at Ohio State. It ultimately came true, but not without eons of debate and consternation among everyone from national media to Buckeye fans.
"I'm a Buckeye, man. I've got a tat on my shoulder," Miller said in July. "My son's gonna come here one day."
Miller made the trip to Los Angeles with Jones, Meyer, Ezekiel Elliott and Joshua Perry as the Ohio State contingent at the ESPY Awards. He didn't play a down in 2014, but Meyer held firm of the importance the former quarterback's meant to the program.
"Immense feelings we all have for him because we all know how average we were, especially on offense, our first year," Meyer said.
BRAXTON MILLER CAREER STATS (through Nov. 14)

| YEAR | 2011 | 2012 | 2013 | 2015 |
| --- | --- | --- | --- | --- |
| PASSING | 85-157, 1,159 yards, 13 TD, 4 INT | 148-254, 2,039 yards, 15 TD, 6 INT | 162-255, 2,094 yards, 24 TD, 7 INT | 1-1, 3 yards |
| RUSHING | 159 carries, 715 yards, 7 TD | 227 carries, 1,271 yards, 13 TD | 171 carries, 1,068 yards, 12 TD | 35 carries, 218 yards, 1 TD |
| RECEIVING | — | — | — | 22 receptions, 321 yards, 3 TD |
Miller was the primary threat for a team that went 12-0 in 2012, unable to compete in the post-season due to NCAA sanctions. Twelve straight more wins followed the following year, before the Buckeyes hit a Michigan State buzzsaw in the 2013 Big Ten Championship Game.
Then came in the injuries in an Orange Bowl loss to Clemson and eight months later during fall camp. Finally, a position switch.
"It was kind of hard at first. Once you get used to it, you go with the flow of the game," Miller said last month. "But it was kind of a hard adjustment at first."
Only Meyer and Miller know how much the latter will get the ball Saturday, his last time in front of a home crowd at Ohio State. Miller's never really been one to speak to the media, mostly keeping to himself in recent years unless its for an ESPN photoshoot or late-night workout.
The ridiculous plays he's achieved in Ohio Stadium before speak for themselves, but it won't stop fans from inching to the edges of their seat and whispering in anticipation when they see him about to heed a shotgun snap.
He became the backup quarterback while Barrett served a suspension, but didn't throw a pass, just like the rest of 2015. He has, however, hit home runs as a runner and a receiver this season.
Michigan State's defense presents a tough obstacle for anyone to make big splash plays against it, but one thing is for certain: Meyer doesn't want the day to come where Braxton Miller is no longer on roster.
"For a star athlete, with the camera constantly on you, you make a mistake and it blows up on you. He doesn't," Meyer said. "He's a credit to our university. One of the most unselfish guys.
"Braxton was an ultimate competitor, is an ultimate competitor. Just means a lot to us."