The 11W Football Mailbag is the only stop you need for answers to your most pressing questions about Ohio State's next matchup. Have a question? Ask it, and if we can, we'll answer it.
---
Our defense has been dominant, but hasn't faced world beaters on offense thus far. Not that Michigan State is a world beater on offense this year, but it is the second best offense we will face in conference (behind Indiana - who put up 27 points). How do you see the defense performing if Connor Cook really is healthy and plays? — KJonesATX
Michigan State's offense is legit, but it all revolves around Cook. The rushing attack is serviceable but lacks a dominant runner like Jeremy Langford from year ago. I wouldn't be keen on the idea of having to tackle 230-pound L.J. Scott, though.
Cook is Michigan State's best chance to beat Ohio State. He's an NFL talent who should be in the league now, but chose to return for one last crack at a winner (and to enact revenge on the Buckeyes). I don't think he'll be 100 percent, but it's not like Mark Dantonio would play a guy he didn't think gave the Spartans the best chance to win.
Regardless how healthy Cook is, he'll be the best passer Ohio State will have seen all season. The Buckeye defense is playing very well, so it'll be a true test of strengths. I expect Michigan State to score some points Saturday.
Getting into the heart of the schedule now, does Ezekiel Elliott continue his streak this week? There hasn't been any changes, but if the offensive line struggles with pass blocking again this week against a tough MSU defensive front, do you see in game changes bringing in Jamarco Jones? — Adamluangraj, E2Brutus and DocOc_88
I think Elliott will get 100 yards, but barely. With how the weather's going to be Saturday (80 percent chance of rain) he'll get the ball often. Michigan State knows that, so they'll do their best to crowd the box and force J.T. Barrett to beat it, which he did last season.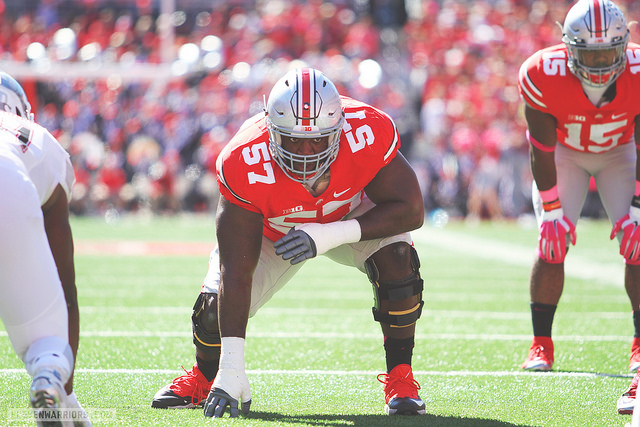 I don't think they'll make a change on the offensive line. Unless Chase Farris is really abysmal Saturday or at Michigan next week — and I mean abysmal like giving up five sacks, abysmal — he'll remain the starter. Now's not the time to be making changes up front, especially in favor of a true sophomore.
To start the season there was much hype/excitement surrounding this match up as a clash of B1G East titans. So far OSU hasn't really put up the offensive fireworks some expected and MSU has had some close calls along with the heart breaking loss to Nebraska. How do you see this one playing out? Does it end up a close, edge of your seat slug fest or do you see one team clearly out pacing the other and with regards to OSU is this the game where they put up the points like we all expected to start the year? — BuckeyeCWRU
I get your point about Ohio State not having the so-called "fireworks" offensively that some have come to expect after the end to last season, but let's keep in mind the Buckeyes lead their conference in scoring at 36.4 points per game. What more do you want? Not every team is Baylor.
I think there will be some points scored Saturday, just like last season in East Lansing. Unless the weather's really, really bad, both teams will throw the ball and attempt to beat the opposing defenses down the field. Elliott will get his touches, as Ohio State will see what it can get done against that vaunted front seven of Michigan State.
However, I do think that Ohio State holds the edge in key areas like its skill players and I think the offensive line will play well like it did last season. I've got Ohio State, 35-24.
Is this the week the Buckeyes finally put it all together against a quality opponent? — Fatpants
I'm not good at predicting the future, but I think there's an excellent chance of that happening because of the opponent. Ohio State was mostly bored through the first 10 games of the season, except for Virginia Tech and Penn State. The Buckeyes enacted their revenge against the Hokies and won by 18, and were amped up for the black jerseys against Penn State and won by four touchdowns.
Ohio State is at home and playing a quality opponent they've been looking forward to all season. Expect some motivated players, but the same could be said about Michigan State considering what happened last year. Also, this is working in the Spartans' favor.
How many quarters does Connor Cook play on Saturday? — Seattle Linga
Four. Unless Cook suffers a major knee injury, broken leg or his arm is hanging down by his side, he'll play every snap for Michigan State.
The excitement level is up off the charts. While we all want to see development in the team, I think we can agree that getting a win is the only thing that really matters from each game left this season. Are there any key improvements that we really need to see other than a win? Conversely, is there anything we should be really concerned about (other than injuries) if we see it from our team while we still get the W? — BadApple
Winning is the only thing that matters. Ohio State's looked rough this season and still won. It's also looked efficient and dominant and won.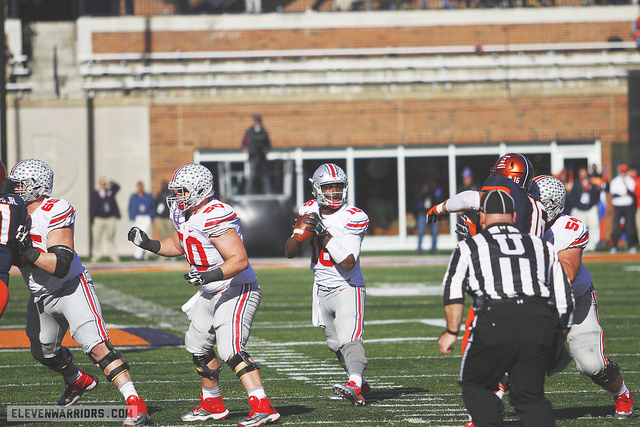 Specifically to your question, however, I think Urban Meyer is really looking for the pass protection to improve and J.T. Barrett to have more success in the play-action passing game. The other areas of the offense have been solid with him playing quarterback, and Ohio State's defense is playing well. If the Buckeyes can run the ball to score points against Michigan State's front, I think Meyer will be happy.
We know Sparty's D-line is good, although their overall defense is perhaps a little down from last year. Which WR is going to step up and make some plays to open up the J.T./Zeke read option show?? Other than Michael Thomas which of our receivers will be making some plays Saturday afternoon? — Avail31678 and BlockO330
I think Jalin Marshall is going to have a big day, as is Braxton Miller. Marshall played well against Minnesota and Illinois in all phases and another week back working with Barrett should help him in the downfield passing game.
Saturday is Miller's last game ever in Ohio Stadium. He barely touched the ball last week at Illinois, so I think Meyer was saving him for the home finale. Miller will have his chances. Will he make the most of them?
We've had some well documented "issues" with pass protection this year. What are the chances that our O-line (possibly, with a little help from Nick Vannett and/or Zeke from time to time) will be able to consistently give J.T. sufficient time to exploit the Sparty secondary? — Buckeye Phi
That's going to be a big story in this game, I think. Ohio State thrives on the play-action passing game — if you need any representation of this, just watch last season's Michigan State game — and with how well Elliott's been toting the ball for the Buckeyes, the onus will be on the line to give Barrett enough time in the pocket. He also must be better at getting the ball out, too, and he knows it.
Michigan State's secondary isn't what it once was, so if Barrett gets time, he should find some open receivers.
Right or wrong, there has been a lot of talk about the OSU offense being "vanilla" and not wanting to show too much to MSU and TTUN on tape before this week. But what about on defense, specifically with Darron Lee? I understand he has been forced more into coverage due to injuries in the secondary, but is this the week we finally see him unleashed as a pass rusher? The rushmen package plus a consistently blitzing No. 43 sounds like it could really overwhelm an inconsistent MSU O-line. — NortheastBuckeyeFan
That's a fair assessment, but I think it comes down to what Meyer said this week about Joey Bosa and Co. on the defensive line being disruptive. Bosa doesn't have as many sacks as he did last season, and while he wishes he did, he's still wreaking havoc along with Tyquan Lewis, Sam Hubbard and Adolphus Washington. Plus, Ohio State's third in the Big Ten with 30 sacks. That ain't too bad.
Lee is a ridiculous athlete. Since Luke Fickell and Chris Ash feel comfortable with how Ohio State's front four can pressure opposing quarterbacks, Lee has been used more in pass defense. That's the luxury you have with a guy like him.
Where will that leave him Saturday? Who knows. I'll find out the same way you will. But the bottom line is this: Ohio State's going to try and do whatever it can to win the game. It doesn't care about how many sacks one guy has or who makes the most interceptions. Winning and beating a really good team trumps all.
Last season the win in East Lansing was largely due to the offense's ability to outscore MSU. This season the Buckeye offense has not been as explosive or consistent as last season, so how do you think the defense will attack the MSU offense differently to be more effective that they were the last two seasons? Will Ohio State blitz early and often to see how healthy Cook really is? Or do we count on the front four to get most of our pressure and try and bait him into some early picks? — Rkylet83 and BuckeyeFreak4844
I think Ohio State will center its entire game plan around getting pressure on Connor Cook. He's not 100 percent, so they're going to make him test his shoulder early and then go from there. Ash and Fickell trust Gareon Conley and Eli Apple to do their part on the back end, so the linebackers could be used to pressure Cook more.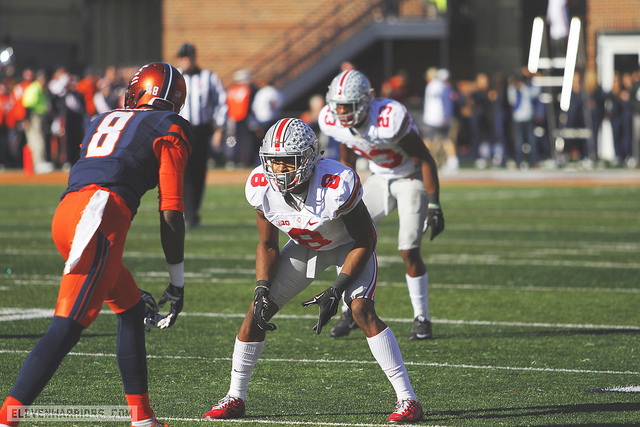 Last year on third down, J.T. ran the ball approximately 352 times and made a first down on each occasion (that's how I remember it). What will Sparty do to combat that this year? — TheButcher
Trust its front seven to make the plays its been making all season. The linebacking trio of Riley Bullough, Darien Harris and Jon Reschke is solid, filling in nicely after Ed Davis wend down for the year with a knee injury. If Barrett tries to run on third down like he did last season, Dantonio's going to trust those guys in addition to Calhoun to make the plays to stop him.
With the success of several other teams with running QB's will MSU try to do anything from that position, i.e. direct snaps to running backs, receivers or a backup QB? — MDBuckeye2002
I highly, highly doubt it. Michigan State doesn't really have any guys like, say, Braxton Miller who are effective in that capacity and all quarterbacks on roster are mainly pocket passers.
If for some reason such as a bad shoulder or an angry Bosa occurs, what can we expect from the backup QB if he gets in-game snaps? Does he play the same style as Cook, or is he more of a mobile type (memories of Maryland QB)? — BuckeyeGrownFloridaLiving
Michigan State's backup quarterback is Tyler O'Connor and the third string guys is Damion Terry. Terry is more of a run threat than O'Connor, but the latter would be the first guy Dantonio would turn to if Cook was unable to go. Both guys played last week against Maryland in relief of Cook and O'Connor threw both a touchdown and an interception.
I've read that MSU has been decimated by injuries, is that really true, and if so do you think that will be a factor in the game? The Buckeyes have had their share of injuries also, sometimes I think the media forgets that. — ScarletNGrey01
I mean, I feel like we've at least done a pretty good job documenting the rash of injuries Ohio State's endured this season, but I'm sure there are some other outlets out there who haven't.
Anyway, yes, Michigan State's offensive line's been banged up pretty much all season and Davis was one of the best linebackers in the conference before his injury. Injuries to key players that tests depth, just like pretty much any other program.
Is this the week that our kicking struggles could hurt us? Why the hell can't we kick a field goal and when will it cost us a game? — DWeinz and Buckeye 7716
I don't think it will hurt Ohio State this game, because I think it will pull away and win by a few possessions. However, I won't say the same thing next week when the Buckeyes travel to Michigan.
In Rutgers game, we used motion of jet sweep to help keep defense unbalanced. Against Illinois, we used in once. Why did we abandon it and will we bring it back against MSU? — KBonay
That's pretty observant and I was actually thinking the same thing as I was watching the game. Maybe Tim Beck didn't see a similar defensive approach made by Illinois so they as a staff felt it would be best to avoid such plays. I'm not sure the exact reason they went behind it.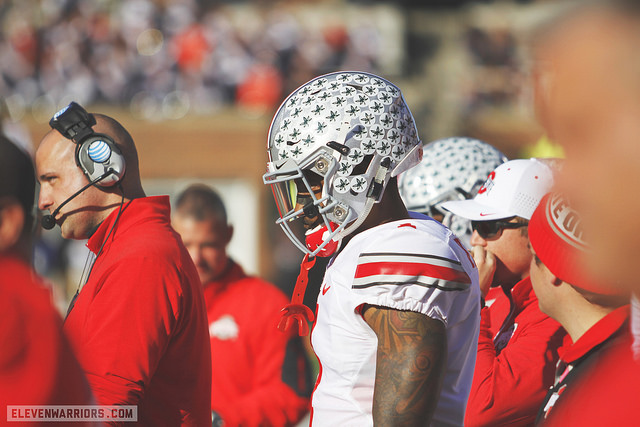 There's a good chance it returns Saturday, though, just because I think Braxton Miller's going to be heavily involved in the game and that's one way to do it.
Is there any chance the offensive game plan was somewhat vanilla all season, with the plan being to unleash everything the next five games? — BuckeyeChief
Sure. There's a chance of aliens invading Saturday, too. But personally I don't think that is the case. Meyer wants to win more than anything, so holding anything back which could risk that not happening hardly seems like something he'd do.
How do you see the MSU offense vs the OSU defense battle shaping up? Will MSU be able to run the ball and total yard production? What kind production do you expect MSU to get from their passing game? As far as OSU defensive stats how many tackles for loss, sacks and interceptions do you expect to see? Who wins the turnover battle? Does OSU cover the -13? — KevinJ
I've covered a bit of your six questions above, so hopefully you can read my #takes in the other responses.
I think Ohio State will sack Cook three times and pick him off once — those are pretty much the average numbers this season for the unit. That spread is too large in my opinion, so I don't think the Buckeyes will cover.
Does CS get some more reps at tailback? He and Zeke could pack a pretty good 1-2 punch. — McGrind
I'm assuming you're referring to Curtis Samuel, and I don't disagree with you. That could be a worthy tandem in the backfield, but that means you would willingly be taking the ball out of the hands of Ohio State's best offensive player.
Which players, on both sides of the ball for both teams, will make the biggest impact in the game? — SFlaBuckeye13
Ohio State offense: Ezekiel Elliott, Michael Thomas, J.T. Barrett, Jalin Marshall, Braxton Miller
Ohio State defense: Joey Bosa, Joshua Perry, Raekwon McMillan, Darron Lee, Vonn Bell
Michigan State offense: Connor Cook, L.J. Scott, Aaron Burbridge, Macgarrett Kings Jr.
Michigan State defense: Shilique Calhoun, Malik McDowell, Riley Bullough, Darien Harris
What happens if Ohio State loses? — BroJim
Ohio State fans will mourn as if they'll never win another game and want [insert assistant coach here] fired, but the sun will come up Sunday morning.
Does Braxton Miller throw this week? How much does Braxton's role expand down the stretch, and what role does he play more of - the 'H', with jet sweeps, quick screens, etc., or the 'deep threat role' - i.e. Barrett's Devin Smith? But more importantly, how does expanding Braxton's role impact/benefit the heart of our offense: Zeke? — JohnnyKozmo and InJTweMust
If you read ESPN The Magazine's #longread on Miller's move from quarterback to wide receiver that D.J. mentioned in Thursday's Skull Session, I think you'd have your answer on the possibility he throws again. Anything about throwing terrifies him — even seeing a No. 5 Ohio State jersey — so, no.
He'll stick with the H-back role moving forward, but Barrett could try and find him deep down the field, too. He missed him a few times at Rutgers, but then found him once in against the Scarlet Knights and Jones did the same against Minnesota. He will never be Devin Smith. No one will ever be Devin Smith except Devin Smith.
I think Meyer wants his role to get expanded so to take some pressure off Elliott and others within the offense, but you can't force feed a guy that ball. My friend and esteemed colleague Bill Landis from cleveland.com wrote an interesting piece this week examining Miller's usage this season and his positive and negative touches. Meyer will get him the ball Saturday for his last game in Ohio Stadium. What he does with it is up to him.
In (very) late - how do you see the weather impacting the game? — Hovenaut and E2Brutus
Unless it's pouring down rain, I don't really see the weather having much of an impact. We're well past the midway point of November. Weather change is inevitable.
What play might Meyer, Ed Warinner, and Tim Beck unveil that the Spartans haven't seen on film? — Ohio Guy In Jersey
Maybe a wide receiver pass — Evan Spencer was supposed to throw one last year before the Alabama game — but I wouldn't bet the rent on it.
What juniors do you think are playing their last game in The Shoe? Are there any specific players that you think are going to base their decision on postseason results (aka winning/losing the B1G or National Championship)? — KDearthVader20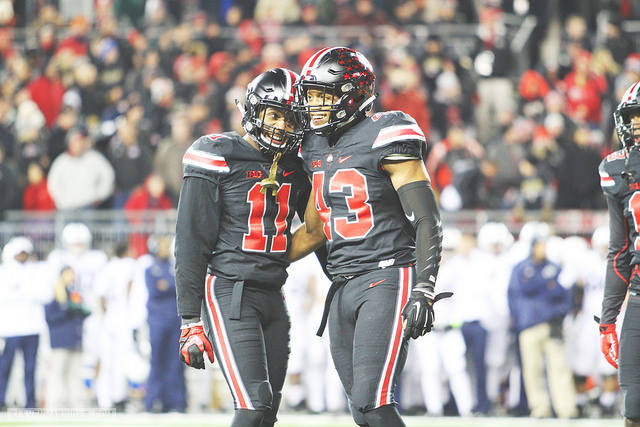 No-brainers: Joey Bosa, Ezekiel Elliott, Cardale Jones, Michael Thomas, Vonn Bell, Darron Lee
Others that meet your criteria: Tyvis Powell, Cameron Johnston, Pat Elflein
For more on this, here's a good look from 11W's own Mike Young.
Will Ohio State be bumped back up to No. 1 with a blowout win or would it have to be combined with a Clemson loss? — NOLABuckeye
It'd have to be a pretty convincing blowout victory — we're talking at least four or five possessions. Clemson would have to lose as well, and even then Alabama would probably still get the nod, just because it has wins over three teams ranked in the top-25 when they played them. Michigan State would be Ohio State's first of the year.
---
BONUS: For the second straight year Dontre Wilson gets hurt midseason. Last year he ended up missing 6 games (if you count postseason which may or may not be fair) and he'll probably miss more this year. Will the NCAA ever think about adding a medical redshirt option to guys who end up missing over a full season over their career? — BrutusAndBeers
Probably not, but that's an interesting topic for guys like Wilson. It's unfortunate some guys just can't stay healthy.
BONUS: Your College Game Day sign ideas and who do you think will be our guest picker? — Aznchipmunk
I'll plead the fifth on the first part of the question due to my lack of creativity, but I'd say that Mekka Don is the clubhouse leader at this point for guest picker. If LeBron James said he's in though, game over. I'm still holding out hope for Bob Knight.
BONUS: Which 11W writer is the best to watch a game with? Worst? — 82Spencer
Couldn't tell you. I've only watched Ohio State games with Tim in the press box. You'd have to ask some of the other guys what they think.
Thanks for all the questions. See you next week.