Mark Dantonio, like any successful coach, isn't about applying a sense of atonement to football games. It's not about what's happened before — it's about what's next.
"I don't talk to our football team about redemption; I talk to them about getting ready for this year," Michigan State's head coach said Tuesday. "What's happened in the past has happened in the past. We can't change that, but I always want them looking forward."
Dantonio is a Jim Tressel disciple, working as The Senator's defensive coordinator from 2001-03 before heading to the Queen City to become the head man for the Cincinnati Bearcats. Three years later, he took the Michigan State job and the rest, they say, is history.
Dantonio's 84-32 in East Lansing, with a Big Ten Championship and Rose Bowl win to show for it. He won the 2013 Big Ten title against Urban Meyer and Ohio State, a back and forth affair that ended with the latter missing in his first opportunity at a championship since he took over in Columbus.
Meyer returned the favor last year, in a 49-37 upset of the favored Spartans under the lights on the road in early November. It paved the way for Ohio State to win the Big Ten and national championship, as J.T. Barrett was nothing short of magnificent against a stout Spartan defense.

MICHIGAN STATE SPARTANS
9-1, 5-1 B1G
ROSTER SCHEDULE
---
3:30 PM – SATURDAY, NOV. 21
OHIO STADIUM
COLUMBUS, OHIO
---
ABC/ESPN2
WATCHESPN
Saturday provides another matchup in a similar breath — at 10-0, the Buckeyes are in the driver's seat in the Big Ten East. The 9-1 Spartans, though, can throw a wrench into their championship plans by pulling the upset at Ohio Stadium.
Oh, and two of their team leaders can atone for missing their chance to beat the Buckeyes a year ago.
"One of the main reasons Shilique (Calhoun) and I came back is because we had some unfinished business," Michigan State quarterback Connor Cook said this week. "We want to compete for another conference championship, compete for another National Championship, and it all started with facing Oregon Week 2. And we got over the hump with that, and losing to Ohio State last year I think was a little bit more sickening than losing to Oregon last year, because they're in our division, our conference, and shuttered our hopes of going to play for the Big Ten Title game."
Calhoun buoys a stellar Spartan front seven and is fourth in the Big Ten with 8.5 sacks. Cook is the highest touted signal caller the conference has to offer in the eyes of NFL scouts. Both are seniors. Both could have turned pro a year ago after coming back to top Baylor in the Cotton Bowl in stunning fashion.
Both came back to beat Ohio State.
"I would definitely agree with Connor. This is a great opportunity for us, like he said a big reason why we came back here," Calhoun said. "Not only that but just to be out there with the guys, have another opportunity to play a big-time school in a big-time stadium, so I agree. I completely feel the same exact way."
The two teams, both led by men with championship-level pedigrees, fully know what's at stake Saturday. If the Buckeyes win and Michigan falls at Penn State, Ohio State clinches the Big Ten East. If the Spartans win and Michigan loses, the road to Indianapolis remains a possibility for the Spartans.
The first 10 games of the season were precursors for this contest. Even though Michigan State lost in stunning fashion at Nebraska two weeks ago, the game still holds the weight of a top-10 matchup with massive College Football Playoff implications.
"Michigan State, that's the top of our conference and obviously the next two games we have are big, big-time games, and that's human nature to say we see what's coming," Meyer said Monday.
"All the goals are right in front of us," Dantonio said. "We're playing the No. 2 team in the nation, the defending National Champions, so our goals are in front of us in terms of we at least have an opportunity to control our own situation. That's all you can ask for."
It is the game both programs and fanbases circled upon fist seeing the 2015 schedule. College GameDay will broadcast from The Oval on Ohio State's campus— a stone's throw from the stadium — and upon the final horn, a murky Big Ten East picture will be a bit clearer.
"The most prepared team will win this next game we play," Meyer said. "Very, very good team we're playing, and we've had some great games with them. Lot of respect for the way they play, and their personnel, because they're outstanding."
OPPONENT BREAKDOWN
Aside from Saturday being the biggest game on the schedule to date for both teams, the main storyline resides in the health of Cook's throwing shoulder. He left Saturday's 24-7 victory against Maryland after sustaining an injury and did not play in the second half. Cook, however, assured the media he was fine Monday on a conference call.
"Shoulder's great. Feels good," he said.
The Spartan quarterback wouldn't answer a follow-up question about whether or not he's been able to throw since the game or if he received an X-ray to determine the injury's severity. Dantonio doesn't address injuries in his press conferences — he never has.
Make no mistake about it though, the Buckeyes expect Cook to play — and play well.
"Cook will play," co-defensive coordinator Chris Ash said Monday. "He's a competitor, he'll play."
2015 STATISTICAL COMPARISON (H/T REMY)

| | | | | |
| --- | --- | --- | --- | --- |
| |   |   |   | |
| 2015 STATS | RANK | CATEGORY | 2015 STATS | RANK |
| 36.4 | 28th | Points For | 32.9 | 44th |
| 13.8 | 2nd | Points Against | 22.3 | 34th |
|   |   | OFFENSE |   |   |
| 244.8 | 11th | Rushing Offense | 152.4 | 92nd |
| 208.5 | 85th | Passing Offense | 253.9 | 37th |
| 453.3 | 33rd | Total Offense | 406.3 | 61st |
|   |   | DEFENSE |   |   |
| 126.8 | 24th | Rushing Defense | 121.0 | 18th |
| 171.6 | 8th | Pass Defense | 243.0 | 86th |
| 298.4 | 9th | Total Defense | 364.0 | 46th |
|   |   | OFF. MISC. |   |   |
| .386 | 77th | 3rd Down Conv. | .493 | 8th |
| .786 | 97th | Red Zone | .829 | 68th |
| 12.2 | 26th | Punt Return | 6.2 | 88th |
| 23.4 | 29th | Kickoff Return | 22.1 | 48th |
|   |   | DEF. MISC. |   |   |
| .319 | 19th | 3rd Down Conv. | .368 | 50th |
| .739 | 17th | Red Zone | .833 | 64th |
| 99.7 | 6th | Pass Eff. Def. | 128.4 | 70th |
| 41.0 | 12th | Net Punting | 34.2 | 117th |
|   |   | MISC. |   |   |
| - 0.1 | 79th | Turnover Margin | + 1.3 | 3rd |
| 6.3 | 66th | Penalties Per Game | 5.3 | 30th |
|   | Total: 13 | THE EDGE | Total: 5 |   |
Added Meyer: "One of the best quarterbacks in Big Ten history, and someone showed me his winning record. And that's how you value a quarterback, is do you win games because that's his job? And he wins almost every game he plays."
Cook, from Hinckley, Ohio, is an impressive 33-4 overall as a three-year starter for the Spartans. He possesses a big arm when healthy and enough athleticism to make plays outside the pocket if needed. The Michigan State defense has taken a step back following the departure of longtime coordinator Pat Narduzzi to Pittsburgh, but Cook's been the main reason the Spartans keep winning. He's thrown for 2,482 yards, 21 touchdowns and only four interceptions in 2015.
"He's definitely one of the best quarterbacks we will have faced this year. He's not shy about throwing the ball in traffic," Ohio State cornerback Eli Apple said Monday. "He has a lot of confidence in his receivers. He can get a good ball in there in coverage."
Cook's favorite target is Aaron Burbridge, the Big Ten's leading receiver. Burbridge has 65 catches for 1,021 yards and six touchdowns, a major safety net on third down. The Spartans lead the league in that category, converting an astounding 49.3 percent of their chances.
"No. 16 for Michigan State, he uses his hands well off the line," Apple said. "He has some pretty good speed, he has great hands. He just is very good in traffic. The quarterback definitely trusts him to make big plays for their offense and he does that a lot."
Cook's offensive line is led by a pair of 2014 All-Big Ten first team selections, center Jack Allen and left tackle Jack Conklin. Both have battled some injuries this season, but have the unit rounding into form at the right time.
They pave the way for L.J. Scott and Madre London, two freshmen with north of 90 carries apiece and a combined 924 yards. Scott leads the way with nine touchdowns.
"They've got that run game with those big guys up front who create lanes for running backs. They've got misdirection stuff," Joshua Perry said Wednesday. "They do everything well. The big thing for us is we have to be assignment sound, we have to know what we're really looking at. Have a little bit of anticipation for what's coming and then just go out there and let our fundamentals take over."
The Spartans average 32.9 points per game and allow 22.3. They have only failed to eclipse the 30-point mark three times in 2015. A firm Ohio contingent is also present on the roster — 28 players hail from the Buckeye State.
"We got a lot of guys from Ohio on our football team, so that makes it a little bit personal," Dantonio said. "I don't think it — I just think they want to play well when they go down to Ohio State. I think they want to play well. So it's not going down there in any kind of disrespect; they just want to play well."
In order to do that Saturday, Dantonio knows his front seven — led by stars Calhoun and Malik McDowell — must come to play to stop Ezekiel Elliott. Calhoun is terrific, but three linebackers in Riley Bullough, Darien Harris and Jon Reschke are as good as any in the conference.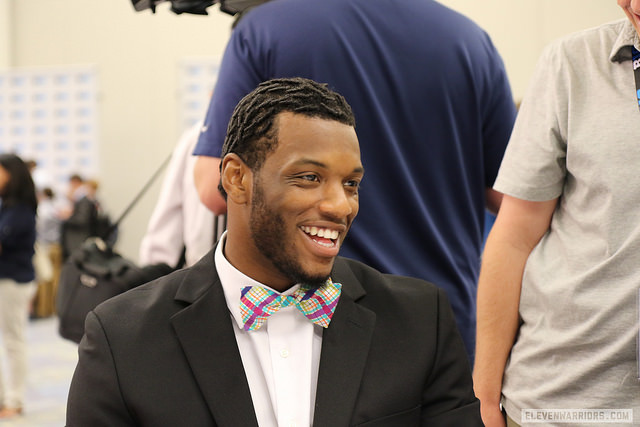 "I know I said when we were playing Penn State that was going to be the best defensive line we'd play this year. I think Michigan State, not to take anything away from Penn State, but I think this is a step above them," Ohio State left tackle Taylor Decker said. "I think a big strength of their defense is their front seven."
That's where it starts and stops for the Spartans on that side of the ball, because the back end's struggled to stop people this season. The unit allows 243.0 passing yards per game — 11th-best in the conference — very uncharacteristic of a Dantonio team.
Michigan State, however, wins football games by scoring points in bunches, having strong special teams play and not making mistakes that prove costly. The Spartans are tied for third in the country in turnover margin at +13 and pride themselves on winning the field position battle — just like Ohio State.
"I always watch special teams and I always watch the little things," Meyer said. "That's my own little tradition on Sunday, what you just mentioned, turnover margin and field position."
In a game with two teams that pull talent from the same recruiting pools, big plays or egregious errors at crucial moments could go a long way to deciding the outcome.
"I think this game is usually won — probably won in a couple of ways, turnovers, obviously any game turnovers are a huge deal, then you gotta win it up front," Dantonio said. "I think they promote toughness on their football team, defensively, offensively, in all areas, but especially up front. Then I think we do the same here."
OHIO STATE BREAKDOWN
The Buckeyes aren't blind to what's at stake this week. They're 10-0, but haven't truly been challenged this season. As a result, the national opinion on them remains up in the air despite a 23-game winning streak.
"I think people are still unsure of what we got and this is a statement game," Elliott said. "It's a game we've been waiting for all season and it's a game against what other people will recognize as good competition. It's a game that we have go out there and show who we are and what we can do."
The Buckeyes haven't moved from their No. 3 spot in the College Football Playoff rankings since their debut Nov. 3. Ohio State's schedule is backloaded with it's strongest opponents.
That starts Saturday.
"This will be a huge gauge for us going into some of the big games in the end of our season because this is the biggest game we've played this far yet this season," Decker said. "I think it'll be a test for guys that have stepped into roles that haven't played in as big of games. I'm excited for it. I'm excited to see where we're at."
The game in East Lansing a year ago held similar weight, with both teams trying to battle their way back into the national conversation following an early season loss. Barrett led an offensive assault at Spartan Stadium to spring the upset, an outcome which Meyer claimed he saw "a young team grow up."
"J.T. was ridiculous. Our receivers played great," Meyer said. "The offensive line blocked that defensive line, and once again, not a good defense, a great defense."
Barrett threw for 300 yards and three touchdowns and ran for two more. Elliott finished with a 154 rushing yards and a pair of touchdowns of his own. The Spartans couldn't stop Ohio State no matter what they tried.
"Last year I thought we did not win at the line of scrimmage, so we've got to be able to do that, and it goes back and forth, but when you look at the final day, a lot of it was patience by J.T. Barrett," Dantonio said.
Barrett's return from a one-game suspension last week against Illinois yielded mixed results in terms of production, but ultimately led to a 28-3 victory. The offensive line didn't protect him with any sort of consistency, again leading to questions about the unit's efficiency ahead of such an important game.
"We're not there right now," Meyer said. "We've got to get there fast when you start playing teams like this and a talented team like this."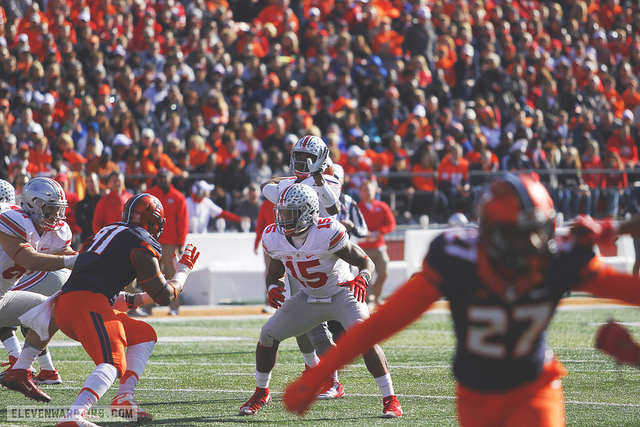 Saturday could end up being a high-scoring affair, but the battle at the line of scrimmage will factor largely into the outcome. If Calhoun and Co. can get to Barrett and force a few turnovers, Ohio State could be in for a long night. The same goes for Joey Bosa, who along with many of his teammates could be playing their final game in the Horseshoe — whether they're a senior or not.
Bosa isn't ready to think about the NFL just yet, instead focused on stopping Cook.
"He's poised in the pocket, stands back there, a big guy who is hard to bring down," Bosa said. "He's going to make plays against us, but we're just going to have to limit what he does."
Who controls that area of the field will win the game, Meyer said.
"It's been the difference," he said.
HOW IT PLAYS OUT
Michigan State is the first opponent on Ohio State's schedule that will be able to physically match up with the Buckeyes. Meyer's team likely won't be able to just wear our the Spartans and pull away in the second half like it has at times this season.
However, the fact this game is in Columbus and the status of Cook's shoulder give an edge to Ohio State. Cook's won a ton of games since being the man in East Lansing, but it's hard to expect him to be 100 percent come kickoff at 3:30 p.m. Saturday.
"I don't think there is that kind of pressure that needs to be put on Connor Cook," Dantonio said. "I think he's established himself here as one of the greatest quarterbacks, if not maybe the greatest quarterback, certainly one of them, in the history here."
Dantonio certainly isn't wrong — Cook's résumé supports that claim. He hasn't, however, faced a defense yet this season that's playing as well as Ohio State's is right now. That's a tough ask for anyone even when they're fully healthy.
For Meyer, his attention is solely on getting his team ready for its stretch run, which begins Saturday when they are 13-point favorites.
"We are 10-0 with a chance to go 11-0 and if the whole idea is more touches, more sacks and all that, then we'll be 10-1 when we're done," Meyer said.
---
ELEVEN WARRIORS STAFF PREDICTION: Ohio State 32, Michigan State 21