CHAMPAIGN, Ill. — After Urban Meyer coaches football games, he provides an immediate assessment of Ohio State's performance before opening the floor to the media.
"To come on the road, our defense is playing lights out and that's obvious. The only issue I have, I think we controlled the line of scrimmage on both sides and the negative is we have to be more balanced," Meyer said after Ohio State won it's 10th game of the year, defeating Illinois 28-3 Saturday. "We know what's coming down the road next week and we have to be a little bit more balanced than we were and that starts with pass protection. That was the only negative."
Meyer gets asked plenty about the issues plaguing his team, whether it is an off-field incident like the one his quarterback, J.T. Barrett, endured two Saturdays ago or what used to be a struggling rush defense. On this day, it was the inability of his offensive line to consistently keep the redshirt sophomore upright with a clean pocket.
"The only negative of the whole night was even the interception was because he got hit," Meyer said. "It was our pass protection and we're going to work extremely hard on that."
Meyer used the word "negative" three times when discussing the line's play against the Fighting Illini, in specific regards to pass pro.
Run blocking — the area the Buckeyes pride themselves on most this season — exceptional once again. Heisman Trophy candidate Ezekiel Elliott slipped and slid his way to 181 yards on 27 carries and two touchdowns. It was the 15th consecutive game Elliott ran for at least 100 yards and in doing so, he passed Tim Spencer for third on Ohio State's all-time rushing chart.
Yet, Barrett found himself on the move often Saturday, hardly getting much time to go through his progression before he had to shift his feet and try to make a play either on the run with his arm or just tuck it and go.
"It's just something that you have to continue to improve. It's a craft. It's not like run blocking where you can just go slug somebody."– Billy Price on Pass Protection
"If anyone has ever played football, pass pro is one of the most difficult things. For offensive linemen to be put on an island at times, it's man-on-man," left guard Billy Price said. "It's just something that you have to continue to improve. It's a craft. It's not like run blocking where you can just go slug somebody."
Price got driven back into Barrett by Illinois defensive end Carroll Phillips late in the third quarter after he pulled on a pass play. It prevented Barrett from getting much on the ball and the quarterback's pass to fall lightly into the arms of Caleb Day.
"Kid made a play, I went to pull and he came faster than what I was ready for, took a step back to regain my balance and be able to take him out," Price said. "By that time I was already in J.T.'s lap."
At other times, Chase Farris and even senior captain Taylor Decker struggled to hold their counterparts in check to give Barrett ample time to dissect the Illini defense.
"We were trying to do some play-action stuff off of passes and it was just people leaking off blocks a little bit," Decker said. "That's just something we've got to sure up because the run game was good, but there's receivers out there that deserve more touches and they need to get more touches to open up the run game even more."
When the issue remained in doubt, Ohio State turned and gave the ball to its best player to forcefully push Illinois aside.
After a horrid field goal attempt that resulted in a dropped snap and fumble by holder Ryan Frain, Elliott went to work. The Buckeyes led 14-3 early in the second half, and Meyer elected to give it to his running back on seven of the ensuing drive's 11 plays — "most tailbacks can't do that," the coach said — including five straight.
"Tiring. I was very tired. That's basically all I can say. I don't remember it, honestly," said Elliott. "The O-line did a really good job blowing guys off the ball and I went in behind them."
The drive culminated with his first touchdown of the game, a 1-yard plunge to put the Buckeyes up 20-3 and all but kill any chance the Illini ship had of staying afloat.
"They were punching the line of scrimmage and obviously he's a workhorse, he gets stronger as the game goes on and I want to say the majority of games this year teams do a good job of taking him away and he just gets stronger as the game goes," Meyer said.
That's been a theme all season, with how Elliott's been the constant to an Ohio State offense that at times has struggled to find an identity in the passing game. Meyer wants it to churn up yards using play-action, but that can't happen if the line doesn't protect better.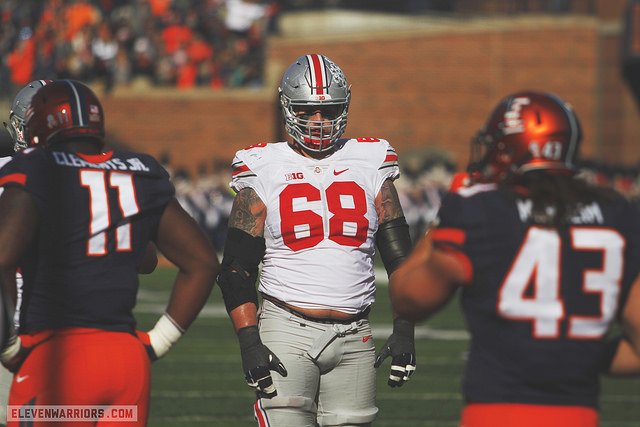 "Any powerful Division I team, they want to focus on balance itself. To hit the points you want," Price said. "That's something that we have to continue to improve on and I'm sure that our coaches and we will take care of that this week."
The Buckeyes know they can't play like they did Saturday at Illinois if they wish to beat Michigan State next weekend. With how the unit on the other side of the ball is playing, the onus is on the offensive line to iron out its issues — quick.
"Pass pro is a craft, and art form," Price said. "It's something over time that continues to get better and that's something we can constantly work on."
Even Elliott is keen to the notion that a better passing attack is what the offense needs to wholly round into form down the stretch.
"I think we gotta establish the passing game. That's our biggest thing," Elliott said. "Once we do that, we'll be hard to defend but just we had some trouble pass protecting."
Less than a week stands between the Ohio State-Michigan State showdown most in the Big Ten circled on their calendars even before the season began. With a win, the Buckeyes will push their consecutive Big Ten regular season win streak to 31 games.
In order to do that, keeping Barrett upright and comfortable in the pocket to achieve more balance is crucial.
"We're going to start to play some teams here where we can't just run, run, run 40 times a game; we're going to have to throw some passes and drop back," Decker said. "It's just something we're going to have to work on. Coming up, Michigan State has got some really good pass-rushers so we're going to have to be on our A-game for that."