Urban Meyer thought he'd put the Ohio State quarterback debate officially to bed, but he might have to tap back on the bedroom door of the first guy he inherited at the position within in the program to keep the undefeated train rolling in Columbus.
J.T. Barrett's citation for OVI in the wee hours Saturday morning and subsequent one-game suspension put him on the shelf once again and re-inserted Cardale Jones into the starting role as Buckeye signal caller. But with Barrett officially out of the equation at least for one weekend, who better to become the backup than the man with a pair of Silver Footballs, Braxton Miller.
"As of right now it would be Braxton," Meyer said Monday. "We're right in the middle of those conversations. But there's no question that he's our No. 2 quarterback."
"Those conversations" further delve into Miller taking more snaps than he has at quarterback so far in 2015, which he's done largely in just a wildcat, running role.
Miller's shift from quarterback to H-back/wide receiver relieved some pressure from Meyer's shoulders during fall camp. He elected to make the switch after a pair of shoulder surgeries kept him out of the 2014 national championship season entirely and because he knew playing receiver would be his best chance to make a living in the NFL.
"I'm not ashamed to say that we owe Braxton Miller," Meyer said on his radio show Thursday, citing the things the senior did in the coach's first two seasons in Columbus. The Buckeyes ripped off 24 consecutive victories with Miller at quarterback, but now with the injuries to his shoulder and his move to the outside, intrigue flurries the scene about how Meyer, offensive coordinator Ed Warinner and quarterbacks coach Tim Beck plan to use him Saturday against Minnesota.
"He's completely healed and he's medically able to go, so behind the scenes there is a lot of things that he's been doing that nobody knows about," Warinner said Monday. "So we're confident that he will do whatever he needs to do to help us win a game."
But what does that entail, exactly? And, what if Jones would have to leave the game with an injury?
"Whatever we have to do to use Braxton Miller to win a game, he'll do it, and he's in here yesterday and already today many hours getting ready, so. Kid loves Ohio State football and is a team guy, so we're confident that when his number is called, he will be ready."– Ed Warinner
"Whatever we have to do to use Braxton Miller to win a game, he'll do it, and he's in here yesterday and already today many hours getting ready, so," Warinner said. "Kid loves Ohio State football and is a team guy, so we're confident that when his number is called, he will be ready."
Miller's tallied 487 total yards and four touchdowns on 49 chances through Ohio State's 8-0 start in 2015. He also completed a three-yard pop pass to Jalin Marshall in the team's 20-13 victory against Northern Illinois Sept. 19, but even he admitted that really shouldn't be considered as such.
Still, outside of that attempt, Miller's not thrown a pass in nearly 22 months — not since the Orange Bowl loss to Clemson Jan. 3, 2014.
"I can throw. I just don't think it's important for me right now to be throwing," Miller said Oct. 12. "My main focus right now is just playing receiver and focusing on what I can focus on at my position right now."
That shifts this week, though, with the backup quarterback role needing filled behind Jones after Barrett's suspension.
"We have had a package each week with Braxton at quarterback," Warinner said. "You've seen him out there running quarterback, and you've just seen a small sample size that we've used in the course of the recent games, but there's much more that's available to us with him there, so we'll just get more work at that, and evolve that as much as we can so we're ready to go."
It took a while for Miller to become comfortable in his new spot at wide receiver, both with blocking and simply not touching the ball every play after playing quarterback all his life. Warinner, Meyer and Beck admittedly struggled with how exactly they planned to use him in the early portions of the season, but he's been more involved recently — 11 catches for 167 yards, two touchdowns in Ohio State's last three games — and shown improvement in all phases of the position.
Now, his role could change again and Meyer even mentioned him as a red zone option against Minnesota.
"We have had, we're not there yet," Meyer said when quipped with a question about using Miller in the red zone. "It's still early in the week so we're having those conversations now."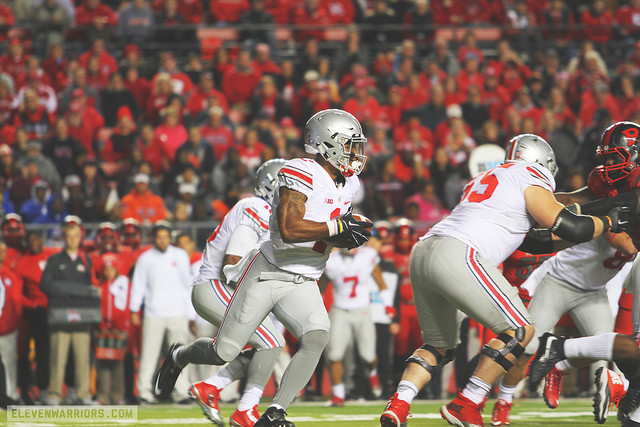 If Jones doesn't get hurt and plays well Saturday, Miller's move to backup quarterback could prove irrelevant. If he is subjected to taking more control of the offense, however, the question will remain on how much throwing the ball will factor in to his repertoire.
"I'm fine. All I'll say is I'm fine with it," left tackle Taylor Decker said when asked about Miller's passing abilities. "He was two-time Big Ten Player of the Year at quarterback, so I think that's about all you need to say."
So much for ending that quarterback debate.
"That's the thing when you try to say, 'Hey, let Zeke do some direct snaps,' that's hard," Meyer said. "You remember last year we did that to Jalin as well. It's no issue. It's a just a matter of fact, he can throw, how prepared is he to throw? So we're going to work on that this week as well and get him ready to go."