No college football team is above the seemingly inevitable unfortunate instances of injury. As seasons wear on, programs that stay relatively healthy typically experience the most success down the stretch.
The 2015 season is no exception, either. Top players like UCLA's Myles Jack (knee), Baylor's Seth Russell (neck), Wisconsin's Corey Clement (sports hernia), Notre Dame's Malik Zaire (ankle) and Michigan State's Ed Davis (knee) are either out for the year or missed time. The Spartans have battled injuries to key players all season, yet remain unbeaten. Urban Meyer's Ohio State team is doing the same.
As the Buckeyes dive headfirst into their lone bye week of the season, they sit at 8-0 and No. 1 in the country after pasting Rutgers, 49-7, Saturday night in Piscataway, New Jersey.
Ohio State's schedule through eight games wasn't murderer's row, but Meyer's club hasn't lost yet — at least in the win/loss column.
The Buckeyes are, however, dealing with injuries like most other teams. Let's take a look at the biggest ones and each player's potential prognosis moving forward.
Out For Season
The two biggest names Ohio State's lost for the season both play the same position — wide receiver.
Ohio State Injury Report

| Player | Position | Year | Injury | Expected Return |
| --- | --- | --- | --- | --- |
| NOAH BROWN | WR | SO | BROKEN LEG | 2016 |
| COREY SMITH | WR | SR | BROKEN LEG | 2016, if redshirt |
| CAM BURROWS | DB | JR | FOOT | 2016 |
| NICK CONNER | LB | FR | KNEE | 2016 |
| TOMMY SCHUTT | DT | SR | WRIST | 2-3 weeks |
| ERICK SMITH | SAF | SO | KNEE | Unknown |
| PARRIS CAMPBELL | WR | FR | KNEE | 2-3 weeks |
| DONTRE WILSON | WR | JR | FOOT | Unknown, has dressed |
| JOHNNIE DIXON | WR | FR | KNEES | Unknown |
| JOSHUA PERRY | LB | SR | ANKLE | Played at Rutgers |
| CRAIG FADA | LB | JR | HEAD | Unknown |
| DAMON ARNETTE | CB | FR | LEG | Unknown |
| DYLAN THOMPSON | DL | FR | KNEE | 2016 |
| DRE'MONT JONES | DL | FR | KNEE | 2016 |
| KYLE BERGER | LB | FR | KNEE | 2016 |
Sophomore Noah Brown suffered a fractured leg late in fall camp Aug. 26 and deemed lost for the season. Meyer said senior Corey Smith suffered an injury "similar" to Brown in Ohio State's 34-27 victory at Indiana Oct. 3 and is also out for the remainder of 2015. It's unclear if he'll apply for a medical redshirt.
Freshman linebacker Nick Conner also suffered a season-ending knee injury in practice Oct. 6. Meyer did not give the exact diagnosis of Conner's injury, only that he won't return in 2015.
Junior defensive back Cam Burrows had surgery that same week after re-injuring his foot and is also done for the year.
Current Ailments
Senior nose tackle Tommy Schutt played with a broken wrist in Ohio State's 38-10 trouncing of Penn State Oct. 17, before Meyer announced he underwent surgery and will miss "a few" weeks. Schutt traveled to Rutgers Saturday but did not dress. The exact timetable for his return is unknown, but he could return as early as next Saturday against Minnesota.
Backup safety and sophomore Erick Smith settled in nicely behind Vonn Bell in the early part of the 2015 season, but suffered what Meyer called "an ACL injury" against Maryland Oct. 10. The head coach did not then and has not since given a projected return date for Smith, but depending on the extent he could miss serious time. Smith hasn't played in Ohio State's last two games.
Redshirt freshman wide receiver Parris Campbell's dealt with a strained MCL and knee bruise since the Northern Illinois victory Sept. 19, though he returned to the lineup for Ohio State's 49-28 win over Maryland. Campbell, though, hasn't played since after suffering a setback in practice, Meyer said. The bye week is crucial in his recuperation process.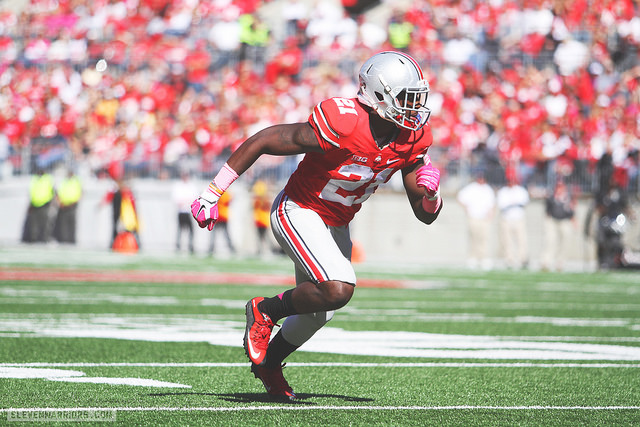 Senior linebacker Joshua Perry went down with an ankle sprain early in the Penn State game, but appeared fine in his team's win at Rutgers on Saturday. He should be good to go moving forward barring any setbacks, but the bye week is surely a welcome sight. Walk-on linebacker and special teams ace Craig Fada didn't play at Rutgers with what Meyer described on his radio show last week as a head injury. Whether or not he will continue to miss time is uncertain.
Another wide receiver, Johnnie Dixon, continues to deal with nagging tendonitis in his knees. Though he's dressed for Ohio State's last few games, he hasn't seen any playing time.
The same goes for junior H-back Dontre Wilson, who Meyer said is dealing with yet another re-aggravation of the foot injury suffered last season at Michigan State. Wilson's traveled and dressed in recent weeks, but has hardly played.
Freshmen Torrance Gibson (ankle sprain) and Mike Weber (torn meniscus) got hurt during fall camp, but are healthy again. However, due to missing time in their progression with the injuries — and Gibson dealing with academic issues — it is likely both will redshirt this season.
Previous Injuries
Defensive linemen Dylan Thompson (fractured kneecap in August 2014) and Dre'Mont Jones (tore ACL in high school basketball game in March) were lost prior to the start of the 2015 season. Kyle Berger also tore his ACL for the second time in a year in August 2014, and continues to rehab. His status moving forward is unknown.
True freshman cornerback Damon Arnette's also not seen any time in 2015. He's dealing with what appeared to be a leg injury as early as the beginning of fall camp — Arnette was on crutches as the team moved into its hotel — but Ohio State's been mum on his status.
---
Overall, Ohio State's avoided injuries to key players so far in 2015.
The biggest depth hits are obviously at wide receiver and in the defensive backfield. Adding in Damon Webb's ongoing suspension for a violation of athletic department policy, and the capable bodies are growing thin on the back end of the Buckeye defense.
"Our focus is obviously on getting healthy this week," Meyer told Scott Van Pelt on SportsCenter Monday night. "We have about seven players out right now, so we're going to get them back — some guys back, some guys not. Get healthy, get rested and get ready for the stretch run."
A few players should be healthy for the November stretch run of the season, however, which is key for post-season positioning as Ohio State's toughest games of the regular season come at the end of the month.