Corey Smith hopped his way to a golf cart, towel draped over his head, arms across the shoulders of a trainer and a teammate.
He didn't look up — not even when he sat down and teammates slithered by him to with high-fives, head taps, handshakes and hugs. All the fifth-year senior wide receiver could do was stare at his heavily wrapped left leg and shift gingerly in his seat so as to avoid pain.
"We had a tough injury to Corey Smith, who's kind of an all-purpose guy for us, a tough guy," Ohio State head coach Urban Meyer said. "Prayers up to him."
Smith's leg was rolled up on during a sweep by teammate Curtis Samuel in Ohio State's 34-27 escape at Indiana Saturday. Blocking a defender on the outside, Smith couldn't see what was coming behind him.
He had no chance.
"We had a tough injury to Corey Smith, who's kind of an all-purpose guy for us, a tough guy. Prayers up to him."– Urban Meyer
Ohio State's yet to release any information regarding the severity of the injury, but replay showed an awkward turn of Smith's lower limb. It didn't look good.
A few minutes after seeing his friend carted off the Memorial Stadium turf with his leg in an air cast, fellow wide receiver Michael Thomas got behind Indiana's secondary and hauled in a perfectly thrown pass by Cardale Jones. The touchdown gave Ohio State a 27-17 lead early in the fourth quarter. It was supposed to be the kill shot to Indiana's hopes, but wasn't, as the Buckeyes had to hold on for dear life all the way until the final play of the game when Zander Diamont's pass fell incomplete.
Thomas threw a throat-slash at the crowd after his scoring play, drawing a 15-yard unsportsmanlike penalty from the officials.
"I was hungry," Thomas said after the game. "Corey Smith just went down with the injury. You know, that's my brother, and I got a little unsportsmanlike conduct after the play because I just felt he does so much for the team, he's starting on all the special teams units, I felt I had to make a play and I had to do something.
"So when I got into the end zone, I made him proud. I just felt like — I don't even know how to describe it — I just felt for him."
Thomas acting out can be cast off as part of the emotions within a college football game, but Smith's injury is much bigger than that for Ohio State.
Sophomore Noah Brown — who earned a starting wide receiver spot in spring practice — went down with a broken leg late in training camp. Not even a month and a half and five games later, Ohio State's likely without another key player at the position in Smith.
An East Mississippi Community College transfer and Akron native, Smith helped the Buckeye punt team become tops in the Big Ten by net average during Ohio State's 5-0 start. He was also on the punt return unit, blocking a Western Michigan attempt last weekend before it was called back by penalty.
"My body went into shock," Thomas said after seeing Smith's injury. "I'll miss him. I love that kid." 
Now, he's gone. Brown's been gone. What's left?
There's Thomas, who leads Ohio State with 20 receptions for 292 yards and four touchdowns. He's an NFL talent.
There's Jalin Marshall, the sophomore H-back that moved outside this season to make room for Braxton Miller's position switch. Marshall's second on the team in receiving yards with 201, but fumbled twice Saturday against the Hoosiers and is yet to fully become the deep threat Meyer so yearns.
"Those are kind of our over-the-top guys," Meyer said of Marshall and Smith following Ohio State's 38-12 victory against Western Michigan Sept. 26.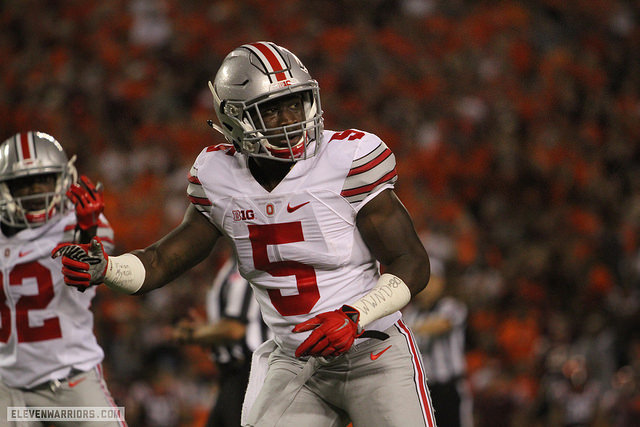 Behind Marshall, pass-catchers include Miller and Dontre Wilson, two H-backs. Johnnie Dixon, James Clark, Terry McLaurin and Parris Campbell are there, too, but Campbell's missed the last two games with a strained MCL and knee bruise and Dixon's own knee problems make him undependable. Campbell is a starter, but there's no timetable in place for his return.
Clark, McLaurin and Jeff Greene are all names that have been in Ohio State's program for some time, but don't have great numbers to show for it. Tight end Nick Vannett has nine catches for 88 yards this season.
In an offense still struggling to find its footing outside of powerful running by Ezekiel Elliott, Smith's injury is extremely detrimental.
"We just have to rally up and get back home, get out of here and find a way to win our sixth game," Meyer said.
Maryland visits Ohio Stadium Saturday at noon. Not much time for a wide receiver group led by coach Zach Smith to find answers without two key players.