BLOOMINGTON, Ind. — Urban Meyer didn't even know what happened at the end of the game. All he knew was that his team remains unbeaten.
"I couldn't even see it. What happened?" Ohio State's head football coach said Saturday, asking the reporter for an update on what went down on the final play of his team's 34-27 escape act at Indiana.
He was told cornerback Eli Apple knocked away Zander Diamont's last ditch effort in the end zone with the clock reading 0:00, giving the nation's top-ranked team its first Big Ten win of 2015. Then, Meyer nodded and pursed his lips as he waited for another question.
He knew it wasn't pretty. He knew it wasn't what people expected. He knew it was a win, but he also knows of the climb awaiting the defending national champion.
"I think I've learned to enjoy it, but I'm very frustrated," Meyer said.
The Buckeyes turned the ball over three times against the Hoosiers Saturday, a team that was previously unbeaten but sat worst in the conference defensively, allowing an average of 499 yards per game. Ohio State managed 517 in the game, but an interception by Cardale Jones and two fumbles from Jalin Marshall prevented the door from being all the way shut on the Hoosiers until the final whistle.
"The turnovers have to change right now. I mean, right now. There's a couple of ways to do it, just keeping coaching and emphasize what we do. And second, the guys who lay it on the ground just can't play."– Urban Meyer
"The turnovers have to change right now. I mean, right now," Meyer said. "There's a couple of ways to do it, just keeping coaching and emphasize what we do. And second, the guys who lay it on the ground just can't play."
Is it time for a move that drastic? Maybe.
Whenever Ohio State had any sort of momentum in the first half against Indiana, it was thwarted by brain farts, penalties, lack of execution or anything else in between.
The Buckeyes didn't appear like they could get out of their own way all day, save for a trio of monster second half touchdown runs by Ezekiel Elliott. The junior ripped off scoring jaunts of 55, 65 and 75 yards in the third and fourth quarters, giving his team a two-possession advantage with more than 10 minutes to play.
"Coming out in the second half, something I really focused on was my second level separation where I could break through those little arm tackles and break through to the open," said Elliott, who finished with 274 yards (243 in the second half) on 23 carries. "We executed and did great in the second half."
He and the offensive line did, but the passing game with Jones was all but absent in the final 30 minutes. The junior tallied 45 yards in the second half through the air. Aside from the massive runs by Elliott to break open the game, the unit was largely stagnant.
"We've still got a lot of work to do," Jones said. "It's hard to kind of grade us without watching this film. Each week we're going to get better, but we've got a lot of work to do."
He did fire one touchdown pass to Michael Thomas on the first play of the fourth quarter, but the Buckeyes left points on the field in the first half and trailed, 10-6, at intermission.
Jones missed a few throws in the red zone that would have resulted in touchdowns early, the offensive line didn't perform well enough to move the ball consistently on the ground and a Hoosier defender stripped Jalin Marshall from behind inside the 10-yard line.
"(We were) 18-of-27 for 245 yards. That's not awful. I saw what you saw," Meyer said of the passing game. "There's some balls that guys were open. One was an option route, I don't want to get into it, we just have to work at it."
The thought was the offense would take another step with Jones at the helm after beating Western Michigan 38-12 last week, when he threw for 288 and a pair of scores. That was hardly the case, as inconsistencies were everywhere.
Red zone issues continue to plague the offense. Jones left points off the board by missing open guys and Braxton Miller's illegal block below the waist took six points off the board in the second quarter. Then, Jack Willoughby clanked a field goal off the upright. In all, Ohio State got to the red zone four times in the first half, but came away with six points.
This isn't how the No. 1 team in the country — one with a wealth of talent returning on offense — is supposed to look.
"I think we need to have more of an edge to us," Taylor Decker said. "This time last year everybody was saying we weren't good enough to play at a high level, and I think that kind of gave us a chip on our shoulder. I think we need to get that chip back."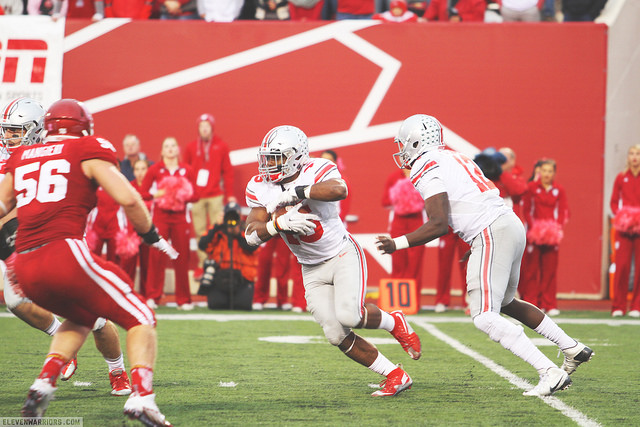 This time last year, Ohio State was 4-1 and had just beaten Maryland by four touchdowns. There are some pieces different with this year's team that last, everywhere from the coaching staff to team personnel.
But not many expected Indiana to push Ohio State to the brink, to nearly tie the game at the buzzer with a backup quarterback and force overtime.
The offense looked disjointed. The defense at times was out of position and gave up huge hits to the Hoosiers, the biggest on a 79-yard touchdown run by Zander Diamont that cut the lead to seven points.
"I'm just sick about Braxton. I want to get him the darn ball and then you just get caught up in the flow of the game," Meyer said. "I think Jalin's touching the ball, Dontre (Wilson), I think a little bit. He's a guy that's practicing hard, trying to get him involved. Zeke is obviously a guy that's gotta get his 20-25 touches a game. Nick Vannett made a few plays today."
That's a wealth of playmakers, but is it becoming too much to try and spread it around when you're struggling?
"I'm not even really thinking about that anymore, just thinking about winning the damn thing and what's the best way to do that," Meyer said.
Meyer said he didn't have any thoughts about yanking Jones throughout the course of the game, though backup J.T. Barrett tossed continuously on the sideline in case his number was called.
Elliott's huge day all but saved the Buckeyes from losing their first regular season conference game in Meyer's four seasons, but it won't save them from the worry and angst in Columbus as Big Ten season grows older.
That is, unless a breath of continuity swings through, and quick.
"I think I've learned to enjoy it, but I'm very frustrated," Meyer said. "But to walk out of here, the script was written a little bit like Penn State last year. On the road, to get on a plane here in a minute with a victory, I'll take it. So exhilaration — I guess for a 51-year-old man, I'm pretty exhilarated right now if you can't tell."
Maybe that's what we should come to expect from this group of Buckeyes.